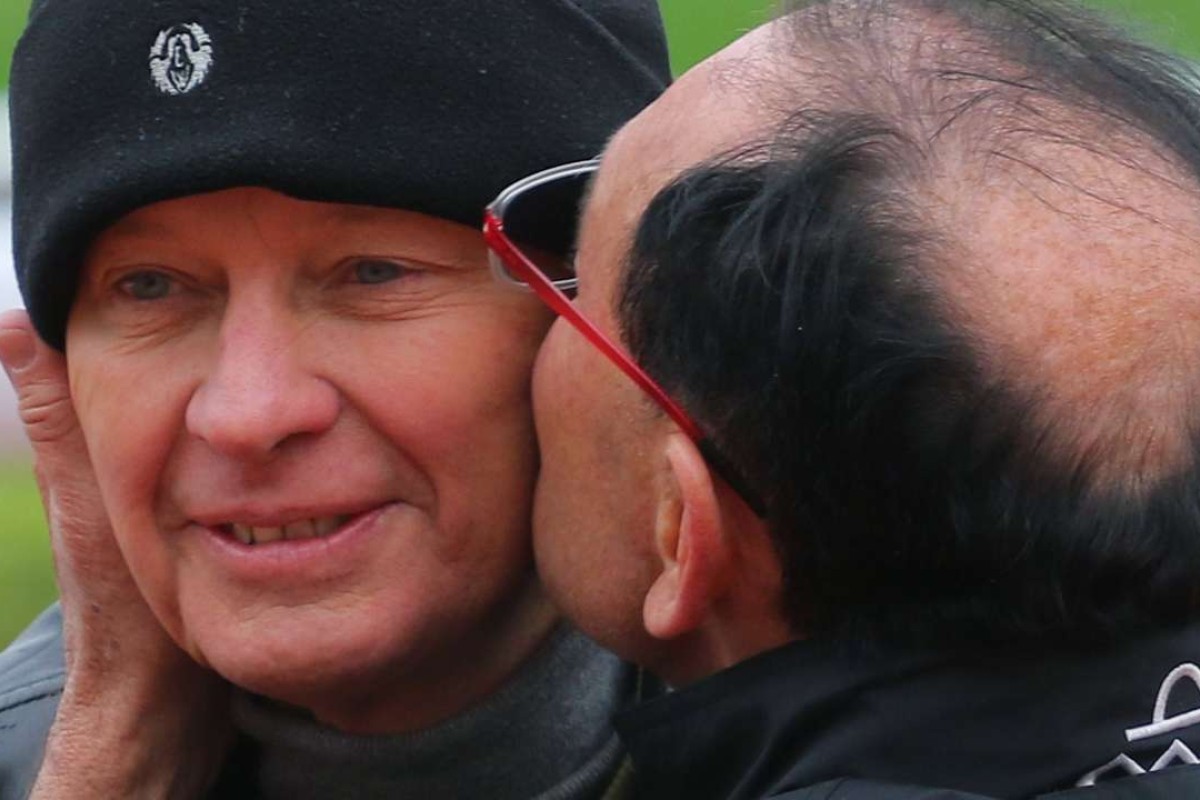 Thank God for Gary Moore and his giant sprinter Takedown, who touched down on Thursday.
The 2016 Longines Hong Kong International Races were desperately in need of some colour.
The return of the four feature winners from 2015 can't paper over the cracks; this year's races lack the depth of recent editions, from both locals and the overseas-trained runners.
Yet what we have now is something different and even though Moore isn't the only great character coming for Hong Kong's biggest day, he is number one on our list.
1. Gary Moore
How much of a character is Gary Moore? Put it this way, brother John unashamedly, and without a hint of irony, wears safari suits in public in 2016 – and he is considered the "less eccentric one".
Forget the sideshow for a second, because just like John, Gary can train, and if it wasn't for some transgressions when he was a star jockey in the 1990s, maybe he would be sharing space with his brother in the Sha Tin trainers' stand (although it is hard to imagine there being room for two Moores).
Moore's reactions to Takedown's wins have been absolute gold and a welcome relief from some of the cliche-riddled platitudes that pour from the mouths of trainers after feature race wins.
First there was a win in the spring in Sydney, where Moore raced out on to the track to greet jockey Blake Shinn.
Then there was the recent Winterbottom Stakes and another sprint up the straight, and after which an emotional Moore reflected on the two years since he left Macau.
It was reminiscent of when Moore won the Macau-Hong Kong Trophy in 2010. Viva Pronto won at odds of more than 100-1 and Moore ran out on to the track, waving his binoculars wildly above his head.
Viva Pronto puts 'big brothers' to shame
Just wait though, Australia, and Hong Kong, you haven't seen anything yet. Moore's post-race celebrations in Macau are the stuff of legend. When a horse named Cheers Zone won in Macau, Moore was so excited he demanded the jockey get off the horse and leg him aboard, the trainer riding a celebratory lap around the winner's enclosure in front of a stunned crowd.
Gary Moore brings his Asian adventure to an end
Stewards weren't as amused, but struggled to find a rule that covered trainers riding their own horses after races and settled on fining Moore for not wearing a helmet. Moore might find it more difficult to climb on to Takedown, who stands at a towering 16.3 hands. Then again, it didn't stop him in the stables before the horse left for Perth.
2. Gerald Mosse
Look up "mercurial" in the horse racing dictionary and there is a picture of Mosse. The quintessential French big-race rider, a connoisseur of fine wine, wears immaculately tailored clothes and dons a red velvet cap over his helmet at trackwork.
Gerald saves his best for the big occasion, lower grade handicaps? Ah, not so much, and local punters will tell you Mosse has an allergy to running rails that can make backing him a heartbreaking exercise. Mosse can take the long way around the turns, and even his style in the saddle isn't to everybody's liking – but then there are those hands. They are hands that have caused commentators to wax lyrical about how soft they are – it really would leave a newcomer to racing wondering how these commentators know how soft his hands are and why that matters.
Horses simply travel for Mosse, and yes, they sometimes have to travel further than the other horses by virtue of his navigation. But bottom line, they certainly do "run for him" – as has been said about many a great jockey, and who would you rather have on in a big race, especially a staying event?
That's where intuition comes to the fore, and he has a big race resume that doesn't lie. Mosse isn't just the only jockey to win each of the four feature races on international day at least once, he has a record nobody can ever takeaway, with a win on the now-defunct Hong Kong Bowl giving him a "super slam" of five international day titles.
Gerald Mosse vows to return amid speculation over his Hong Kong future
Mosse rides Joyful Trinity for John Moore in the Hong Kong Mile, the horse coming off a fast-closing effort in the Group Two Jockey Club Mile. If Able Friend isn't at his best, the Mile looks an even race, and it might just come down to a moment of tactical brilliance, like the one that saw Mosse make a split-second, and race-winning, decision around a mile from home in the 2014 Hong Kong Vase on Red Cadeaux.
3. Dennis Yip Chor-hong
There isn't a more popular trainer among the local press than "Hong Gor" – an affectionate term meaning "brother Hong" (Hong being a shortened version of Yip's Chinese name), and his fairytale trainers' championship triumph in 2012-13 was a win for the ages.
Yip now gets a chance to etch his name into folklore when Secret Weapon lines up in the HK$25 million Group One Longines Hong Kong Cup.
Dennis Yip unleashes his Secret Weapon, flashing home to win Jockey Club Cup at Sha Tin
Unlike Moore, it won't be how Yip reacts immediately after the Cup if he wins that will be memorable, but in the weeks, and possibly months and years afterwards.
Yip's celebration parties are amazing – with live bands and cameos from Canto-celebrities singing on stage at grand auditoriums. When Yip won the title he booked the Sha Tin parade ring for a 60-table, all-you-can-eat and drink extravaganza for 600 of his closest friends.
Yipster's party takes the cake in off-season
That was after having already released a limited edition set of designer jeans to mark the championship. Yip arrived to his party in style, cruising in on a horse drawn carriage while Queen's We Are the Champions blared through the loud speakers. What will he do if he wins Hong Kong's richest race?
4. Corine Barande-Barbe
Barande-Barbe hasn't got the same flashiness or exuberance as the aforementioned males on the list, but she nonetheless provides a point of difference.
Growing up in Paris and the daughter of two psychoanalysts, with no family background in racing, Barande-Barbe has still managed to carve out a niche for herself at Chantilly with her unconventional style.
"I thought: 'My parents know everything about people, so I will take care of animals'," she said in a 2012 interview. "But then I found out to have a job in show jumping, you must be very rich, or a genius. I was neither, so I went into racing instead."
Within four years of taking a licence, Barande-Barbe had already won the 1995 French Oaks with Carling.
Strongest Hong Kong Vase in years a quirky twist of fate for old Cirrus Des Aigles
It was Cirrus Des Aigles who made the French dame most famous though and the great horse was a six-time visitor to Sha Tin.
Barande-Barbe has a refreshing outlook on how she trains – getting in the head of her horses, and has come to love Hong Kong – whose racing fans love her back.
This time she brings an outsider, Garlingari, for the Vase, but a win would be another fairy tale result for a trainer who has a habit of producing them.
5. A Shin Hikari
Horses are the stars of the show after all, so it would be wrong not to include an equine entry here. If A Shin Hikari was a person, what would he be like? Well, sweaty for a start, Patrick Ewing-like sweaty.
It's fair to say A Shin Hikari, temperamentally, would be wildly unpredictable when it comes to mood, but also performance. If you only looked at two tapes of A Shin Hikari, a relentless lead-all-the-way assault in last year's Hong Kong Cup and a follow-up 10-length thrashing of eight rivals in the Prix d'Ispahan at Chantilly, you would think we were dealing with an all-time great.
Perhaps flawed genius is the more apt description, as a bad day at the office for A Shin Hikari is just as stunning as his best. One word of warning though, the common denominator in ASH's two big wins; he was prepared at the track where he was to compete on both occasions, and the reason given for many of his mental meltdowns at home has been his unfamiliarity with the setting.