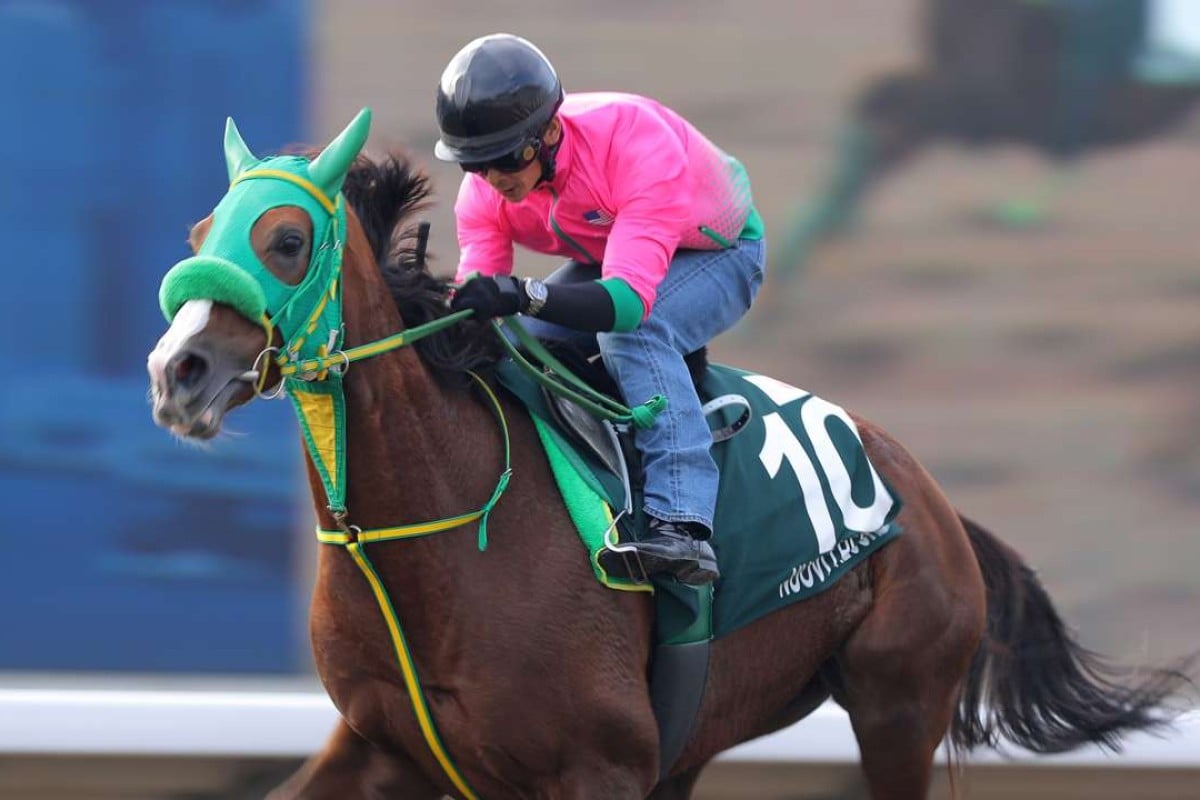 Japan grabbed two more chapters of HKIR history last year, to add to its already-impressive resume at Hong Kong's end-of-season showpiece, and the curiously named Nuovo Record may well be adding to it at Sha Tin on Sunday.
The good-looking chestnut mare, sporting her familiar green hood and shadow roll, grabbed the lion's share of attention at the track on Wednesday morning with a double-value training session – she was one of the first to work and one of the last as well.
Nuovo Record was almost a headline stealer 12 months ago, when she came from 13 lengths off the speed to get within one length of compatriot A Shin Hikari in the Longines Hong Kong Cup (2,000m).
But that familiarity was topped up on Wednesday as she walked and cantered a full lap of the turf course, adjacent to the outside rail. Then came a session of schooling around the paddock at the rear of the grandstand. And then, to the surprise of trackmen, the mare re-emerged for a gallop on the all-weather track.
A classic winner in her homeland (2015 Yushun Himba – Japan Oaks), Nuovo Record looked every inch a class act as she strode out 1,200m in 1:27.2 making perfect even time (60 seconds) for the first 800m and 27.2 for the final 400m.
As far as times go, this was just maintenance work for the well-travelled daughter of Heart's Cry. But she did it with class, grace and authority, and pulled up as though she hadn't been around at all.
The name Nuovo Record illustrates some excellent general knowledge on behalf of owner-breeder Reiko Hara. In cycle racing, the Nuovo Record was a set of gears which dominated the road racing scene for 16 years.
Take on Maurice or Highland Reel? Nuovo Record's connections choose the lesser of two evils
According to cycling website disraeligears.co.uk, the Nuovo Record was accorded "miraculous race-winning powers" and became a totem within the world of cycle racing.
Nuovo Record was a last-start winner over 2,200m in Group company at Del Mar, the seaside venue in California, USA, and is already proven at the 2,400m of Sunday's Hong Kong Vase.
Around 30 minutes before Nuovo Record strutted her stuff, the Vase benchmark horse Highland Reel did a leisurely piece of work which continues to mirror his winning preparation from 12 months ago.
While most trainers will gallop a horse every third day in the lead-up to a feature race, Highland Reel made time five out of six days leading up to his defeat of Flintshire in the 2015 edition of the Vase.
Trainer Aidan O'Brien knows his globetrotter so well and the colt's toughness is not in question. But this is a training pattern you will not see replicated anywhere, as most trainers figure no horse would stand up to the rigours of galloping every day.
But Highland Reel is not just any horse, and O'Brien – winner of 250-plus Group One races – is not just any trainer.
Classy Highland Reel the standout as he tries to defend his Hong Kong Vase title
Nothing among the international horses made flash time on Wednesday. The time benchmark probably belonged to Australian sprinter Takedown, and he only clocked 53.2 seconds for 800m.
French galloper Silverwave, another Vase candidate, made a positive impression with a steady gallop on the all-weather track, clocking 27.8 for his final 400m.
Japanese mare Queens Ring, a last-start winner of the Queen Elizabeth Cup at Kyoto on November 13, looks like she's retained her form. The Manhattan Cafe filly went a steady 800m in 55.3 seconds, but quickened up nicely to break 24 seconds going home, with the final 200m in 11.89.
The Queen Elizabeth Cup (2,200m) is Japan's premier event for fillies and mares, 12 months ago, Nuovo Record finished second in the race behind Marialite.
In 2010, the British-trained filly Snow Fairy (Ryan Moore) won the race at Kyoto and four weeks later completed an historic international double at Sha Tin when swamping her rivals with a powerful late burst to take the Hong Kong Cup.