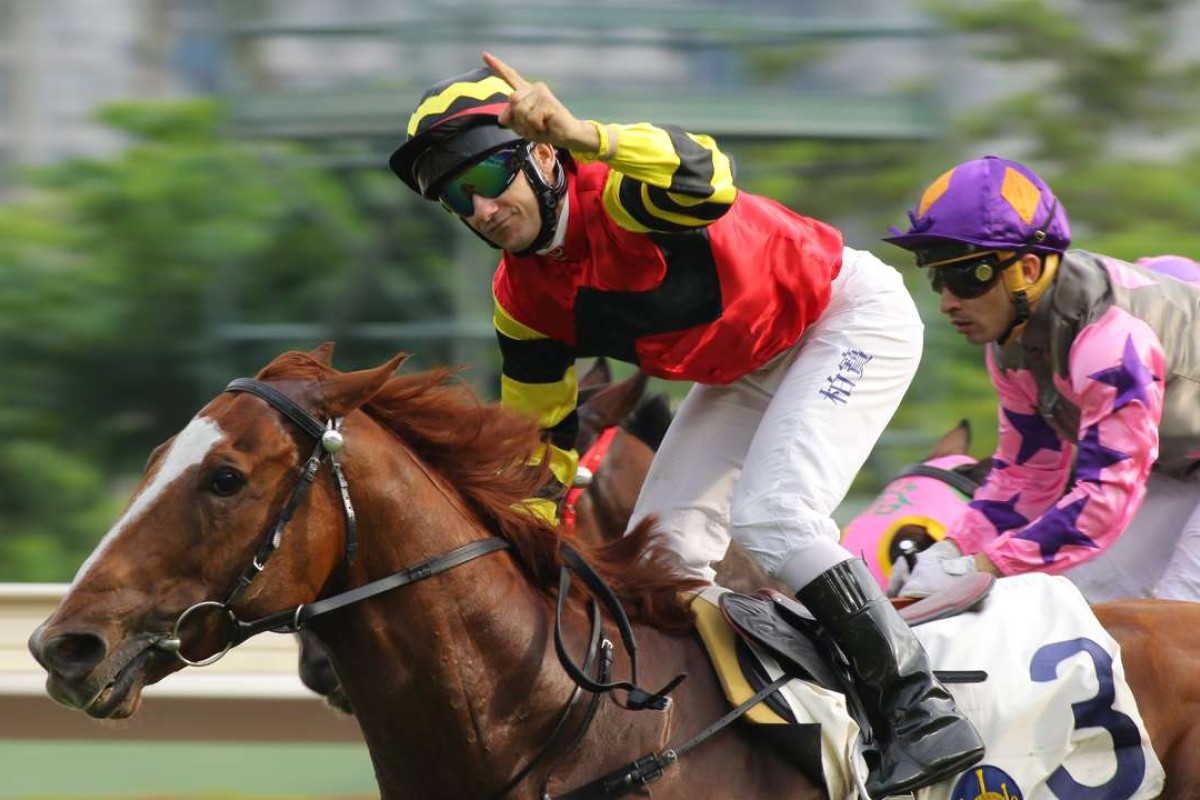 No jockey has won any of the four Longines Hong Kong International features more than three times and none has won the Hong Kong Sprint more often than Brett Prebble but it's that intimate understanding of the race that is tempering an otherwise cool confidence in Lucky Bubbles on Sunday.
"I think he's got the locals covered. I'm full of respect for the Japanese horses, but the draw and how it plays out is so important that it's anyone's race until Thursday morning," Prebble said on Wednesday.
For each of the internationals, there has been one jockey to stamp his name on the event – Frankie Dettori has won the Cup three times, Olivier Peslier three Vases and Olivier Doleuze three Hong Kong Miles.
In the Sprint, Prebble has been the most prolific jockey, with wins on Absolute Champion, Sacred Kingdom and Lucky Nine and he puts Lucky Bubbles more in the Lucky Nine category than any others.
"He's certainly not Sacred Kingdom – he was the best sprinter I've ever ridden. His turn of foot was electrifying and he could sustain it for a long time, which very few horses can do," Prebble recalled.
"Sacred Kingdom would sprint and keep sprinting until coming to the post, there aren't many like him. But Lucky Bubbles is more like Lucky Nine of my Sprint winners. He's high class, he's very genuine and he's tactically versatile, which helps you out when you're in a race like this from a tricky starting point. A lot of good sprinters are fairly one-dimensional, but you can do what you like with Lucky Bubbles."
Moore dynasty continues as Gary looks to Takedown his rivals in Hong Kong Sprint
And since Lucky Bubbles first landed at Sha Tin as a three-year-old, Prebble has been closely involved with his nurturing, mirroring the relationship the jockey had over many years with Lucky Nine, who carried Prebble in 38 of his 48 races and only one other jockey rode him between 2011 and 2015 – and that was because Prebble was suspended.
Now the Francis Lui Kin-wai-trained Lucky Bubbles has had only one jockey in his 13 starts – highly unusual for Hong Kong, where jockeys change horses as often as their underwear. Maybe more often in some cases.
"It's very satisfying to find these horses early and work closely with the trainer and help to develop their talent. As you know, I've been telling everyone who'd listen that he'd get to the top of the tree ever since his first race here," Prebble said.
"Francis has brought him along really steadily and patiently but Lucky Bubbles he has always been a bit behind the eight ball because of his physique. We waited and hoped he would grow and get a bit stronger but he's five now and I'd say he's probably as strong as he's going to get. He'd probably fit inside a lot of the horses he'll race on Sunday."
Trainer Tony Millard delighted with Super Jockey's trial ahead of Hong Kong Sprint
But Lucky Bubbles has made up for his lack of bulk with a surfeit of talent and, last May, was good enough to make Australian champion Chautauqua stretch to beat him in the Chairman's Sprint Prize, the chestnut's baptism of fire in open Group One company.
"You ride him in his trackwork, he's a different horse – he gives you no feel at all, you'd think he was a low grade battler," Prebble said.
"He's chalk and cheese training to race day. When you ride him in a race, he's got a lovely action and a big stride and I think that stride is where he catches up a bit for his physical limitations.
"You know, I do think there's another level to him that we haven't seen yet - a level within his reach because of his stride and the engine he's got, but he hasn't been strong enough physically to show it."
Confidence levels for that elusive fourth Hong Kong Sprint?
"I'll tell you Thursday," Prebble says.