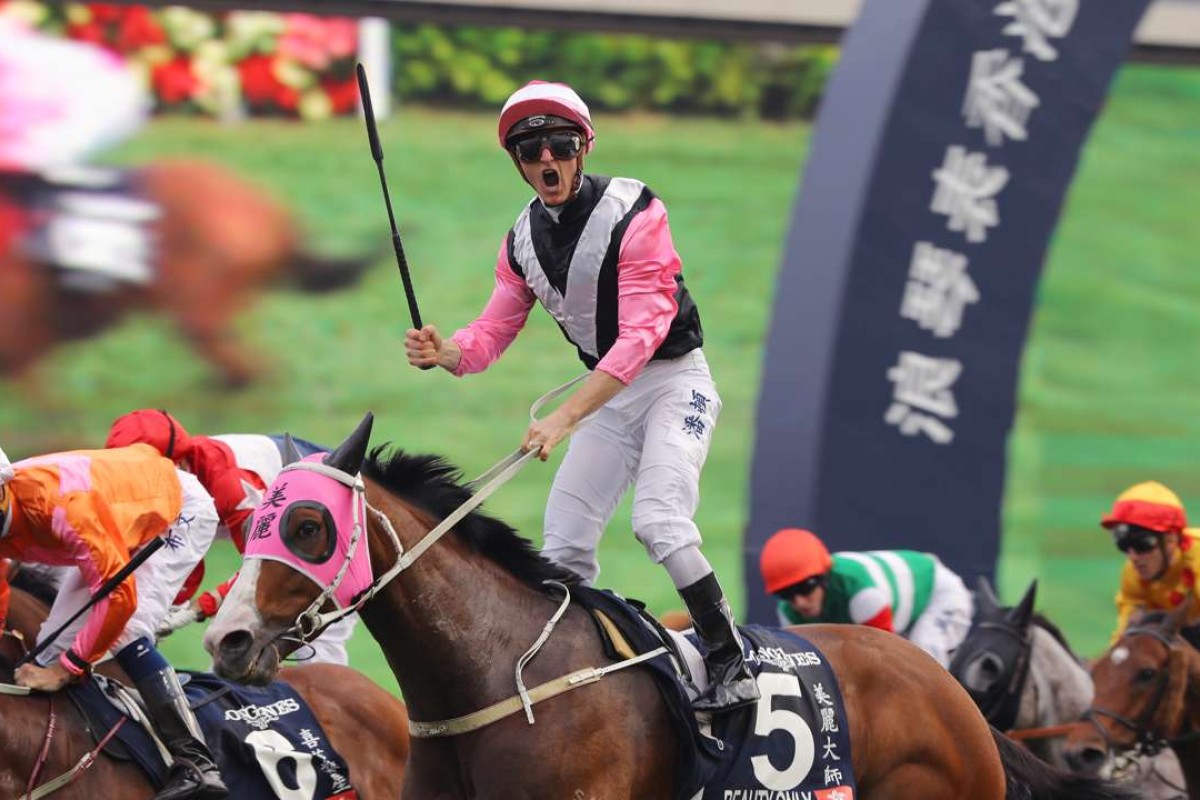 More people, more betting, some remarkable on-track achievements and an atmosphere that embraced them as the Longines Hong Kong International Races wound up at Sha Tin on Sunday with the only question to be answered – how does it get any better?
In one way it simply cannot. With 100,710 people turning up at Sha Tin and at Happy Valley for the day's racing, that's a record to dwarf the next best for the day and there would simply be nowhere to put any more.
"There were a lot of people who came through more than once we think," said Jockey Club chief executive Winfried Engelbrecht-Bresges, confident in the knowledge that Hongkongers will go to almost any lengths, more than once, for a baseball cap giveaway.
The crowd fed the atmosphere and sponsors Longines, signed up again for a new contract, must have been over the moon, even if their intended brand ambassador, tennis great Andre Agassi, had travel issues and couldn't get there. Hopefully, it wasn't a missed flight because his watch was slow.
While the tennis player didn't make it to Sha Tin, the golfer did, with Justin Rose turning up and showing off his Olympic gold medal to boot.
"I only can say that the HKIR is the greatest show on turf and that includes the golf and it looks like Justin Rose knows it, too," said Engelbrecht-Bresges with a nod to the friction between the Jockey Club and the Hong Kong golf tournament after the clash of the two events.
And the show on the turf was something special.
Zac Purton joined a small club of riders who have won two internationals on a single day, Joao Moreira joined a much smaller club of riders who have won all four of the international events – and he took only the past three HKIR meetings to do it – but Japanese trainer Noriyuki Hori started his own club of foreign handlers who have won more than one international race on the day at Sha Tin.
In fact, he could probably extend that club to include all the world's other great international meetings and the members could still hold their meetings in a phone box.
This was rare ground indeed as Moreira spoilt Ryan Moore's Highland Reel party in the Vase with Hori's Satono Crown, then Moore and Japanese superhorse Maurice produced the win of the day for the trainer in the Cup to feed off a breathless pace and smash his rivals senseless.
HKIR live blog: Maurice bows out with stunning Cup victory
Hori, not known for talking to the media much, or at all, still produced the tantalising line of the day when asked to confirm the common wisdom that this would be Maurice's last race before a stud career: "Well, that's what I've been reading in the newspapers."
It's been 75 years since the last major Japanese invasion of Hong Kong, but this time an amazing 13 Japanese runners descended on Sha Tin and they had to settle for a 2-2draw, with Purton responding for the home side on Aerovelocity, repeating his 2014 win, and Beauty Only.
Moore was crowned Longines "World's Best Jockey" on Friday night for the most wins on the list of the world's 100 races in 2016 and Purton's double gave him an early lead for the next one, even if carrying that through is tough from a base in Hong Kong.
Over in Japan, punters legally bet on HKIR for the first time, generating HK$236 million in turnover on four races, with more than half on the Cup won by Maurice, while worldwide punters bet HK$73 million into pools here through commingling – not far short of 5 per cent of the day's handle of HK1.518 billion.
If it was a popularity contest, 2016 HKIR was right on the money, as executive director of business and operations Tony Kelly said: "Wednesday night we had 29,000 at Happy Valley and HK$1.2 billion bet. Between two meetings in four days, we've had 130,000 people go racing and turnover of more than HK$2.7 billion."
Club officials were scratching their heads about how to improve things but suggestion boxes in betting shops all over Hong Kong would have been jammed with forms carrying whatever was needed to indicate their message: better results!
Favourite backers may have pulled some back on Maurice – the first favourite to win an HKIR race in two years – and Mr Stunning, but they were on the ropes for most of the day as three odds-on favourites tumbled in the first four races, then Pakistan Star topped things off with another defeat in the last.