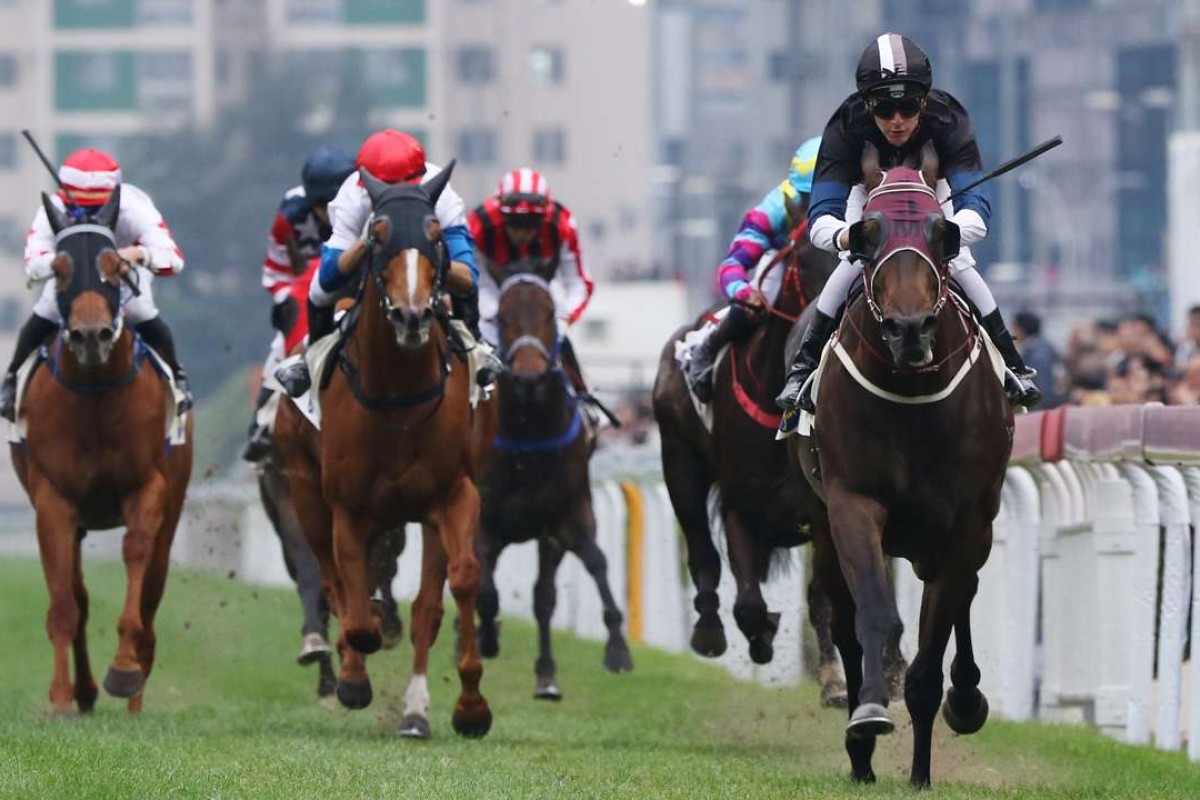 The handicapper is going to play a big role in Sam Clipperton's Christmas and New Year celebrations after Bad Boy trotted up with the Lukfook Jewellery Cup on Saturday to make himself nominal favourite for the Group Three Bauhinia Sprint next month.
Bad Boy strode to the lead with his main rival Adventurer and then proceeded to run some quick horses into the ground as he blitzed a Class Two field under top-weight in a win reminiscent of his victory for Zac Purton in June.
It was Bad Boy's third win down the straight course and he looked every inch a Group horse, putting a hole in the field and running sub-56 seconds under Clipperton but the young Australian jockey will be watching the rehandicaps.
"That was great, he led them a merry dance – the blinkers have made a big difference and the horse has just repeated what he has done before, running 55.9 seconds. He'll now run in the Group Three on January 8," trainer John Moore. "He'll go up maybe eight pounds for that, which will put him in at the bottom of the handicap – poor Sam Clipperton will have to start sitting in the sauna now! The plan is to run Not Listenin'tome in that race, too."
Clipperton will probably be quietly hoping Bad Boy goes up more than eight pounds for the romp – hardly out of the question when the margins were two and three quarter lengths by two and three quarter lengths – to help him make the weight in the Bauhinia Sprint.
And he echoed Purton's thoughts from the June win, that he didn't feel like he was going as fast as he was on Bad Boy.
"I actually felt we were going much easier than we were because he has a very high cruising speed," Clipperton said.
"But the clock says he was really running along with that big weight and he beat a couple of decent horses and beat them easily. He's a big horse and has taken a few runs this season to get to his peak fitness but having the 1,200m run last time then coming back to his favourite 1,000m course today really tightened him up. He's a monster over this trip."
Moore said he felt Bad Boy would run 1,200m when he is out of options at 1,000m and that's going to be necessary at some stage.
"If he wants to run against the really big boys, he'll need to go 1,200m because that's where the big races are," Moore said.
Clipperton made it a double half an hour later when he led throughout on the Paul O'Sullivan-trained Jolly Jolly, who was coming off a desperately unlucky eleventh.
"When I rode him the other day, I went for a run up the inside and it closed and he never got clear. He ran near last but I told Paul I thought I might have won and he looked at me a bit funny," Clipperton said.
No such troubles this time, with Clipperton sending Jolly Jolly across to lead on the rail and he was never headed, adding a fourth career victory from 13 starts – all wins over the Sha Tin 1,400m and all in similar vein, pressing forward.
"Back in class, I was able to control the speed and thing about him is that he doesn't really dash. But he builds and keeps up the gallop and that was enough today," he said.