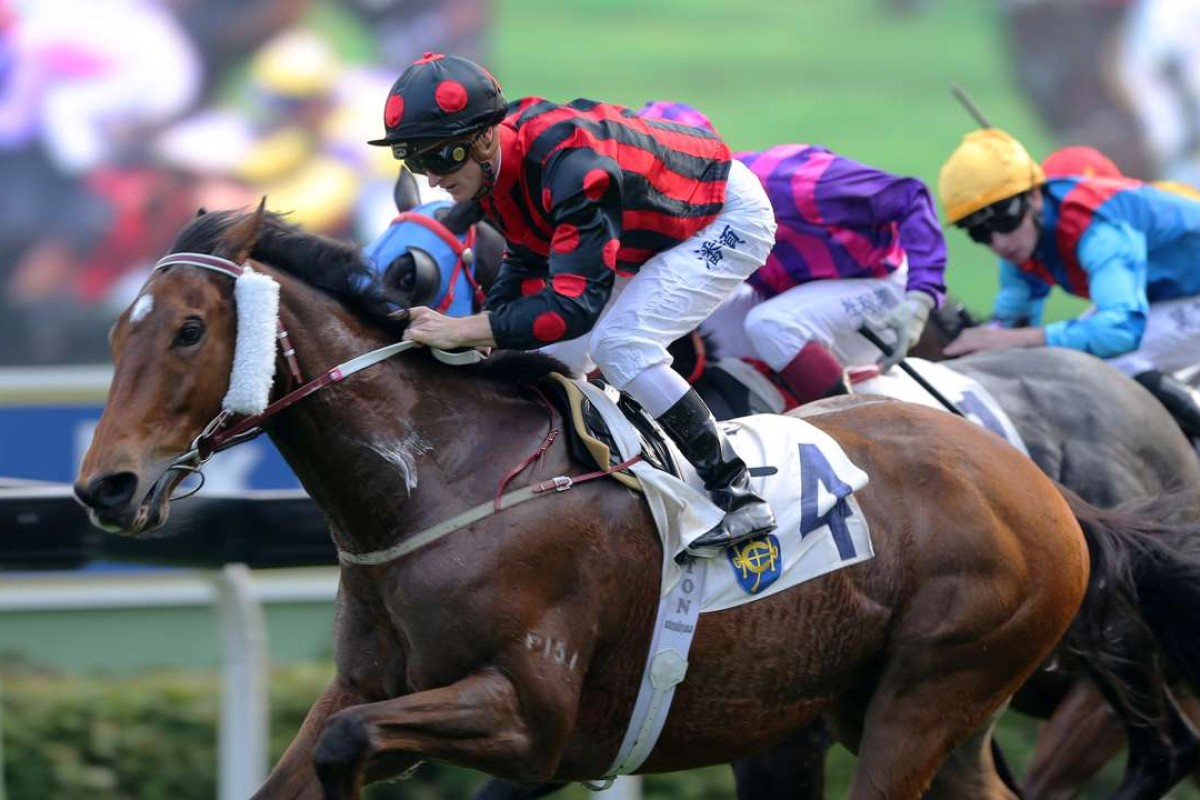 It was "tell it like it is" Sunday at Sha Tin, starting with trainer John Moore as he slammed 2013 Derby flop Ashkiyr and later admitted his purchases for the Siu family haven't been up to scratch – something he hopes has changed this year with Eagle Way.
In every other racing jurisdiction in the world the post-race interview is an opportunity to provide some positive spin, tell everybody what a great job you have done and basically look forward to a rosy future where everybody runs around hand-in-hand.
Not so when Ashkiyr finally broke through having won two of his previous starts for Moore since arriving as a big budget, Aga Khan-bred, Group Two-placed import out of France.
"He cost a lot of money from the Aga Khan stable and he has been a complete disappointment from virtually day one," Moore said with what seemed a hint of bitterness.
He was speaking of a horse that showed a glimmer of his true ability with a third in the Group One Hong Kong Classic Mile before finishing ninth in the Derby – but has been inexplicably terrible ever since.
The Sius seem to have no shortage of cash and could have easily replaced Ashkiyr, but Moore said he was determined to get Sunday's win – even if it took a drop of 46 points.
"I said to the owner, I am not going to retire him and let him out of the yard, I am going to let him drop until he finally wins a race because, as I said, he cost a lot of money," Moore said but he wasn't done with the diatribe; he was on a roll.
"Oh, so he finally put in today, John?" asked a member of the press.
"No, I know the horse is holding back, he probably only gives 60 per cent," Moore responded. "Today's race was a shocker, and as Zac [Purton] said ... it was compatible to a Class Five field."
Later, Moore said he was "too old and been around too long" to bother sugar-coating his post-race analysis.
"Why lie about it? We spent a lot of money on Ashkiyr out of a top stable like Alain de Royer-Dupre, and, really, I haven't done a good job buying horses for them," Moore said. "That's why I was so determined to win with Ashkiyr. I said, 'this horse is staying in my stable'."
Perhaps Moore is being a bit harsh in his self-assessment, as, while the Siu family hasn't had much luck when it comes to finding their Derby dream horse, Irian was a decent performer for the stable.
Irian, the first horse Moore bought to carry the family's distinctive black and red striped silks, was also unplaced at single figure odds in his Derby, behind Super Satin in 2010.
But the German-bred stayer did go on to win the 2010 Group Two Jockey Club Cup and was beaten a lip by Snow Fairy in the Group One Hong Kong Cup three weeks later.
"But, from then on ,what we have bought hasn't been good," Moore said.
Now the tide might have turned and, as good as Moore's Beauty Generation was on Sunday, Eagle Way – owned outright by family patriarch Siu Pak-kwan – looks the right type for Derby success.
Moore also confirmed that Australian jockey Tommy Berry, who won the 2014 Derby for the stable on Designs On Rome and won the Queensland Derby on Eagle Way, has been booked to ride the horse in all three legs of the four-year-old series.
Maybe the brutal honesty was contagious. Trainer Tony Millard wondered out loud what had happened to apprentice Kei Chiong ka-kei's form over the first 34 meetings of the season, a period during which she had ridden 13 winners.
"I don't know what has happened but something has changed from last season to this season. I don't know what it is but she certainly hasn't been riding as well," Millard said after Chiong won aboard Five Up High – the first of a double. "She rode a superb race and she is a better rider than what she has been showing this season."
But it is horses that cop the most brutal report cards, even in success, and Moore's scathing quotes couldn't be put down entirely to being a veteran.
Even 28-year-old Keith Yeung Ming-lun joined in when he described Best Effort as "nothing special", which of course, is entirely accurate.
"What's the point of telling the owners anything else? Maybe he can win again in Class Four, but he will need some luck," he said.
In such a tightly-handicapped environment, sometimes it is a case of trying to keep a lid on a horse's rating that motivates trainers and jockeys to "talk horses down".
The time for game playing with Ashkiyr has well and truly passed but, now that he has that win, will Moore relent and send Ashkiyr to another stable or into retirement?
"No, he is going to go one more," Moore said. "I'm going to stare him in the eye back at the yard and let him know he has got one more in him."