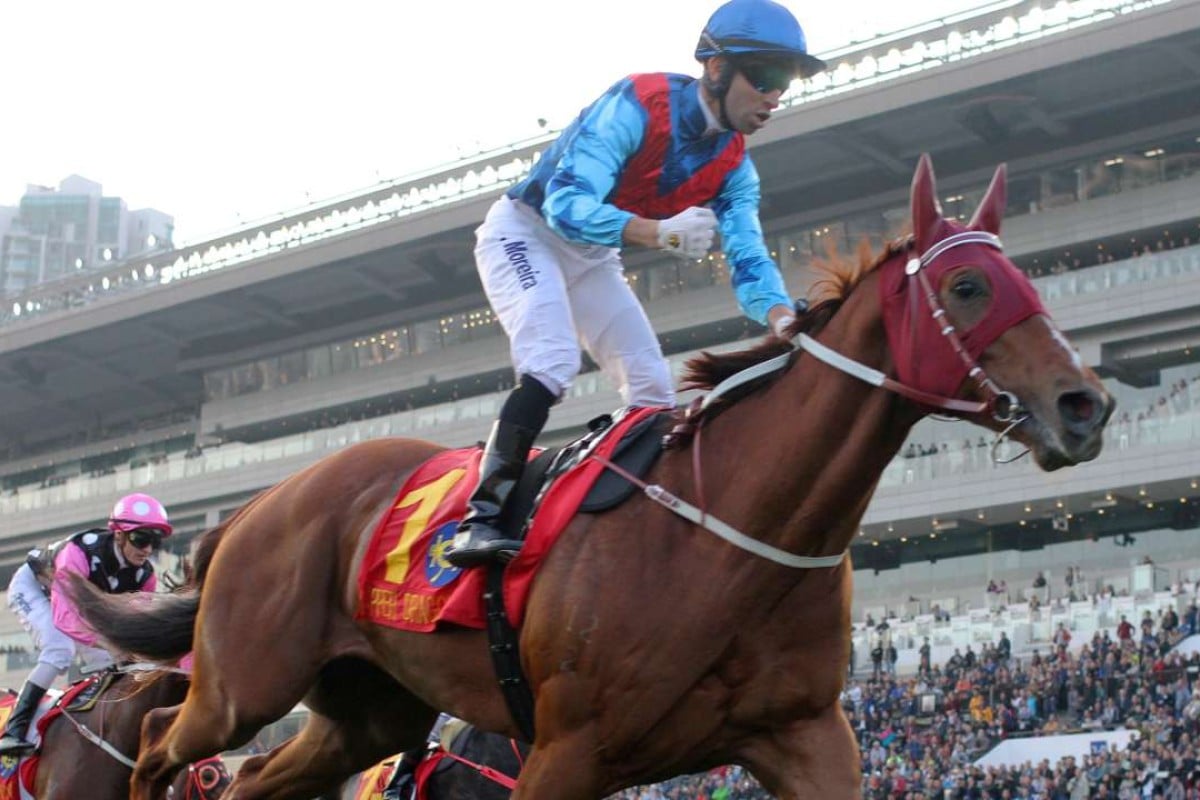 Rapper Dragon reaffirmed his status as the top-ranked four-year-old with a comprehensive Hong Kong Classic Mile victory and now just has to go on and do what none of trainer John Moore's previous winners of the race have done – win the Derby.
Moore has won the Classic Mile, or its previous incarnation as the Classic Trial, on five prior occasions and the thing that Distinction, Greenmail, Tiber, Sunny Sing and Able Friend share is that they all were beaten on Derby day, Distinction and Tiber as short-priced favourites.
But the way Rapper Dragon (Joao Moreira) put away his peers on Sunday, at just his second run of the campaign after a setback in October, the gelding resumed his standing as the nominal Derby favourite, which he has held since last season.
"The setback didn't ever endanger his career, but we had been looking at running him in the international races before it happened and had to rethink his programme, and really all it did was put him back on solely a Derby preparation again," Moore explained.
Rapper Dragon did run on international day but in a Class One, finishing fifth to Blizzard under top weight and setting him up well for the return to his own age in the Classic Mile.
Joao Moreira's Derby decision isn't a forgone conclusion despite Rapper Dragon's dominant win
"I've been telling the press for weeks that this is the cleanest-winded horse I've had in the stable for donkeys' years and, from that point of view, he was very easy to get fit," Moore said.
"He had a nice trial, his work was good and I was tipping him as the best of my runners and he has won by two lengths – [but] I didn't expect that he would win that easily."
While most runners in the Classic Mile might be open to improvement for the Derby in March, Moore said his concern was keeping Rapper Dragon on song.
"The way he went there, I'd say he was 100 per cent fit today, so the idea is to keep him at that level for the next two runs, culminating in the grand final, the Derby," he said.
"And it's a big congratulations to my son George, who spotted this horse as a two-year-old with Gai Waterhouse in Sydney and arranged the sale. He's bought a top-class horse."
Moreira said his first surprise on the even-money favourite was when Moore told him to have the gelding closer than usual.
"I thought I would be back and sweeping around them like Rapper Dragon usually is but when I came out before the race, John said to try to be in the first five, which surprised me but when he jumped so well I had no trouble putting him there," Moreira said.
Danny Shum believes there's still hope for Seasons Bloom and others beaten in Classic Mile
"He got in a decent position, went to sleep and he was beautiful, nice and relaxed. The only moment I had any concern was getting behind a horse I didn't think would kick and take me into the race but then I didn't even have to push out anywhere.
"The run just appeared, he took it and he didn't surprise me or anyone else. He showed just how much class he has and the way he did it, you wouldn't doubt him at 1,800m or 2,000m."
With an extraordinary seven runners, Moore said he hadn't been able to watch them all but had his eyes on the winner and Beauty Generation (Zac Purton) who was just cut out of second on the line by Seasons Bloom (Nash Rawiller).
John Size collects a treble at Sha Tin and sends Ryan Moore home a winner
"Seven is too many to watch without a replay, but Zac said Beauty Generation might be better with the blinkers off – he got on the bit a little and could settle better without them and give a better kick," Moore said.