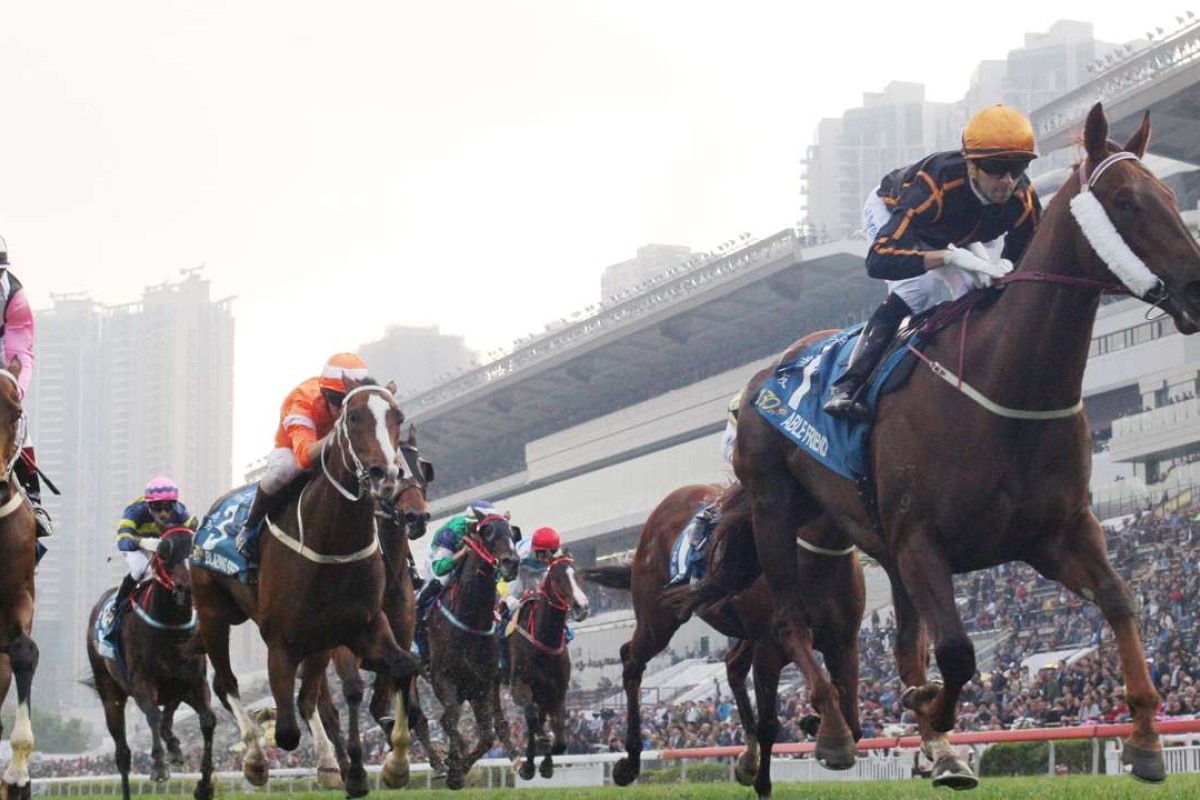 Two years on from his previous Stewards' Cup win, the world is a very different place for Able Friend but trainer John Moore has just one warning for his rivals ahead of the Group One renewal today at the Lunar New Year meeting – the Beast From The East may well be back.
And, if he's right, that means everyone else is racing for second.
When he last won the Stewards' Cup in 2015, Able Friend was the world's glamour miler, coming off a dominant Hong Kong Mile victory and virtually unbeatable at the time.
Watch: Able Friend wins 2015 Stewards' Cup
This time, he faces the race after an injury that kept him out of racing for most of last year, and Able Friend has performed creditably in a fresh 1,200m assignment and again in the Hong Kong Mile without actually troubling the place getters, but it was tempting to suggest to Moore that it is too much to hope for that Able Friend will find his form again.
"No. I don't think it's unreasonable at all to think that we'll get him back to where he was," Moore said yesterday. "He's an older horse now but with low mileage on the clock, he's sound and just suffered an injury that I've never seen before. That injury has totally healed, he passed his vet check for this race without any questions and it has just been a case of getting him fit again. After such a long lay-off, that takes some time, but in the last two weeks the riding boy, who rides him every morning, and myself and the rest of the staff have noticed a real difference in him. He looks a treat, his action's great – he might not be 100 per cent yet but how fit does he need to be to win this race? I'd say if he's even 95 per cent, he's got a panel or two on them."
Moore's first two Stewards' Cup wins were well spaced, with Distinction in 1987 followed by Able Friend in 2015, but he has the numbers today and while he had surprisingly nominated Helene Paragon as the stable elect ahead of the Hong Kong Mile last month, that's not the case today.
"And I thought Helene Paragon was unlucky not to win that race too but Able Friend is definitely the stable pick this time – I think the Beast From The East might be back," Moore said. "Helene Paragon is hard fit and will run well and the same goes for Joyful Trinity. Designs On Rome mostly finds the mile a bit short and he's looking more towards the Gold Cup."
For his 23rd race start, what else has changed for Able Friend is a tongue tie, while stablemate Designs On Rome will have blinkers for the first time, at his 28th start.
"With Able Friend I just didn't want to leave anything to chance and want to make sure that he's getting all the air he needs," Moore explained. "With Designs On Rome, he probably should have had blinkers a long time ago when you consider how he travels in races, hard ridden and off the bit, but you don't like to change things like that when horses are winning. Then I thought again to put them on this season and he won first-up so I put it on hold again. But this is an opportunity to try them, in a race where he might normally be outpaced, so that way he won't over-race, which could potentially happen if we tried them first time in a longer race."