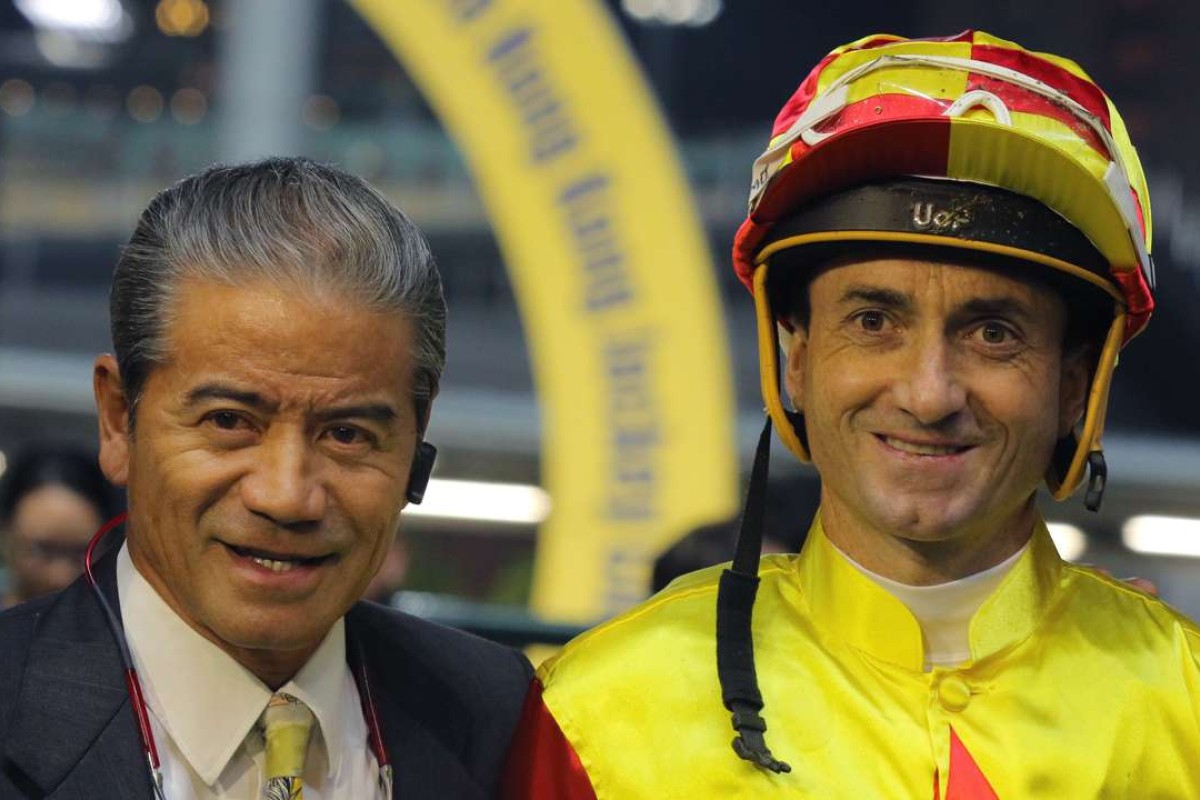 Officially, trainer Tony Cruz passed a significant career milestone when Bullish Smart completed a winning double for him on Wednesday night but the man himself feels he is being sold a little short.
Cruz landed the night's two trophy races with Blazing Pass (Douglas Whyte) and Bullish Smart (Silvestre de Sousa) to take him to 1,100 career wins as a trainer but it's a number he passed long ago in his own thinking.
"I was champion apprentice, champion jockey and then a champion trainer and if you put it all together I'm well over 2,000 wins in my career here," Cruz said after a tweak to the gear of Bullish Smart saw him scrape home as favourite in the Volunteers' Challenge Cup (1,650m).
"He wore blinkers before and really was trying too hard. Tonight we switched to the cheek pieces and he was slightly more relaxed and saved a bit more for the finish."
It was the first win in a year for Bullish Smart, who has been a solid citizen for the Cruz yard with six wins from his 39 starts, while Blazing Pass was posting his second win this season but the first at 2,200m.
"I think the longer distance suits him," Whyte said.
"He has been a bit too weak for anything more than 1,600m until recently but the problem with him at a mile is that you have to chase him along most of the race just to get going, he only has a short burst then he looks disappointing.
"In the race tonight, I let him go to sleep, he lobbed along as he liked and got better as the race went on - at the top of the straight, he was going so well I had to come out or risk getting on heels."
Zac Purton had a quiet night by his standards but that probably suited after the excitement of a day when his wife, Nicole, delivered their second child – a boy, to be named Cash.
Purton did manage to take out the first race though, on the appropriately named My Blessings. "Everyone's doing fine," he reported.
Japan trip off for Aerovelocity as Paul O'Sullivan considers racing future for tough sprinter
Cheek pieces were a key to getting Bullish Smart home and cheek pieces had been the pre-race story to the Richard Gibson-trained Powermax (Neil Callan) before his second win on end.
It is unusual for a trainer to apply for a gear change for a last-start winner but Gibson and Callan felt that cheek pieces might help get more out of Powermax after he had been a little green at his previous run.
"I don't know if the cheek pieces really won the race tonight. He's a progressive sort of horse and was always going to run well from a perfect draw," Gibson said. "But I do think Powermax does the absolute minimum he has to do to win, which is a likeable trait in many ways, but the headgear might coax more out of him. Neil gave him a great ride and it was another solid win."
Danny Shum Chap-shing was the other star of the training ranks, with a double when All Together gave Matthew Chadwick a much-needed win in the Class Five sprint and Alexis Badel was aboard as Our Hero scored in Class Three.
All Together had long appeared unlikely to ever win and carried a formline of 13 starts for no prizemoney into his first run for Shum last night before he led all the way.
"He tries hard but he has internal bleeding problems – even tonight, winning the race, he had a grade four, so that's his big problem," Shum said.