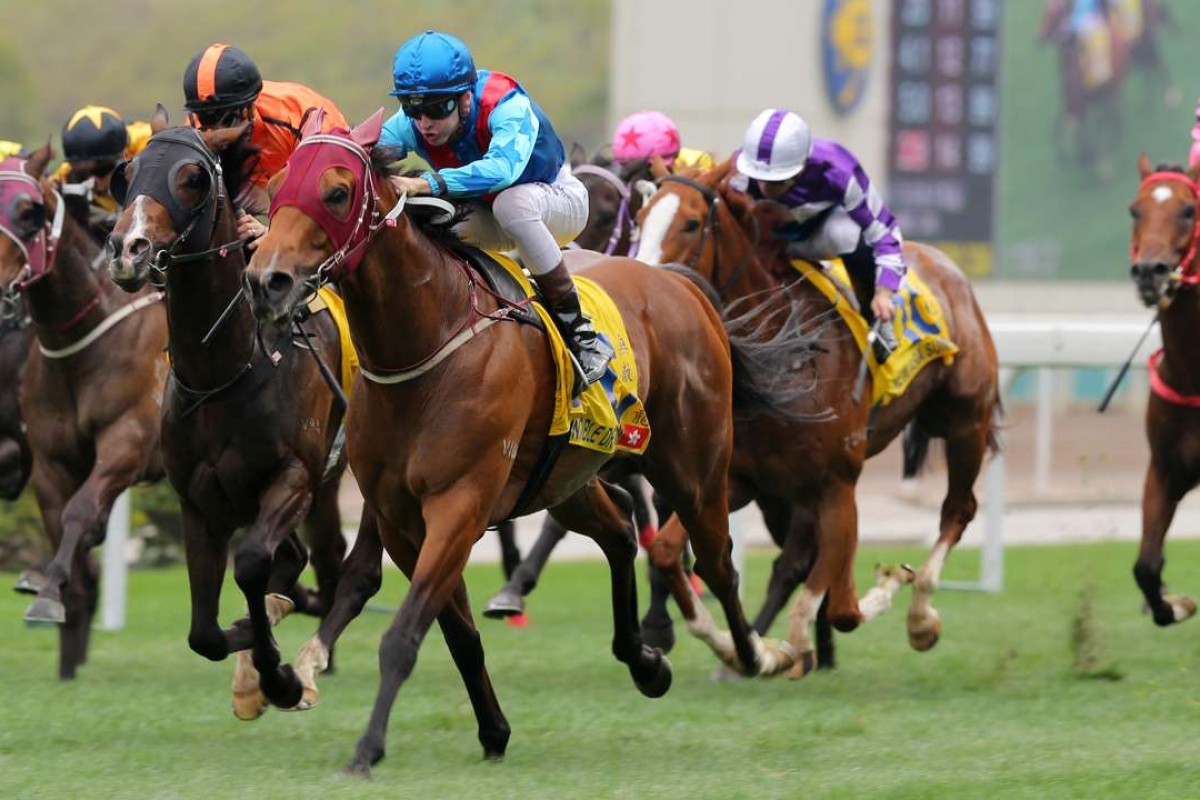 The Hong Kong Macau Trophy was shunted out of the spotlight by Sunday's astonishing Joao Moreira-fest but in recent years the race hasn't been shining much anyway as Hong Kong asserts its dominance over "little brother".
Another lopsided result in the Sha Tin leg with Hong Kong horses filling the first seven placings, and Macau horses languishing and filling the last five, again brought into question the balance and overall competitiveness of the interport series.
Does the annual race between Hong Kong and Macau horses require a handicapping overhaul? Recent results in the Sha Tin leg would certainly suggest so, with Invincible Dragon's victory the seventh straight by a Hong Kong horse and 12th from the last 13 renewals.
Macau horses come into the race off an adjusted handicap, having 15 points sliced off their domestic rating in an effort to make them competitive against their Hong Kong counterparts.
Clearly it isn't anywhere near enough for most – even if Joe Lau's The Alfonso gave Dashing Fellow a scare at big odds last year.
The next best Macau-trained finisher behind The Alfonso last year was Bobo So Cute, who came ninth, and in 2013, 2014 and 2015 Macau's best finisher was eighth.
Just great as Joao Moreira rides record eight winners in one day at Sha Tin
You have to go back to the Gary Moore-trained Viva Pronto for the last Macau-trained runner, other than The Alfonso, that was truly competitive at Sha Tin.
Viva Pronto was fifth in 2012, and won the "return leg" at Taipa in the same year – but also provided the series' greatest ever moment with an upset win at Sha Tin in 2010, which sent the always exuberant trainer into one of his trademark "run on to the track" celebrations.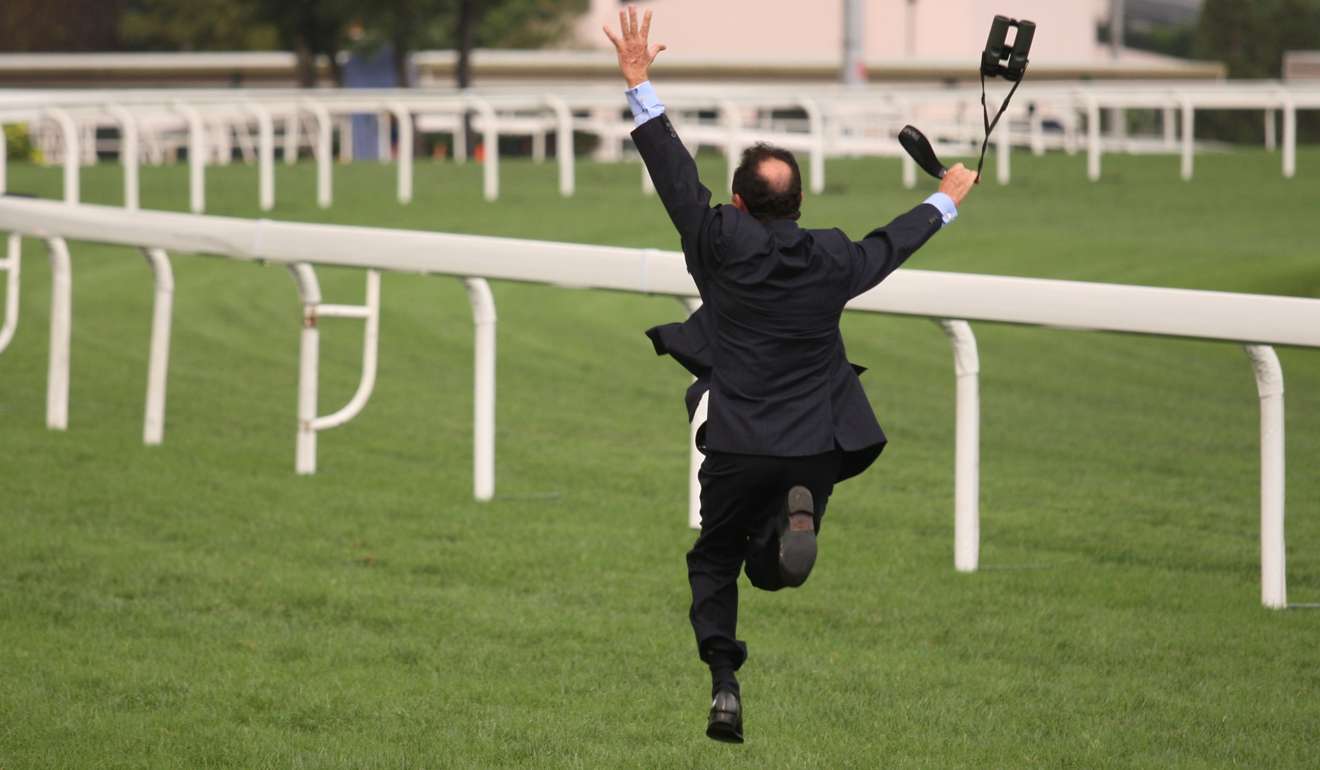 It is brother John Moore that has come to dominate the Sha Tin leg in recent times, with Invincible Dragon's win coming after Dashing Fellow and Arpinati were successful in the previous two years.
Moore says the race provides an ideal stepping stone from Class One to Group Three, where a horse like Invincible Dragon can be left languishing in ratings no man's land.
John Size's Prawn Baba books Derby ticket on back of Joao Moreira magic
"This race is perfect for this type of horse, he was on the move in the ratings and now he gets into Group race range," Moore said, the trainer now having won the race five times in total.
Tellingly though, all of those wins have been at Sha Tin, the first of them with Tiber in 2007 after Lau's Crown's Master was first across the line but returned a positive, and the trainer replied with a flat "no" when asked whether or not he would head across the Pearl River Delta for the second leg in late May.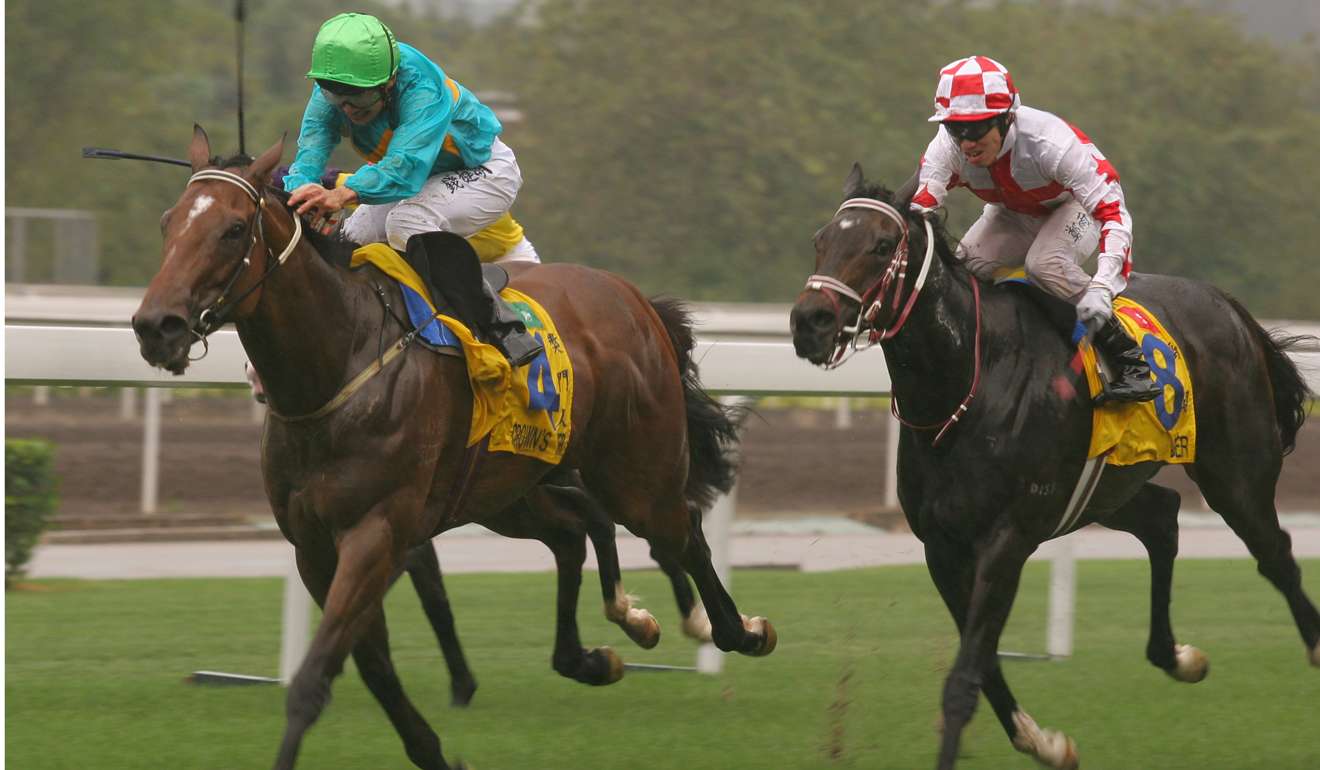 Perhaps Moore's non-participation in Macau has something to do with the mammoth HK$500,000 fine handed out to brother Gary by the Macau Jockey Club for a positive swab in 2012, an amount believed to be a world record.
Whatever the case, Macau horses are, well, more at home in Taipa, where an often mushy track leaves the Hong Kong horses looking for a paddle to move through the mud.
Invincible Dragon continues his hot form in interport series, but has to face Able Friend next start
For anyone fearing the worst for the series, there were some seemingly encouraging words from the Jockey Club's racing operations executive Tony Kelly.
"We haven't discussed any plan to discontinue it and Macau is our closest racing neighbour so it's important to have a good relationship with them," he said, before stating the club would keep an open mind to changing the race conditions.
"Obviously we would prefer to see it be more competitive. Having said that The Alfonso came here and nearly won, and we've got the return leg to come."
Macau-based James Moore hopes Kelowna Star can be a regular Hong Kong visitor
One of the positive aspects to Macau's annual trip to town was Gary Moore's presence – but with the evergreen trainer now plying his trade in Sydney, it is left to his son James to carry the family flag against his uncle John. Oh for the days of Gary running on to the track, binoculars aloft. This year the best the visitors could offer was what is admittedly a very good Asian horse name, Bobo So Cute.
Hopefully by next year the Jockey Club can extend the friendship just a little more and give their guests some help at the handicaps.