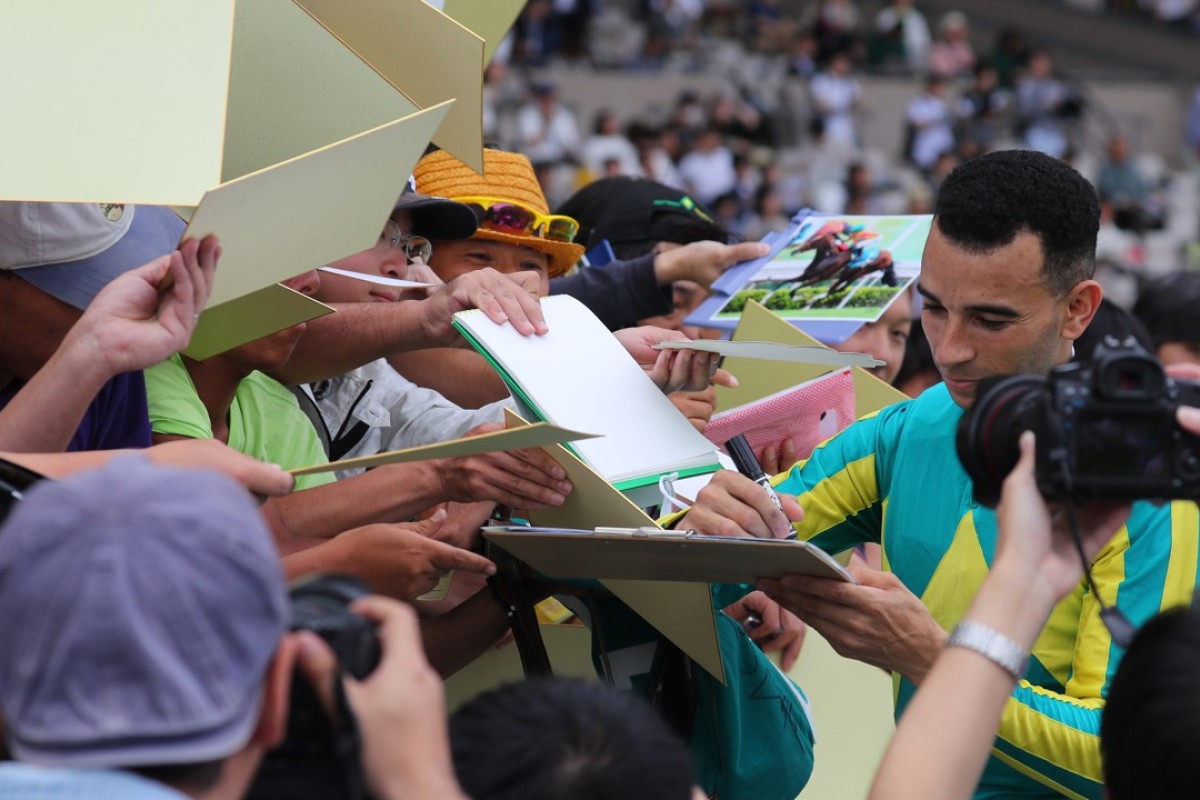 As the "super fans" crammed up against the fence that surrounds the trackside presentation area at Tokyo Racecourse and pleaded for autographs following the first of two wins for Joao Moreira, amid the din, somebody screamed "obrigado".
It seems a keen fan had gone to the trouble of learning Moreira's native tongue to get his idol's attention, successfully, and once granted the golden scribble on a photo, had given thanks in Portuguese.
A Japanese version of Moreira's Cantonese nickname, which loosely translates in as "thunder god", has also taken hold in a fan base that follows racing with unparalleled passion.
Moreira's fame in racing had built in Japan through just three flying visits, the last of them a whirlwind, three-weekend summer stint in Hokkaido.
Add to that a succession of Group One victories on Japanese horses abroad; Maurice, Satono Crown and Neorealism at Sha Tin, and Vivlos in Dubai earlier this year, and you have yourself a budding superstar.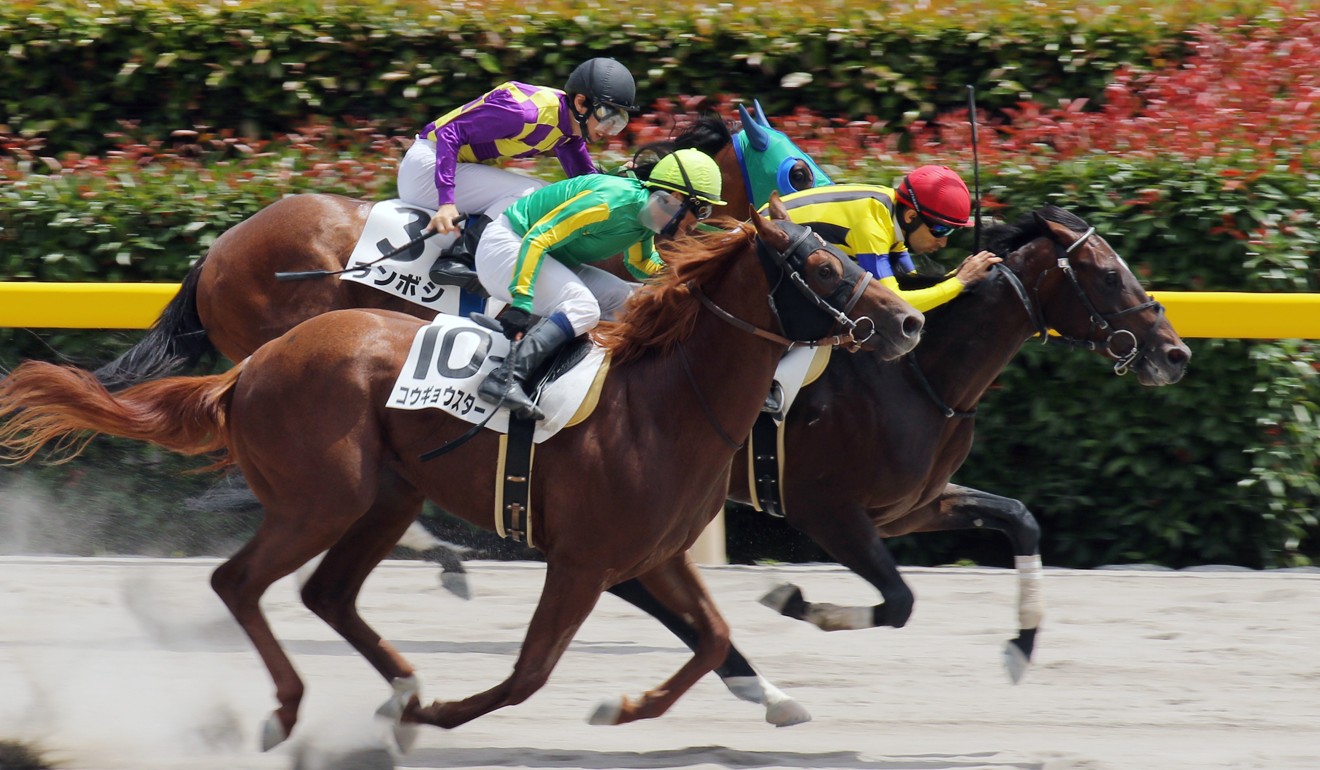 It seems "Moreira fever" knows no bounds and on Sunday the affliction hit hard at what must rank as one of the most picturesque, yet also functional and atmosphere-filled racetracks in the world.
A week earlier 130,000 fans packed into the course at Fuchu, for the Japanese Derby, well, we say packed, but the magnificent facility, originally built in 1933, but reopened after renovation in 2007, holds 100,000-plus people comfortably.
On a brilliant, blue-skied Sunday afternoon there were 57,143 fans – not boozing, not socialising, but watching, and of course betting, on the sport of thoroughbred racing.
Filmed this today; wasted on my phone, the build-up to a big race in Japan is amazing. Should be on every racing fan's bucket list pic.twitter.com/0wgCq3Egk5

— Michael Cox (@KemblaCoxy) June 4, 2017
As they slow handclapped their way through the lead-up to the Yasuda Kinen and as rolled up form guides waved in unison above heads, a quick scan of the masses revealed it wasn't filled with the same ageing demographics that dominate racecourse crowds elsewhere in the world.
There were young people, and, this is where the crowd differs wildly from a big day in the west, they weren't the white shoe-clad, nightclub dress-wearing, fake tan brigade, swigging cheap champagne and overpriced beer, oblivious to the action on the track.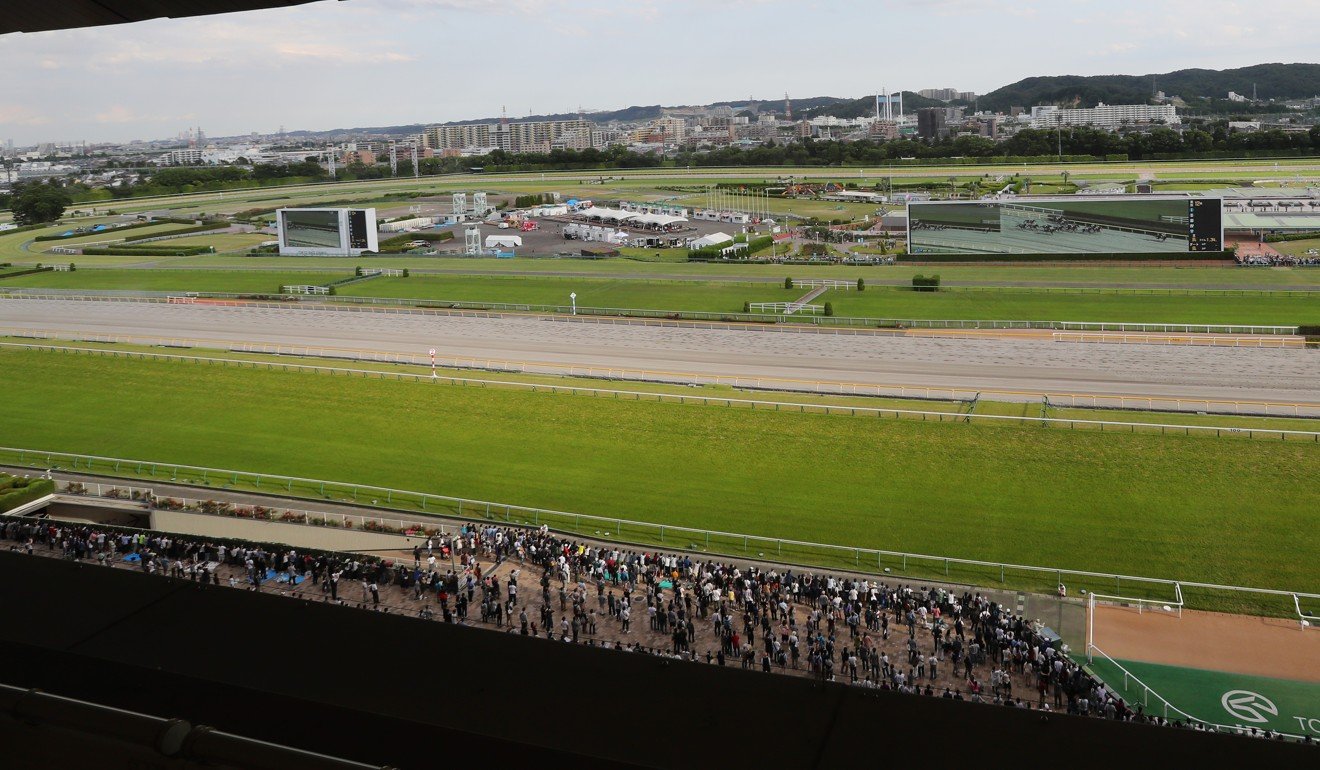 Eriko Furuya, 24, dressed down in jeans and T-shirt, has caught the racing bug after friends brought her to Tokyo Racecourse four months ago.
"The food here is great, of course betting too," she said, a folded and carefully marked newspaper form guide offered as evidence.
Walk through an underpass, out to the infield and you see another feature lacking at other racetracks, including Sha Tin – families and children.
Tony Cruz backs Beauty Only after a creditable effort in Yasuda Kinen as Hong Kong again falls short in Japan
Miroru Nagasaku brings his young family of five here on days like this. "There is so much room for the kids to play," he said, a form guide conspicuous by his side as his five, seven and nine-year-old tucked into lunch at a picnic table.
The Hong Kong Jockey Club would dearly love to utilise Penfold Park in the same way – where grassed areas and food trucks could keep everybody happy.
Alas, in Hong Kong, government legislation means under 18s, for the most part, aren't allowed on course and the infield is a wasted no-go zone on raceday.
Contentment parades before Yasuda Kinen, absolutely stunning how quiet this parade ring gets. Packed but you could hear a pin drop. pic.twitter.com/4oe3wcx5mw

— Michael Cox (@KemblaCoxy) June 4, 2017
Then there is Tokyo's parade ring, an absolute masterpiece and true theatre of the horse, where it is all about the animal and a sense of ceremony.
While at Sha Tin it is common for spectators to whistle at horses and hurl vile abuse at beaten jockeys, here fans show admirable restraint and observe signs asking them to keep quiet as horses undertake the arduous pre-race parades.
If Moreira's losses earlier in the day had you stressed, there's even a "relax space" offering massages, but behind the parade ring is the real zen zone.
A walk behind the parade ring reveals picnic tables and benches, shaded by towering pines next to a Koi carp pond.
A quick five-second stroll from the parade ring and it's as if you are in a national park, not on one of the biggest racecourses in the world – it's a great place to meditate on who the next winner might be.
And in the end, that's the key, betting. It is what paid for all of this after all, and these fans bet like no other.
Sunday's turnover, on the Yasuda Kinen alone, and up 8 per cent on last year, was Ұ17,403,974,000, that's HK$1.2 billion or US$160 million, and the day's total hold a staggering Ұ27,230,845,000 (HK$1.9 billion, US$250 million).
Those numbers, and the fan-first Tokyo Racecourse, are proof that a big betting handle, comfort and a bit of fun from true followers of the sport don't have to be mutually exclusive.