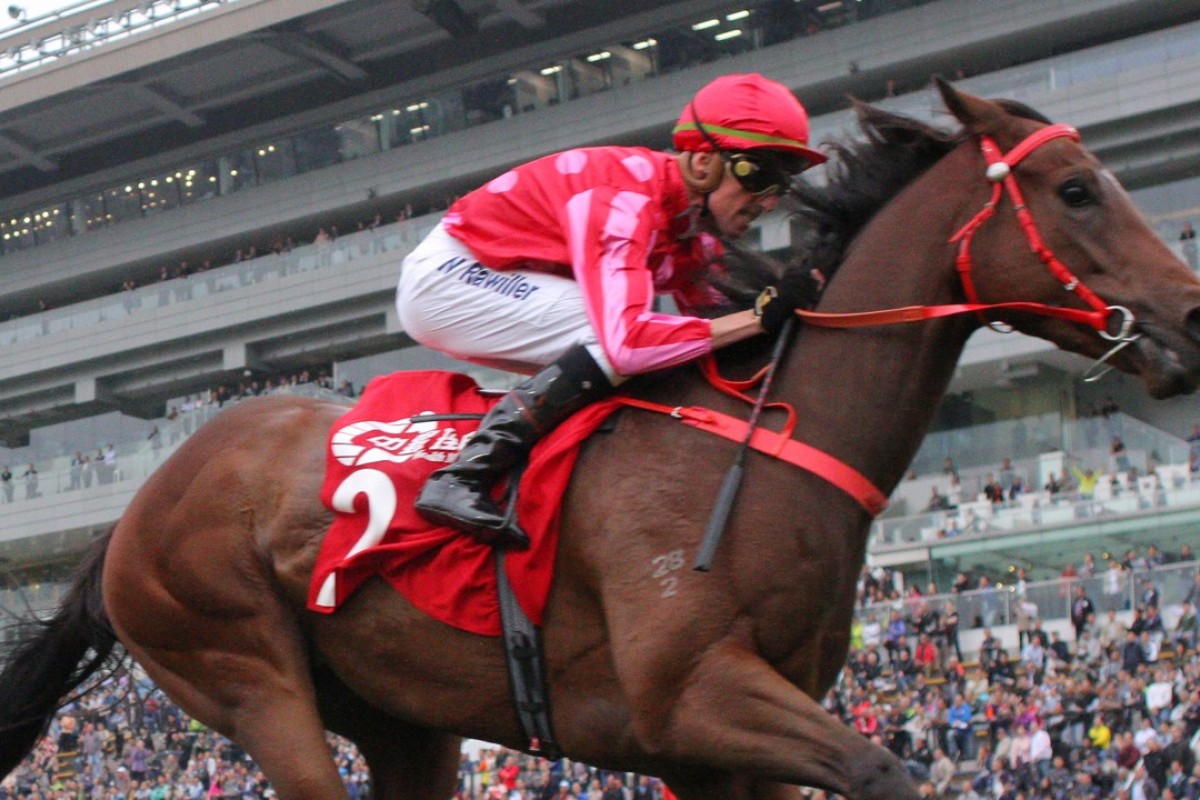 "Sprint king" John Size will have four runners in the Longines Hong Kong Sprint 1,200m next month after Mr Stunning brilliantly led home a stable tierce in the dress rehearsal at Sha Tin to stamp himself the nominal favourite.
Already the highest-rated horse in town, Mr Stunning (Nash Rawiller) was also the one best able to cope with a heavy mid-race anchor drop by the leaders that sent horses every which way at the halfway mark.
A concertina effect packed the field up and forced Bad Boy off the track at the 700m and Mr Stunning and Thewizardofoz, which were following, were forced even wider.
"Mr Stunning is an absolute star, he is so push-button. He jumped first, came back under me and even when the pace slowed up dramatically, which put the race out of whack so to speak, he was so nimble on his feet," Rawiller said. "He was able to roll forward into it and he had it beyond doubt at the 300m, it was just a matter of when I let him go."
There was more trouble in the straight and Amazing Kids was held up before getting home into second and put in a carbon copy comment for D B Pin (Olivier Doleuze), who wound up third.
"I don't know if I beat the winner but I think for sure I run second," Doleuze said. "I think the change to the winter grass really helps D B Pin. He likes the dirt and now this grass is softer on the turf track so it suits him."
John Size's Beat The Clock flashes home in impressive return at Sha Tin
Size's fourth runner, Thewizardofoz was slightly disappointing running fifth but Joao Moreira said that the manner of the race had not been ideal.
"They went very fast then pulled up at 700m and whoever was in behind was in trouble and I was one of them," he said. "There was nothing I could do but come out or I get on the heels of the horses in front. On pulling out, Nash pulled out too and pushed me wider which cost me fourth, but he wasn't the only one to have trouble, plenty of others did too."
Size plans to get all four into the feature in three weeks time if they are selected.
"Thewizardofoz did come back a little later than the others and may be behind them but I can't use that as an excuse – I'm happy with the health of the horses, they are producing on the track and I hope if they pull up well they can produce it again on December 10," Size said.
But, whatever the trouble suffered by others in the Jockey Club Sprint, it paled to nothing against Lucky Bubbles, who was in trouble for the last 700m and never got a clear run, finishing second-last.
"It was a disaster. Just the way the race was run," said Zac Purton.