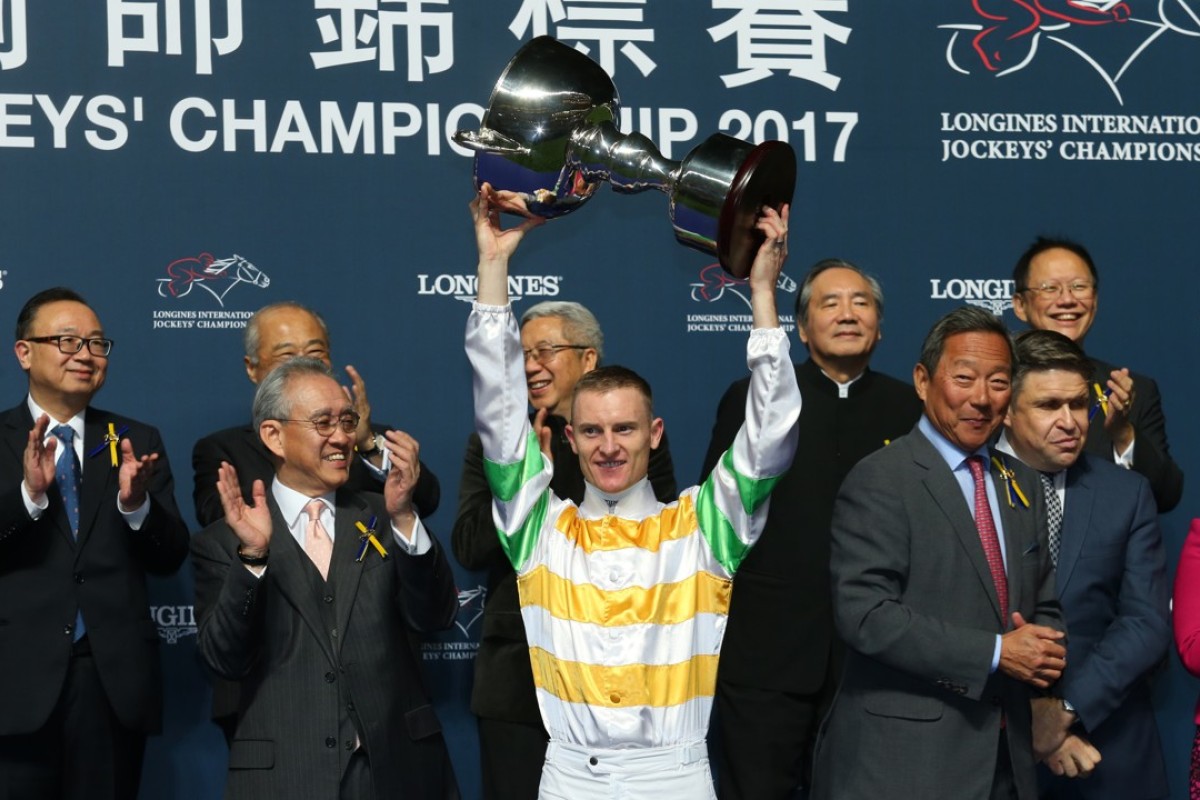 Lowered expectations and a rare underdog status proved the right recipe for Zac Purton last night as he took out a Longines International Jockeys' Championship he had publicly given up as a hopeless cause.
Purton had been runner-up in the IJC twice before, most recently in 2013 but most notably in 2012, when he had the trophy in his hand at the 100m mark of the final leg and Joao Moreira arrived in the final stride to turn him over and take the prize for himself.
The betting markets had Purton an underdog this year but probably didn't rate his chances any worse than the jockey himself, who told the press he "had a lot of work to do" after the draw for mounts and was decidedly negative in media interviews, telling all and sundry "I can't win".
"Overall, I always seem to draw pretty ordinary horses in this series," Purton said on Wednesday night when it was all over and he had joined an elite group of riders who have won the IJC at Happy Valley as well as the Super Jockey Series in Japan.
My rides are ordinary but it's a terrible shame Derek Leung has drawn such poor horses once again in the jockeys challenge. We should let him pick his own rides to give him a decent chance https://t.co/6r1SZYV9fX

— Zac Purton (@zpurton) December 4, 2017
"There was that one year where I thought I had decent rides and I was in front with one hand on the trophy before I got tipped over on the line. I haven't had good rides in one since, even the other year I ran second, and coming here tonight I didn't think I had the rides to do it either.
"I knew Let's Take It Easy would give me a good ride but the rest I didn't fancy at all so it's a surprise to get two winners. I feel like the series owed me one since the night Joao pipped me, so I suppose we're all square now."
The four-year-old series could prove to be The Golden Age for Tony Cruz
Social media was alive with reminders of just how much Purton had knocked his chances in pre-event interviews as his first ride Our Hero crossed the line in the opening leg.
"I don't know why Zac told everyone the horse couldn't win," said trainer Danny Shum Chap-shing. "I told him it had improved a lot since his last run and I gave him a good chance."
Purton had prevailed narrowly over Silvestre de Sousa on outsider See Me Now, and the Brazilian, who celebrated the birth of his second son during the week, looked like capitalising on his surprise start when he led all the way for Caspar Fownes on Peace Combination in leg two to take the front.
Joao Moreira happy to share some inside information with the International Jockeys' Championship rookies
"I was really pleased to get Silvestre for this horse because he's experienced at Happy Valley, he's an aggressive rider and as we know Peace Combination is a fast horse who has been going well and just needed a draw, which he got tonight," said Fownes.
"I told Silvestre to get out of the gates quick and lead if he could, or box seat at worst, and the horse would get the job done for him."
But Purton was back in the third leg, winning on Let's Take It Easy, with de Sousa out of the picture, and once again trainer Peter Ho Leung played the kingmaker on IJC night.
Ho invariably provides at least one of the series winners and led in three of the four victors one year, and he openly targets the races as they carry added prizemoney.
"I'm just lucky – you can't really plan to win one of these every year," Ho laughed. "Zac gave him a good ride, he's been racing consistently, that was it."
It was an anticlimactic final leg, with only Purton and de Sousa in contention and neither given a strong chance of being in the finish and French rider Pierre-Charles Boudot, who is to join the Hong Kong roster soon for a stint, riding the winning wave of champion trainer John Size to rack up his first winner here on Bank On Red.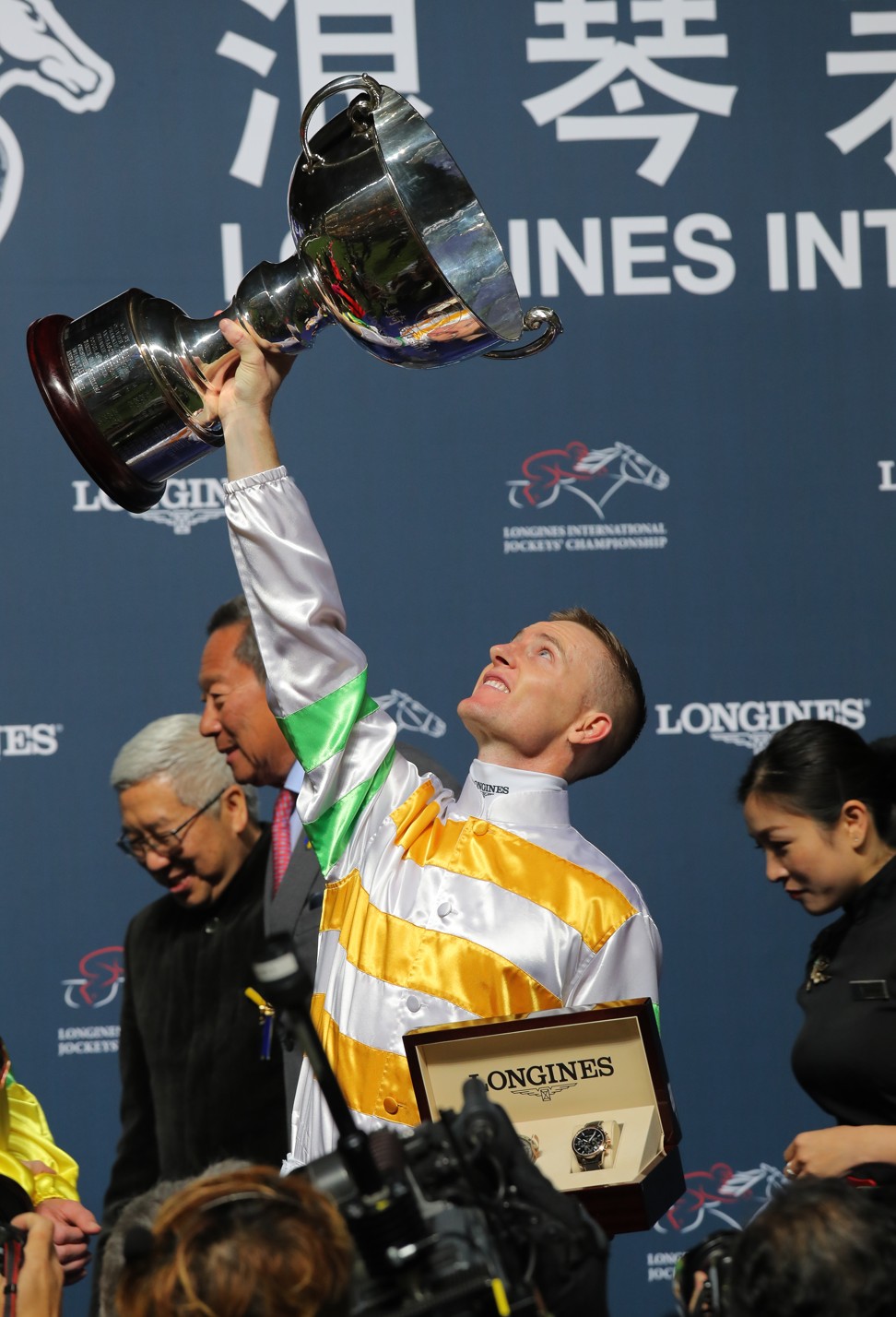 That victory was enough to earn him a HK$100,000 cheque for third in the IJC, beating defending champion Hugh Bowman on a countback rule as Bowman had the same number of points but had not had a winner.
Purton picked up HK$500,000 for first and de Sousa HK$250,000 as runner-up and now they turn towards Sunday's Longines Hong Kong International Races with much bigger fish to fry.