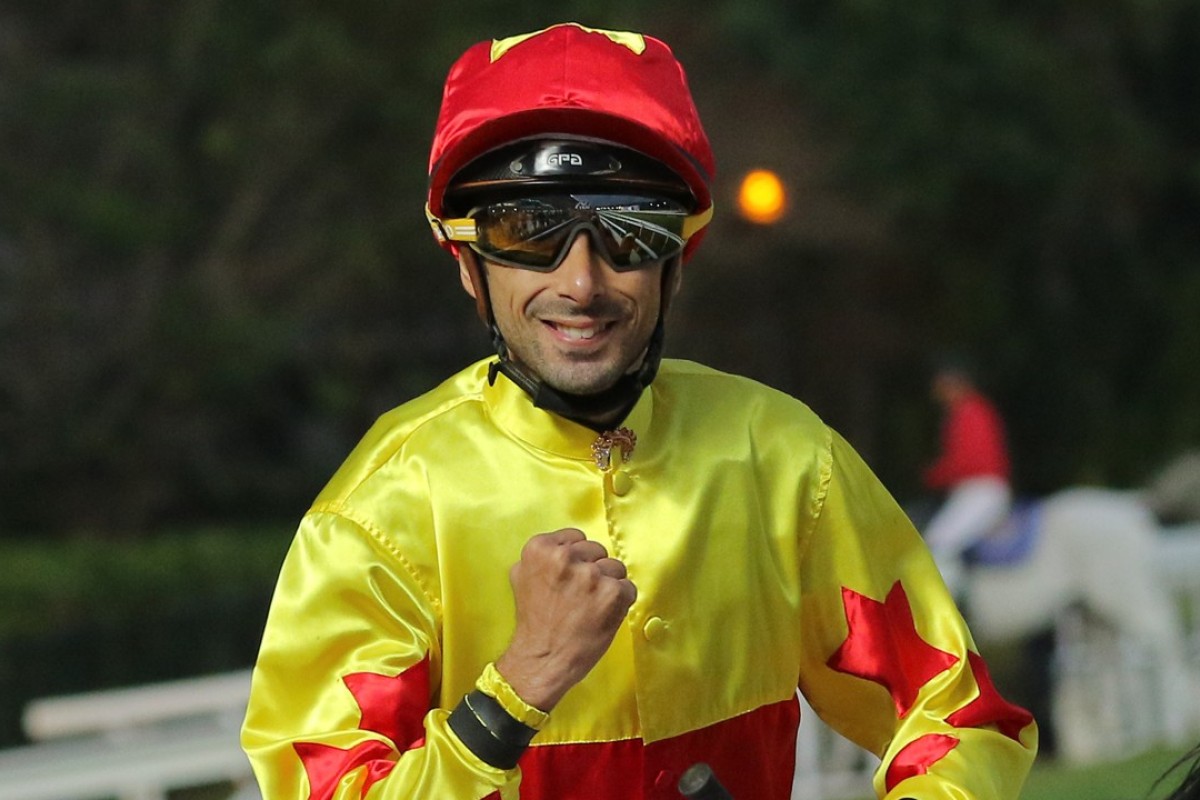 Alberto Sanna isn't your average European jockey enjoying a ­leisurely winter stint and the ­driven Italian's double on Saturday sent a strong message to his critics – he is here to stay.
Most Europeans who arrive during December do so to pick up some extra prizemoney during the downtime of the winter months, before returning home as the weather warms up to cushy retained rider positions for big stables.
The 32-year-old Sanna, a former champion apprentice in his homeland, comes via stints in Bahrain and Qatar – where he was crowned champion as well – but has no intention of returning, as his desperate riding showed.
First Sanna out-duelled Nash Rawiller as Bossiee rolled odds-on pop Eighty Eighty and then the tall lightweight squeezed through a narrow gap on California Joy to make it a double in the last race of the day.
They were the type of gritty wins that endear a jockey to the notoriously hard markers standing in the Sha Tin outer.
"This is where I want to be full time," Sanna said. "This is the best place to be in the world if you want to get better as a jockey. It's just like a tennis player, if you play against average players – you will never improve yourself, you need to play against the best.
Almond Lee and Keith Yeung show their staying power with a Sha Tin double
"The jockeys are good in the Middle East, but it is a place to go at the end of your career. I was riding the best horses there, so it was easy. I'm the type of person that once I have won all the biggest races then there is nothing for me. I like waking up in the morning and trying to improve myself."
Sanna rode two winners from just three meetings in a cameo late last season but found life more difficult through the first six meetings of his current stint.
Sanna was zero for 21 heading into Saturday, placing just once, and hadn't had a ride start single figures in betting, leading one local columnist to suggest the jockey would not see out his contract.
Far from it, Sanna welcomed his wife Roberta and two young children Marco and Alessia to Sha Tin this week, and is pushing for an extension of his current agreement that runs to April 30.
"This time I found it tougher than in the summer, I arrived during the international week, so there weren't many opportunities," Sanna said. "Now hopefully people can see what I am capable of when I get an opportunity. I really wanted those wins."
Sanna rode a smart race on Bossiee – a difficult ride at the best of times – tagging the long odds-on favourite throughout before trying to put Rawiller in a pocket with an early move.
"Nash was too smart for that," Sanna said. "He just pushed me wide and we ended up side-by-side in a battle all the way up the straight. That's the difference between Qatar and here. If I did that move in Qatar I would have got away with it, and won easily, and this is why I will get better here. These riders are the best in the world."