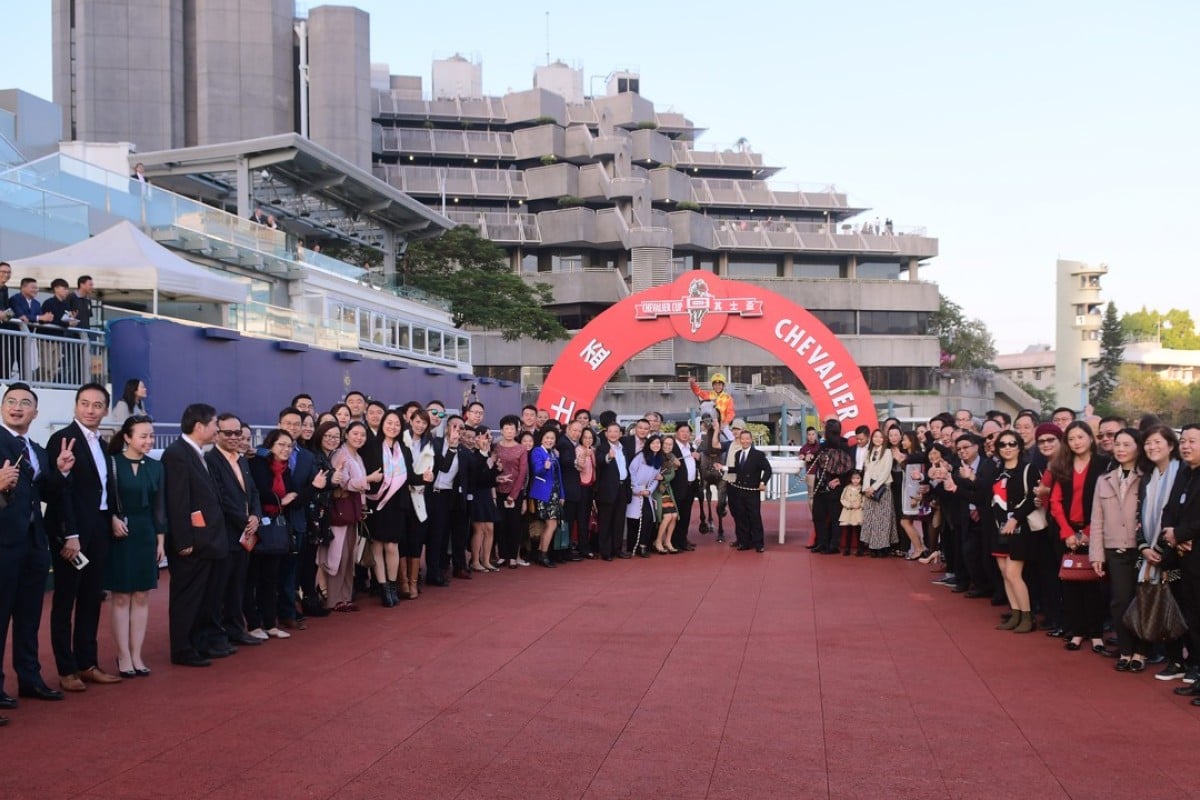 Pingwu Spark isn't just Hong Kong racing's biggest horse, he has by far the biggest entourage as well and his supporters will again bring Sha Tin to life on Sunday.
A group of more than 70 racegoers, made up of friends and family of the Pingwu Stars Syndicate, are expected when "The Big Unit" chases his fifth victory from six starts this season.
The enthusiastic group has made Pingwu Spark's winning photos an amusing post-race sideshow to the horse's electric on-course performances as first-time racegoers squeeze shoulder to shoulder in the winner's enclosure and snap selfies to post on social media.
"I've never seen so many people waiting there when I come back from a race – it looks like more than 70 people," said jockey Derek Leung Ka-chun, who has ridden the horse he calls "an elephant" in each of his six career starts.
"It's good to see for the owners, it's already a syndicate, but then every member of the syndicate invites a group and the crowd seems to be getting bigger with each win. I hope I can give them something to celebrate again on Sunday."
The enclosure might be overflowing if Pingwu Spark can make it three straight wins and apparently there would have been an even bigger turn out on Sunday had connections been able to book more tables.
Pingwu Spark's weight had risen after each of his starts to 1,336 pounds for his last win and while he has lost four pounds for Sunday, he remains Hong Kong's heaviest horse by a considerable margin.
That size didn't stop the grey from producing a sharp turn of foot last start when pocketed until late, the style of victory perhaps opening up new tactical possibilities for a horse that has been ridden forward.
When it comes to racehorses, is bigger better? Pingwu Spark makes the case
A wide draw also contributed to Pingwu Spark's sole defeat this season but trainer Benno Yung Tin-pang indicated he would still instruct Leung to be positive despite drawing 10 of 10 in the Class Two Lung Kong Handicap (1,400m).
"It is a tough field and I think it will depend on how he jumps and what the other horses do," Yung said.
On a mark of 103, Pingwu Spark is in the type of ratings territory that means Group races are on the horizon and another win could put the five-year-old in the frame for the Group One Queen's Silver Jubilee Cup on February 25.
"He is becoming more relaxed and I don't think he will have any trouble getting up to 1,600m in time but for now we are happy where he has been winning, at 1,400m," Yung said. "I have wanted to give him some space between runs to take care of him and just step him up gradually but there have only been a few 1,400m options for him."
Pingwu Spark and Conte – two of Hong Kong's biggest talents (literally) – can shine at Sha Tin
After winning on December 17 Pingwu Spark trialled impressively alongside Hong Kong Classic Mile favourite Nothingilikemore a week-and-a-half ago.
"He has always been big but now he feels more powerful and is gaining more strength with each run," Leung said. "I think he would need to win to be able to get a spot in that Group One next month, so first thing's first."