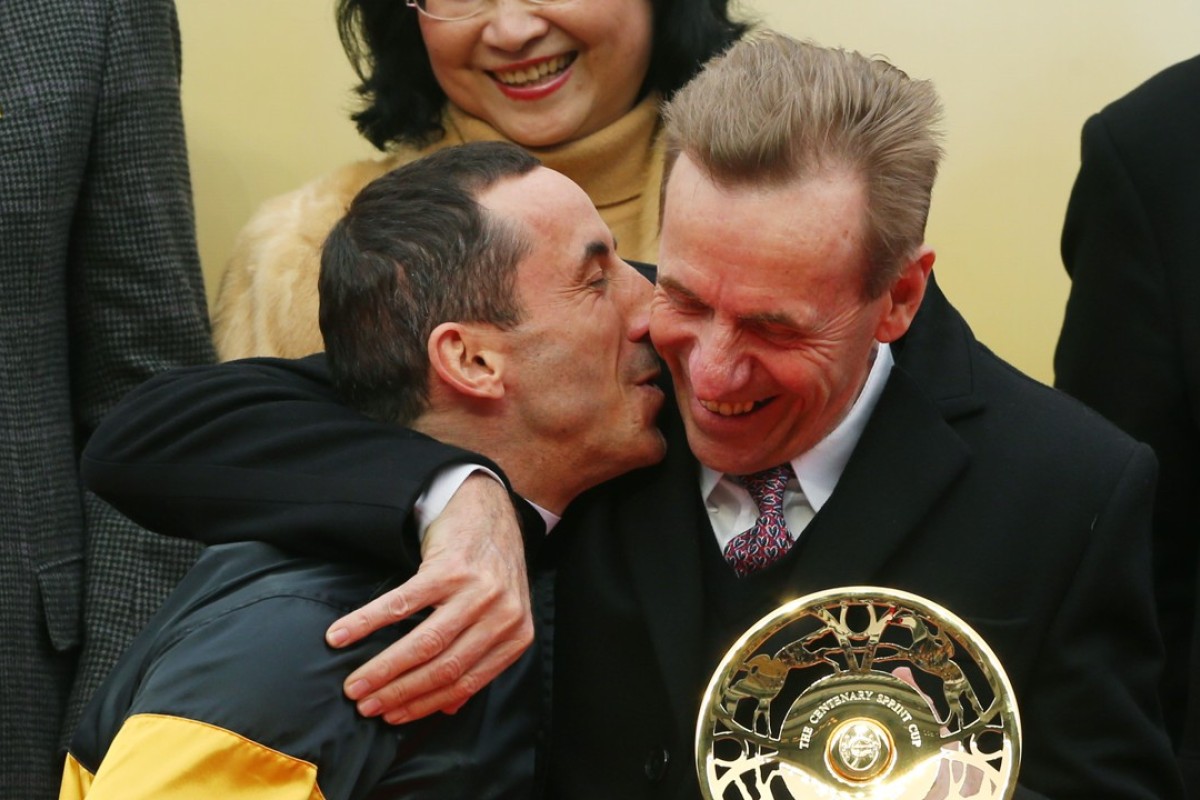 All the jockeys who ride regularly for champion trainer John Size talk about the brilliance of his pre-race instructions but Olivier Doleuze specifically laid the credit for D B Pin's Group One Centenary Sprint Cup win down to them.
Doleuze was back in the Group One winner's stall for the first time since Rich Tapestry's history-making victory in California in 2014, and for the first time in Hong Kong since Eagle Regiment won the Centenary Sprint five years ago.
D B Pin turned the tables on his Hong Kong Sprint-winning stablemate Mr Stunning, who dead-heated for second as Size swept the tierce with Beat The Clock, but most fans might have thought it was all over when the winner was caught wide.
"When I came out to the parade ring, John just said to me to ride my horse and if he's wide, not to worry," Doleuze said. "For a jockey in a Group One race, for the trainer to say that, takes away so much pressure. If he didn't say that, then probably I would dig him out of the gates and try to take a different position, which doesn't suit the horse. He is a rhythm horse, he can't be bustled or made to do things. Now we are letting him just find his rhythm, he is so much better."
Size said there was no mystery to the instructions which are being forced on D B Pin anyway.
"He can't draw a gate so he doesn't have much choice but to sit wide," he said. "But I just said 'don't change anything from international day – if you're wide facing the breeze just sit there'. The horse showed when he sat wide and ran second in the Hong Kong Sprint that he can tolerate a run like that. A lot of horses can't but he can. I'm not saying he's better out there – I'll let you know if he ever sees a rail."
Size would not be drawn on firm plans for D B Pin, who holds an entry for Dubai's Golden Shaheen, but Doleuze said he felt the five-year-old would be ideally suited.
Size said he couldn't be disappointed with Mr Stunning, who had a perfect run but the winner got past him to win by a neck.
Olivier Doleuze back on the big stage after years in the wilderness
"He was racing the same horse he beat a neck international day, they just finished in a slightly different order," he said. "I would say Mr Stunning ran to his best, there just isn't much between them, as they showed last time. And I was very happy with Beat The Clock. Coming into the top grade, he did what you hope he would do. He's only a four-year-old so maybe next season, as a stronger five-year-old, he's going to be the one."
Lucky Bubbles followed Mr Stunning in the race but failed to finish off in his first blinkered run and jockey Hugh Bowman said he was just disappointing.
"He travelled satisfactorily, he just didn't quicken the way he had in the past when I rode him," he said.