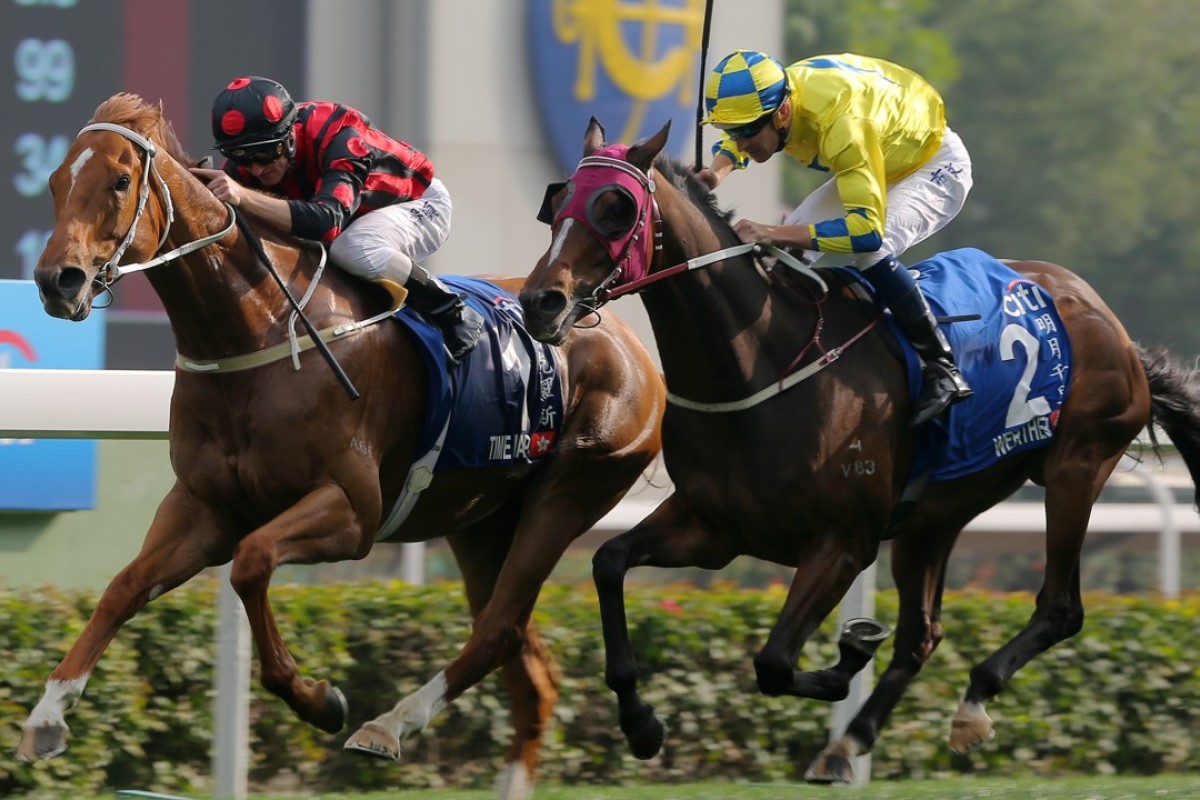 It would be wrong to suggest the Hong Kong Cup had been all about the ride or that the Citi Hong Kong Gold Cup was all about the horse, but there wasn't much doubt that Time Warp shouldered more of the load on Sunday as he smashed Sha Tin's oldest course record.
Zac Purton put in one of the rides of the season in December to control the pace and steal the Hong Kong Cup from the front.
His ride on Sunday to keep the Tony Cruz-trained Time Warp rolling and balanced in front was as good as it could be but, this time, he was hostage to a pack of wolves out to play the horse not the rider and they gained the control, just not the result.
First Dinozzo, then more aggressively Helene Charisma worked up to ensure that Purton and Time Warp didn't get to map it out as they liked, and even stablemate Pakistan Star played a part, kicking up along the inside behind the leader to be part of the breakaway group down the back.
Time Warp wins his second 2000m G1 of the season, taking the @Citi Hong Kong Gold Cup under @zpurton. He sets a new course record of 1m 59.97s, the first horse to break the 2-minute mark, in holding off Werther, Seasons Bloom and Pakistan Star #HKRacing pic.twitter.com/cHfndOmseE

— HKJC Racing (@HKJC_Racing) February 25, 2018
"I thought pre-race that something like that might happen. But I knew after I rode him international day that he would handle some pressure being applied and still be effective," Purton said.
"Obviously, you don't want as much pressure as he had today though. Every time I thought I could back the speed off a little bit and get a breather they kept coming at him and kept making him work."
Zac Purton says 'Joao made a mistake' as Beauty Generation wins Queen's Silver Jubilee Cup
The horses which had laid siege to Time Warp evaporated by the 400m, where defending winner Werther (Hugh Bowman) now had him at his mercy but no sooner had he drawn up to win the race than he faltered and was later found to have bled.
"It was run to suit us, he cruised up and I think we've all seen enough races to know what was probably going to happen but, look, he gave me his best and that's all I could ask of him," Bowman said.
A disappointed Moore said he believed Werther had been right at his top for the race and now all plans were up in the air.
"It's a shame because he had already headed Time Warp and Hugh thought, when he really went for him, that Werther would give him at least another half-length," he said. "But he went both nostrils and he's out for three months. We'll get him back again but there won't be races for him at that stage of this season."
Playing politics: how Zac Purton transformed himself into the main man for Hong Kong racing's power owners
Time Warp has an entry for Dubai but Cruz said he was not intended to go.
"I don't want to take the risk of him coming back not at his best for the rest of the Group Ones here," he said. "So we'll play safe, he'll stay here and then we might look at taking him places next year, when he's more mature."
The first horse ever to break two minutes for 2,000m at Sha Tin, Time Warp's new course record erased Jim And Tonic's 1999 mark as he prevailed by a half-length, with the Danny Shum Chap-shing-trained Seasons Bloom (Joao Moreira) a closing third another half-length away and comeback idol Pakistan Star (Matthew Chadwick) a brilliant fourth at his first race for eight months.
"I felt once I pulled him out he would have just dashed and would have beaten them easily. When I got out in the clear he just seemed to stay in the same spot," said Chadwick, indicating that the gelding's fitness had given out late in the race.
Olivier Doleuze keen for Canto-pop collaboration after Marqula's victory at Sha Tin
Shum said that he was proud of Seasons Bloom's effort at the 2,000m but he would not be staying at that distance for the Audemars Piguet QE II Cup in April.
"No complaints, he ran very well and now we know that he is strong right up to 2,000m but he will drop back to the Champions mile," he said.