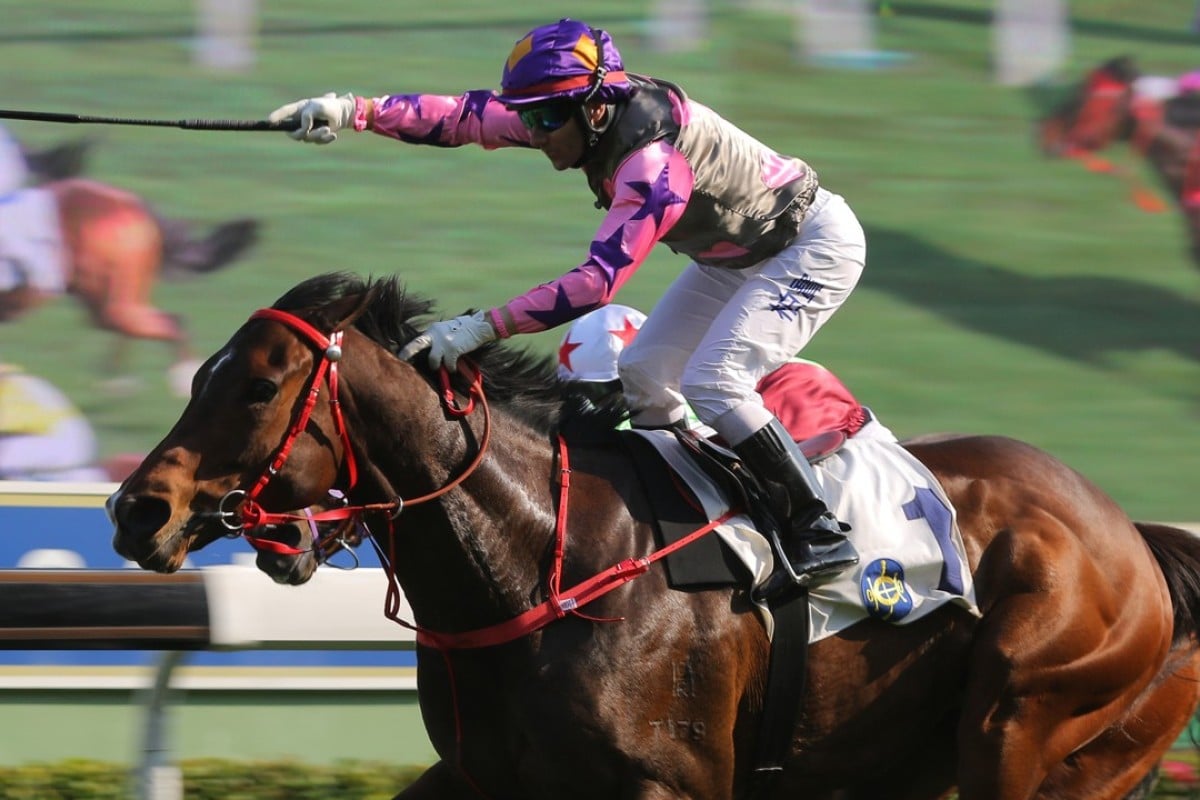 Amazing Kids launched Brett Prebble into some rarefied air when he burst back into the winner's circle in the Singapore Turf Club Trophy at Sha Tin on Sunday and might have launched himself into a second attempt on Dubai.
Amazing Kids had disappointed in the Al Quoz Sprint at Meydan last year after a freakish storm rendered the desert track soft and trainer John Size had ummed and ahhed about a return this year as the sprinter had not won this season.
"I wanted to see him win a race and to see that he's in good fettle – he's had three months off racing since the Hong Kong Sprint but it obviously hasn't done him any harm," Size said after the six-year-old rounded up some quality opposition under 133 pounds to be Prebble's 800th winner in Hong Kong.
"As far as Dubai is concerned now, we'll see. I wouldn't say no but we'll see first of all how the horse is after that run, that's the most important thing, but I was pretty happy with him going into it."
Prebble is only the third jockey to amass 800 winners, behind Douglas Whyte and Tony Cruz, but he had been parked on 799 since January 31.
"I was just stuck there for a while on a dry spell and not getting a winner every now and again here makes it feel like so much longer," Prebble said. "Amazing Kids has been so honest for me, he deserved that. The race couldn't have worked out better, I just got to suck up behind the pace. I knew Winner's Way would take me to the 200m so I followed him but when I got off his back, it was all over. Often, this horse gets left with too much to do way out the back in the big races and falls short but he's got a tremendous turn of foot for a short burst."
Sliding doors: Brett Prebble notches his 800th Hong Kong win, but it almost never happened
It was another day at the winner factory for Size, who wheeled out a treble and now has a season's tally half as big again as the nearest chaser, his former protégé Frankie Lor Fu-chuen.
Class Four galloper Remarkable (Matthew Chadwick) kicked off a race-to-race-to-race sequence, with Calculation (Olivier Doleuze) following up on the dirt and then Amazing Kids sealed a good hour for the top yard.
"I thought he'd be suited by the surface as there was a bit of cut in the ground when he won last July. But he'd been having a bit of trouble at the jump so I wasn't in a hurry to go to the 1,650m on the dirt – with that very short run to the first turn – until we could get that right," Size said of Calculation. "He was flattered by the margin but it was nice to win with him again. It had been a while."
Doleuze said the key had been Calculation getting the jump just right.
"I think when he is a bit slow away and the jockey has to push him to catch up, he over-races," he said. "The key of the race was he had a good start and I didn't have to wake him up to get the lead. From there it was just a case of keeping his rhythm, he's that kind of horse, all momentum."
Size looks to have made a dirt discovery with Remarkable, who went back-to-back on the surface, but said that may not be the case.
"After his run at Happy Valley in Class Five, I felt he would handle the dirt and he won well," Size said. "I saw this race was on so I ran him again while he had the opportunity and before I stretched him out in distance too much. Maybe he sneaked away with one today. But now we'll start to find out whether he can run further on the grass."