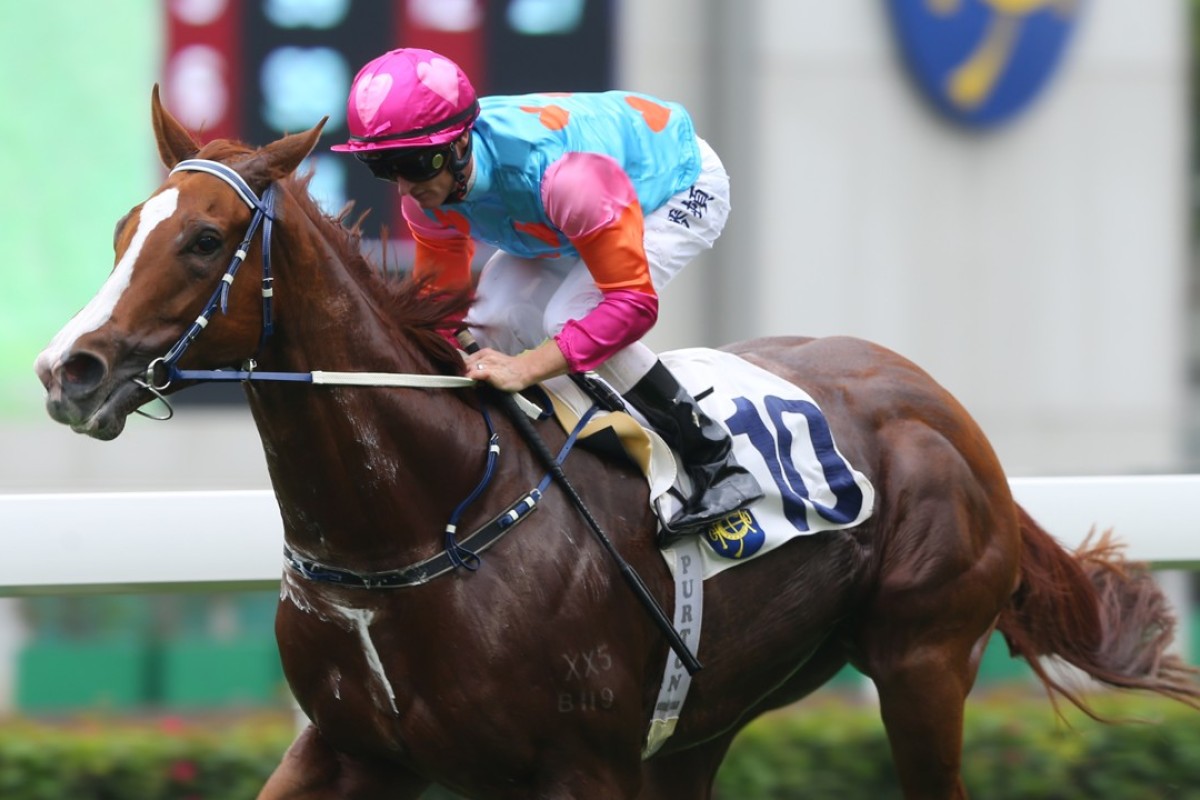 A pair for Zac Purton at Sha Tin again trimmed a little off Joao Moreira's advantage in a jockeys' championship this season that is leaning dangerously towards being competitive.
At Happy Valley midweek, Purton landed a winning treble without reply and on Saturday it was a double to Moreira's single as talented three-year-olds Handsome Bo Bo and Ugly Warrior took another step up the ladder.
Looking a little deeper, Purton's past four race meetings have yielded 11 wins from 35 rides, and Moreira's just four win from 36 rides as the Australian narrows the gap to just 11 wins between them, at a point of the season where Moreira has already been home and hosed in the past three years.
"I'm working really hard and I think it's good that there is a feeling that it could be a competition this year, at least at this stage," Purton said.
"I've been pretty stiff lately with a lot of close seconds and if I could convert a few of those and be walking out of the races with five wins instead of two, it would make such a big difference. You just know that the day is coming soon when Joao goes out and rides five or more so I need to whittle down his lead the best I can before that happens."
Zac Purton starts the mind games as Ivictory knocks off Beat The Clock in trial ahead of Chairman's Sprint Prize
And finding himself on willing, smart young horses like his winners on Saturday is an important part of that, with Handsome Bo Bo winning his third from four starts and Ugly Warrior his fourth from five starts, both bounding out of the gates to give themselves an edge.
"Handsome Bo Bo got a very easy lead again and to be honest I think he's being flattered by these margins. I thought Happy Meteor might make it harder to get the lead today but when he just handed up and let me go, it was pretty much all over," Purton said.
"He's doing a great job, but he has been getting it very soft in front and I think the handicapper has been getting a bit carried away with him. He's pushing him up the ratings faster than he deserves and he probably will again with today's win because he put up a margin."
Ugly Warrior's only defeat had come last start at the hands of another very good dirt three-year-old, Pick Number One, a regular Purton mount, but he never looked like being beaten this time.
"The form around him is very good and he won it at the start. He jumped cleaner today and that allowed him to get outside the leader easily while his only real opposition, Elite Boy, was caught wide," Purton said.
Zac Purton notches his 800th Hong Kong winner
"It's nice to have been able to get on both Ugly Warrior and Pick Number One but I think they're probably going to clash again now. They are both very good young horses on the surface but they're also both getting to the point fairly soon when they're going to start running out of races. That's life on the dirt in Hong Kong."
Moreira's lone victory came for John Size on the honest Big Bang Bong, who had a perfect trip in the perfect race for him.
"He's very honest and has been racing very well but he usually runs into a horse that is too talented for him," Moreira said. "But today's race wasn't that strong and he got his opportunity. It's so important in Hong Kong that when that chance to win comes along, you take it."