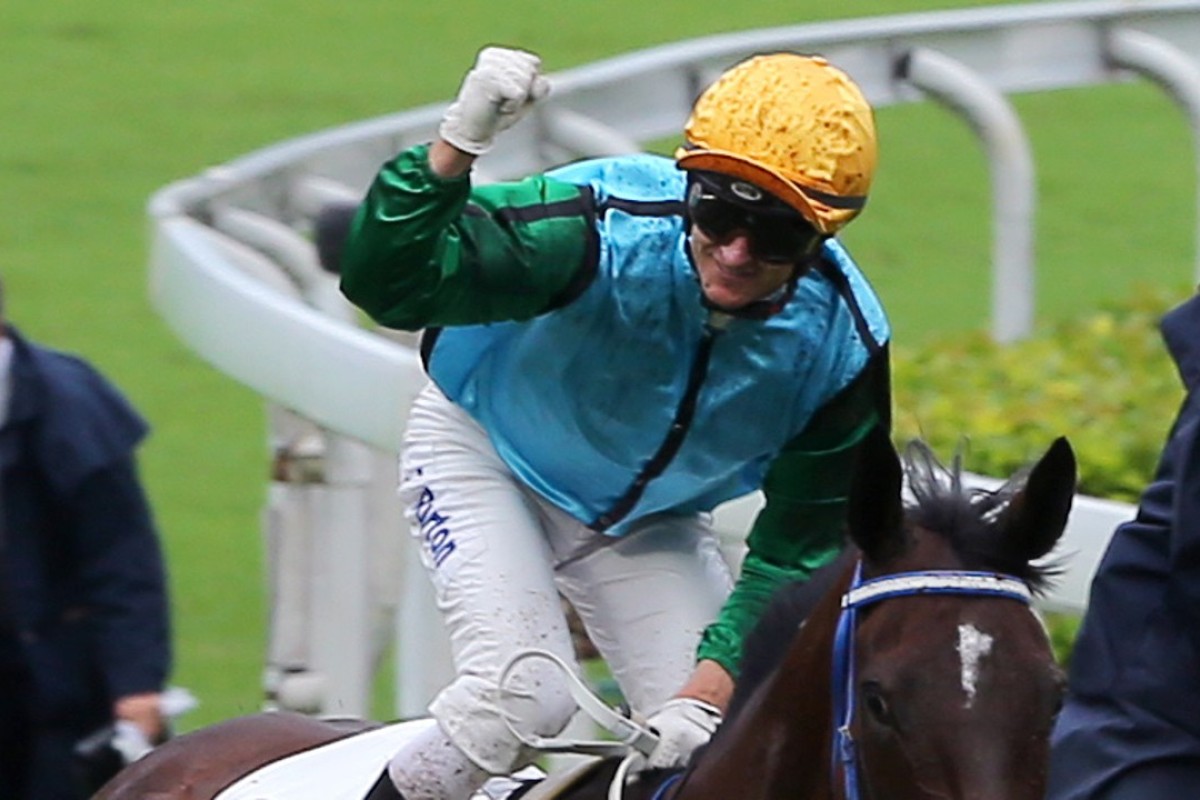 At the start of this season, nobody – no sane person anyway – thought Zac Purton could beat the unbeatable winning machine that was Joao Moreira but on Sunday the Australian finally broke the Magic Man's spell.
Purton is heavier than his rival, he gets less support and Moreira had previously beaten him by margins so wide it left little hope, but on Sunday, after a titanic duel that captivated world racing, the 35-year-old completed mission impossible.
Right from the start, when Moreira rode the first five winners of the season, the Australian was staring at a deficit nobody thought he would reduce, let alone overcome to win.
Since Purton's first championship in 2013-14, Moreira had dominated, out-scoring his rival by 50, 88 and 63 wins on his way to three straight record-breaking titles.
Along the way Moreira had built up a mystique so strong it made his success self-perpetuating; the more he won, the more people wanted him to ride their horse, if only to get winning photo with the man of the moment.
So when Moreira led by 15 in mid-April and with 24 meetings remaining in the season, most of the talk was about how the three-time champ might not break his own records, not that Purton could possibly catch him.
Yet, with a remarkable late-season surge, he beat Moreira head-to-head in the last chance he will ever get to do it, with the Brazilian now departing for Japan.
Moreira's aura of invincibility is why Purton ranks this championship ahead of his effort to break Douglas Whyte's 13-season reign and clinch his first title.
"I think this one means more, I know Douglas was 13-time champion but I felt like I was always going to win, but nobody thought this was possible. This time I had so much against me," Purton said.
"Joao is so much lighter than me, he gets more support and he rode for the champion trainer John Size, who was going to provide him a lot of easy winners. I did it the hard way. I didn't get anything handed to me."
When Moreira won the opening race on Cash Courier, cruising straight past Purton's tiring race favourite Best Effort, there was a sense that it could be close.
Zac Purton vs Joao Moreira: how the 'friendly but fierce' rivalry captivated Hong Kong racing and made them better riders
The wet weather doused the chances of many of Moreira's best hopes and made the races lotteries, although Purton's rides didn't fare much better on the surface.
It took 804 races to separate Purton and Moreira for the 2017-18 jockeys' championship, a season-long duel that in recent weeks has transformed Hong Kong racing into a two-man show.
Purton's ride on Rise High to clinch the crown – it gave him 136 for the term and four ahead with three races to go in the season – had all of the elements of a trademark Purton win: a plan, a backup plan, poise to execute it all and a driving finish.
Purton had done the sums pre-race and knew a win would seal his second championship but there were no fist-pumps or a high-in-the-irons salute, just relief.
Almond Lee's training career all but over after Enjoy Life falls a metre short at Sha Tin
"When you are fighting for a championship like this, it is the type of pressure you can't explain," Purton said. "When you are in a big race like a Hong Kong Derby, there's a lead up to that one race and then it dissipates.
"When you are fighting for a championship the pressure is there every day; every time you make a phone call about a horse, every time a trainer asks you to ride a horse and you have to make a decision, it's a never-ending pressure.
In a thrilling finish to the Hong Kong racing season, three champions representing the last 18 seasons went toe-to-toe in the final race. 13-time champion Douglas Whyte on Star Shine holds out Joao Moreira (Hezthewonforus) and Zac Purton (Solar Patch) #HKRacing pic.twitter.com/5MK1lnn9JG

— HKJC Racing (@HKJC_Racing) July 15, 2018
"To ride under that pressure for an entire season, it's not easy to do. But I enjoy it, Joao enjoys it and we both have the character to be able to do that."
Moreira was gracious, as always, not just to Purton, but to Whyte, who pipped both of the last two champions on the line in the last race in a three-way finish that included the winners of what is now a combined 18 championships.
Derek Cruz goes down swinging as Elusive State wins to cap the trainer's illustrious 27-season Hong Kong career
"I think I have said all there is to say about Zac already, he is a champion," said Moreira. "He has out-worked me off the track and out-ridden me on the track, he deserves the success.
"That last race was a real thrill, I thought it was Zac and I but Douglas got us on the inside. I have a huge amount of respect for Douglas and what he has done. It was a nice way to finish here."