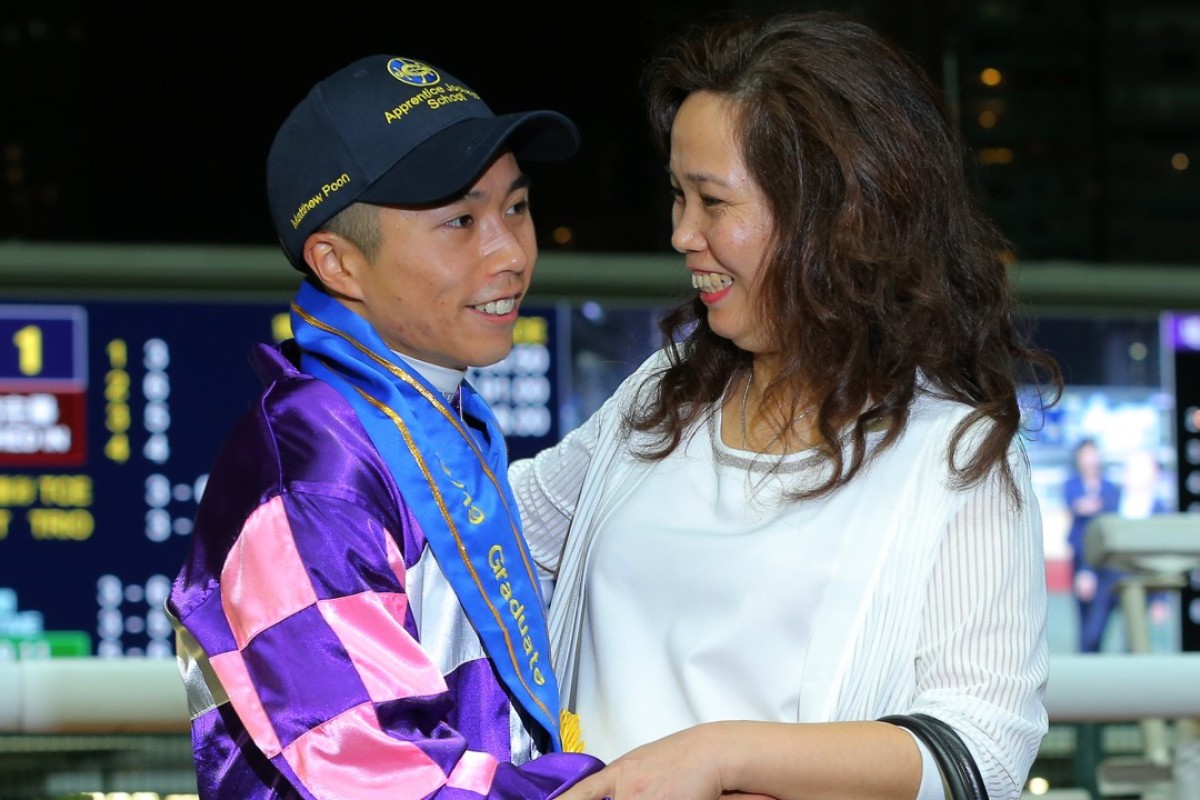 Matthew Poon Ming-fai is ready to embrace life as a senior jockey after racing through his apprenticeship in the second-fastest time of the modern era.
The popular 23-year-old guided home the Jimmy Ting Koon-ho-trained Glory Star in the opening race at Happy Valley on Wednesday night to collect his 70th winner and graduate from the Apprentice Jockeys' School.
Poon achieved the feat in 650 rides, trailing only Matthew Chadwick (472) of those who have reached the mark this century. Vincent Ho Chak-yiu is next in line and he got there in 727 rides.
After joining the Hong Kong ranks in March 2017 off a successful stint in South Australia, where he earned the nickname the "Poon Train", it has been somewhat of a roller-coaster ride for the talented youngster.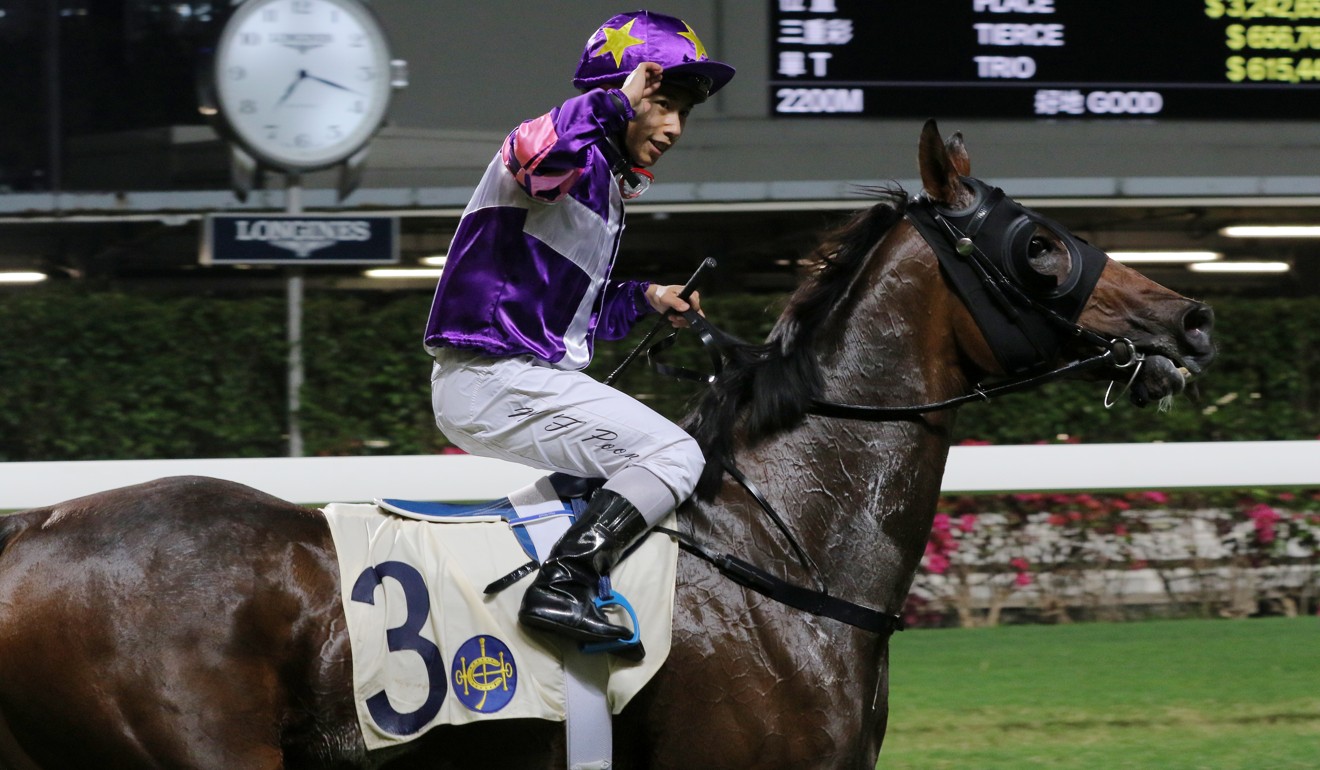 He has regularly found trouble in the stewards' room – he has suspensions of three and two days to come in the next month – while he also endured a 72-ride run of outs late last year.
Despite all this, ability has never been an issue for Poon, and he feels like he has turned the corner, finding the right balance of competitiveness and care for those around him.
Reflecting on his apprenticeship, Poon thinks he is a better rider for all he has been through.
"Last year I had a little bit of a tough time because I had too many careless riding bans and I went awhile without a winner. That had never happened to me before, so I felt a lot of pressure," he said.
Matthew Poon heading in the right direction after Sha Tin treble
"Luckily, when I did get a winner, it released the pressure and my confidence built up – I just thought positive and everything went back on track again."
Poon was full of praise for his boss David Hall.
"He has given me lots of opportunities, lots of barrier trials, lots of gallops as well as race rides, but he didn't ever give me too much pressure," he said.
"The pressure was just enough to remind me that I have to do things in a professional way, do the form – because Hong Kong is very tough – and he taught me to be more aware and focused in a race."
Hall acknowledges it hasn't always been a smooth run, but thinks Poon has gone about it the right way.
"I suppose he came here with a big reputation and he probably had the best preparation out of all of [the previous apprentices]," Hall said.
"There has been a lot of bumps along the way obviously and he's still got a big job ahead of him, but it's great he achieved it and it's great he did it in that sort of time and most important he's kept a level head."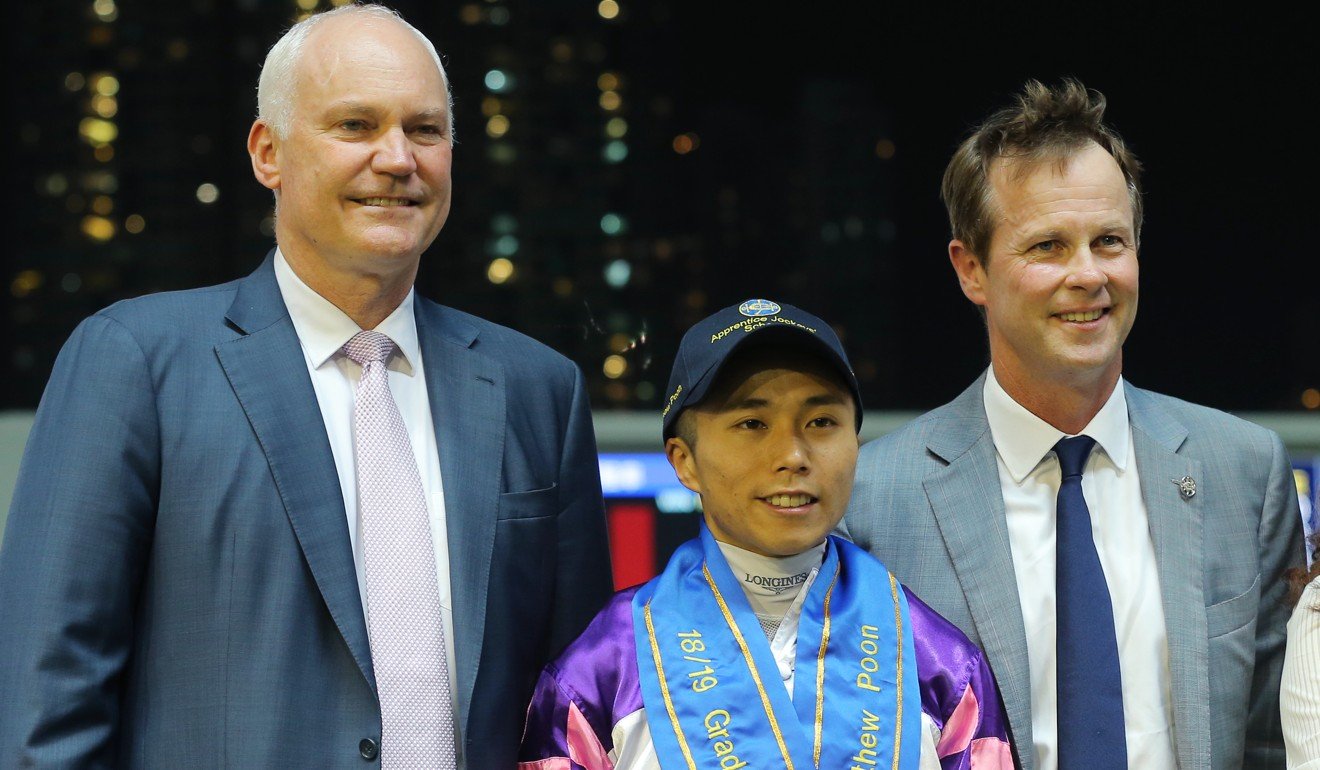 Ironing out those careless riding charges will be essential as Poon makes the transition to a fully fledged senior, while the reduction in his claim from five pounds to three will provide another challenge going forward, but Hall thinks he is up to the challenge.
"He can ride the minimum, he's got a pretty level head on him and he's well liked among the local trainers so I think there will be plenty of opportunity for him," he said. "If he can handle the pressure, knuckle down and do some hard work, he'll be fine."
The Australian trainer said it had been a pleasure to have Poon in his stable.
"He's such a good kid, he's been well mannered and hard-working and he hasn't given me any trouble," Hall said. "He's created a bit of a cult following with his name and hopefully he can carry on with it. I wish him the best of luck."
Poon took advantage of his remaining six rides with a "free" five-pound claim, taking out the feature of the night, the Class Four Longines Cup (1,000m), with Beaut Beaut.