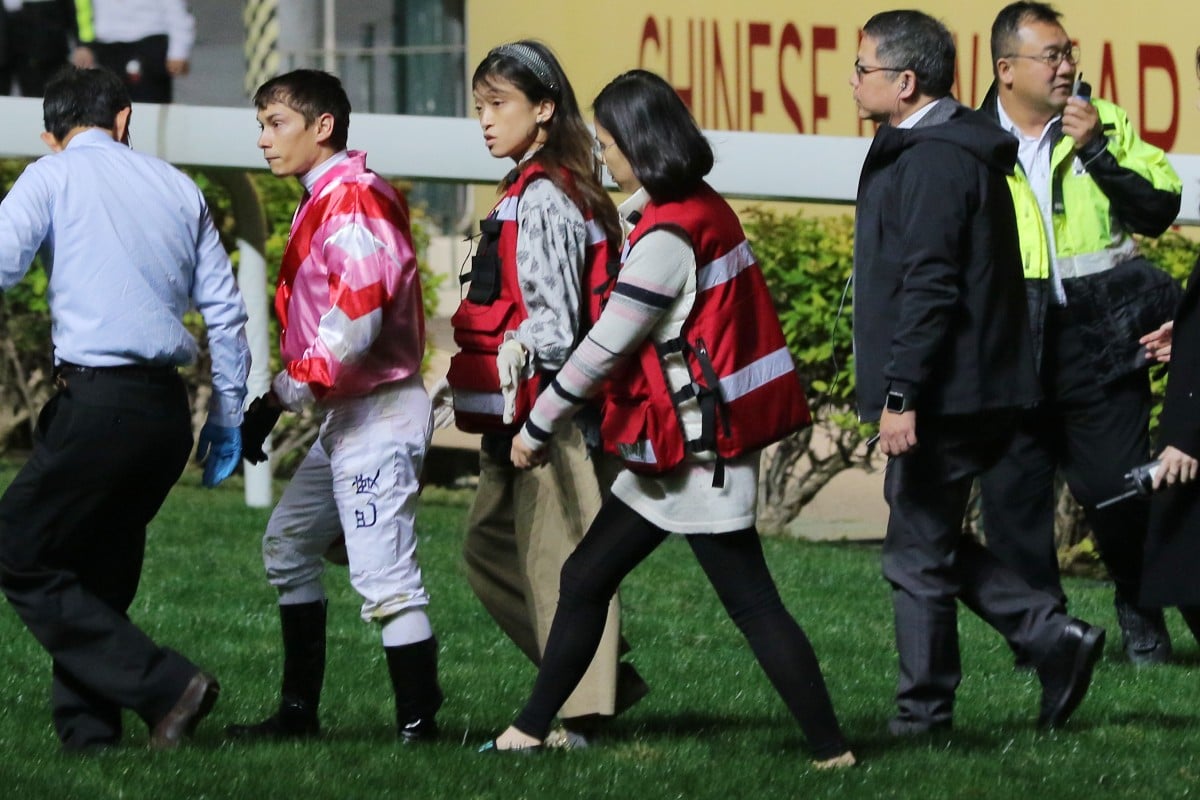 Addressing your thoughts, questions and statements about Hong Kong racing. Have something to say? Send a tweet to @SCMPRacingPost.
Frankel gelding Simply Brilliant lands the Group Three January Cup. But the best sight is Alexis Badel up on his feet after being unseated after the winning post – hope all is OK with Alexis – @HongKong_Racing
Unfortunately, Badel didn't escape the incident completely unscathed and will miss Saturday's meeting after doctors found a minor fracture in his left wrist on Thursday morning.
But as the Frenchman said afterwards – "it could have been a lot worse".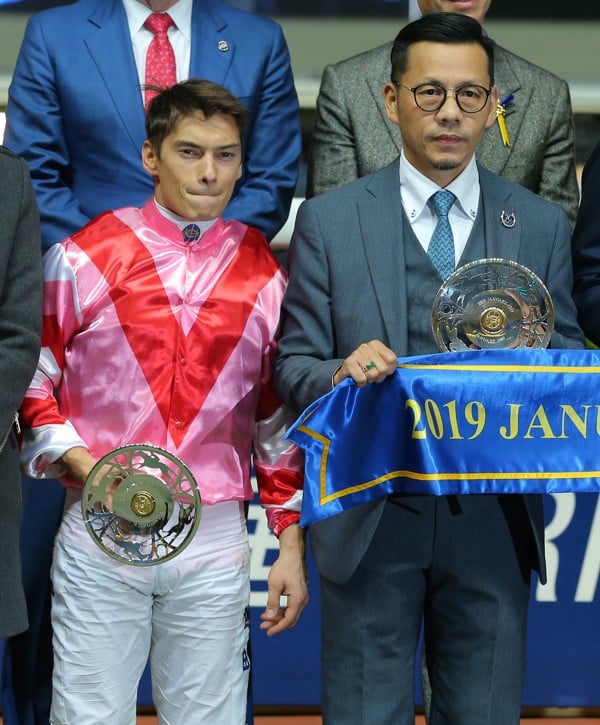 As an aside – bad luck if you are a fan of the Jockey Club's "pass through analysis" replay, which follows runners after they cross the line. The vision from the January Cup cuts out after 12 seconds, just as Badel becomes unbalanced, while the other races all go for the standard 30 seconds.
It is strange that was censored, given all involved are relatively OK, but the head-on vision of Tye Angland's awful fall in November is still freely available on the website. (To be clear, there should be no censorship).
Tye Angland faces 'likelihood' of being a quadriplegic after shocking Sha Tin fall
Anyway, the tumble wasn't the only pain inflicted on Badel when stewards, who concluded a marathon session at about 1.30am, gave him a two-meeting ban and a HK$25,000 fine for careless riding at the start of the feature.
The jockey pleaded guilty to permitting his mount to shift in after the start when not clear of Eagle Way, causing that horse, Northern Superstar and Southern Legend to receive significant crowding, ultimately causing the latter to lose his rightful running.
The fine and ban was the biggest penalty handed out by stewards on Wednesday night, but there were plenty of participants in the gun.
Vincent Ho Chak-yiu is enjoying a sensational season, a double at the Valley took his season tally to 24, good for third on the championship, but he will miss the meetings on January 30 and February 2 after being outed and fined HK$15,000 for causing interference on Universal Go Go the first time past the winning post.
Ho was also hit with a HK$3,000 fine after initially weighing out for the eighth race without a girth and a surcingle.
Alexis Badel is Simply Brilliant in January Cup victory, but his fall after the line simply scary
Silvestre de Sousa, another enjoying a terrific term, copped a HK$10,000 fine for using his whip in an inappropriate manner on Eagle Way during the horse's warm-up, striking the horse twice to try and fire him up.
Trainer Chris So Wai-yin also earned the wrath of stewards, fined HK$10,000 after his horse Prince Harmony had to be withdrawn from the meeting after being inadvertently treated with dexamethasone.
The stable had two horses presented to be scoped after trialling on Friday, one had blood in its trachea, the other did not and the wrong horse was treated.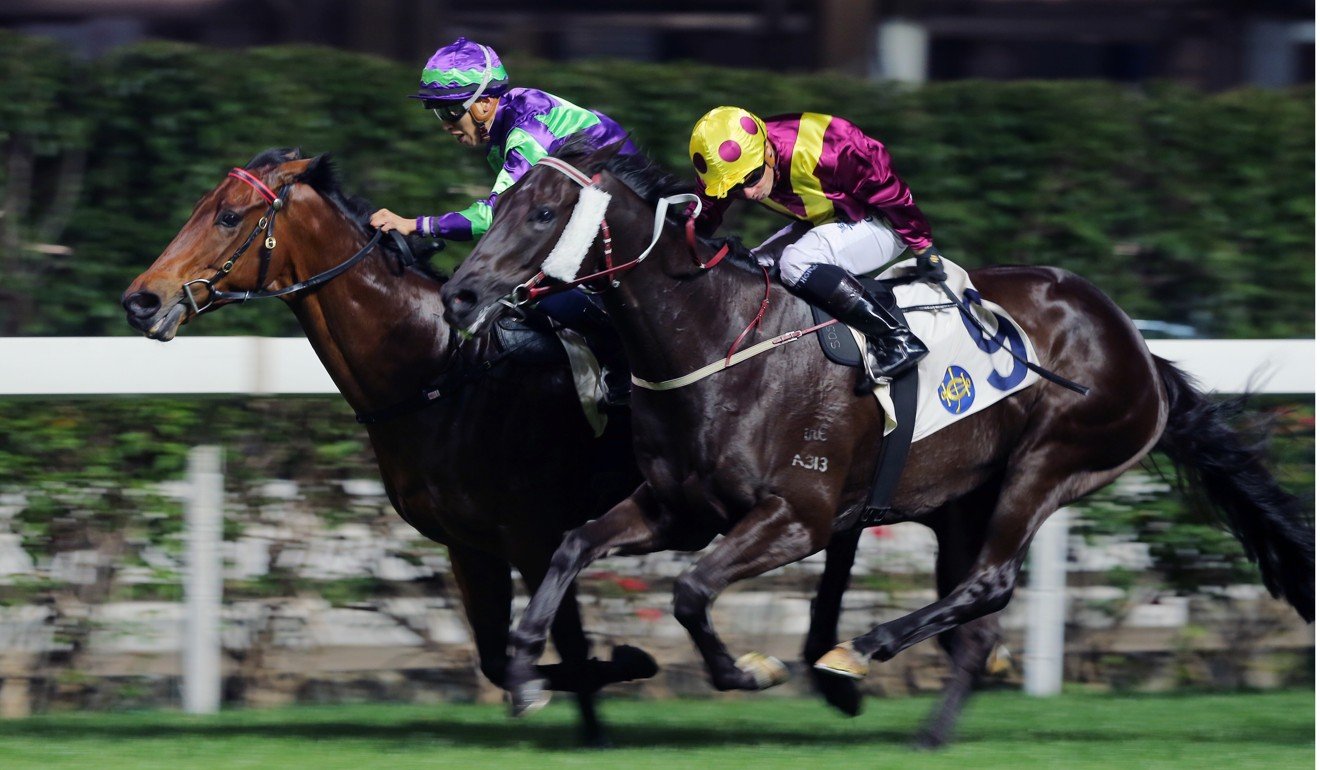 Meanwhile, an inquiry into Ricky Yiu Poon-fai being over his stable quota on Monday and Tuesday was adjourned until the trainer, who is in Australia at the sales, is available to be interviewed.
There has already been one similar case this season when Jimmy Ting Koon-ho was fined HK$10,000 for the same offence, so Yiu can probably expect a similar punishment on the way.
In total, there were two suspensions and four participants were fined a total of HK$63,000 (with one to come), giving stewards a long night at the office.
Capri out of HKIR after Almond Eye demolition job, Jimmy Ting fined for stable mix-up
Where does that money go? Most of it is added to the Jockey Club's "benevolent fund", which provides grants that provide relief to trainers, jockeys, work riders and their dependents in times of need – the most recent example being the situation faced by Angland and his family.
At least some good can come from a night of misdemeanours.