Addressing your thoughts, questions and statements about Hong Kong racing. Have something to say? Send a tweet to @SCMPRacingPost.
We are sorry to say it, but Hugh Bowman has let down Australia. Horror ride on Santa Ana Lane in Hong Kong – @NedsAus
Twitter is not a place for the thin-skinned as overreactions and poor observations are prevalent – particularly in the racing game – and this is one of the more extreme examples, but there were plenty after the Chairman's Sprint Prize.
For parochial Australians and those talking through their pockets, of course they were disappointed to see Santa Ana Lane, the $1.80 favourite, finish fourth to Beat The Clock in the HK$16 million feature.
But for those dealing in reality – and assessing the race with 20-20 hindsight – it was still a good run in the circumstances. (And no, Hugh did not let down the entire country of Australia because of a ride on a horse. You would think he'd have a few credits in the bank after Winx, but there you go).
On ratings, the Anthony Freedman-trained gelding is the world's best sprinter, but given his pattern of racing he needs a few things to fall into place to show his best.
In all five of Santa Ana Lane's Group One wins, he settled worse than midfield in running and was no better than ninth with 400m to go. He was 18th when he won The Goodwood last year, and 13th before winning the VRC Sprint Classic in November.
Those races boasted bigger fields, meaning more pressure, which suits the way he likes to go about his business.
Chautauqua's owner Rupert Legh back to do it all again with Santa Ana Lane on Champions Day
There looked to be a distinct lack of pace in the Chairman's Sprint Prize and that is exactly how it turned out.
One of Australia's top form analysts Daniel O'Sullivan tweeted about the race on Monday morning, noting that of the 58 1,200m races at Sha Tin from Class One to Group One in the past seven years, the speed to the 800m ranked 53rd of those 58 races, the speed to the 400m ranked 52nd but the last 400m was the fourth fastest.
Santa Ana Lane ran his last 400m in a lightning 21.50 seconds, the quickest of the day, but the problem is Beat The Clock, who boasts one of, if not the, best sprint in Hong Kong, was two-and-a-half lengths in front of him and he ran 21.55.
Speed in Chairman's Sprint (re Santa Ana Lane)
vs 58 x 1200m races CL1 to G1 last 7yrs

* Speed to 800m ranked 53rd of 58 races
* To 400m ranked 52nd of 58
* L400m 4th fastest of 58 races

2016 Chautauqua's race:
+6.9L faster to 800m
+8.9L faster to 400m
-7.6L slower last 400m pic.twitter.com/p9JB0xbZap

— Daniel O'Sullivan (@TRBHorseRacing) April 29, 2019
Horses can only go so fast and given the shape of the race, Santa simply couldn't make up that ground. It is just about physically impossible for him to run faster at that point of the contest.
Now, the natural response for those critical of the effort is to point the finger at Bowman and say he needed to adapt, given everyone knew pre-race that the tempo was going to be an issue.
He could have gone forward early and tried to position closer to the speed, but he jumped from the outside barrier and the others would have kicked up to ensure he was trapped at least three-wide, maybe four.
Beat The Clock dazzles to send international raiders home empty-handed in Chairman's Sprint Prize
Of course, that also means taking Santa Ana Lane out of his comfort zone – in his previous 33 runs he had settled in the first three twice and missed a place in both of them. That doesn't seem like a smart option when you're on a horse who has won five Group Ones.
In the same vein, Bowman just ends up covering more ground if he goes for home early as the others were all building speed at that point, too.
In the end, Bowman gave Santa Ana Lane his best chance, but it just didn't work out in the circumstances and a deserving horse – with a better barrier, better tactical speed and a home ground advantage – won. It happens.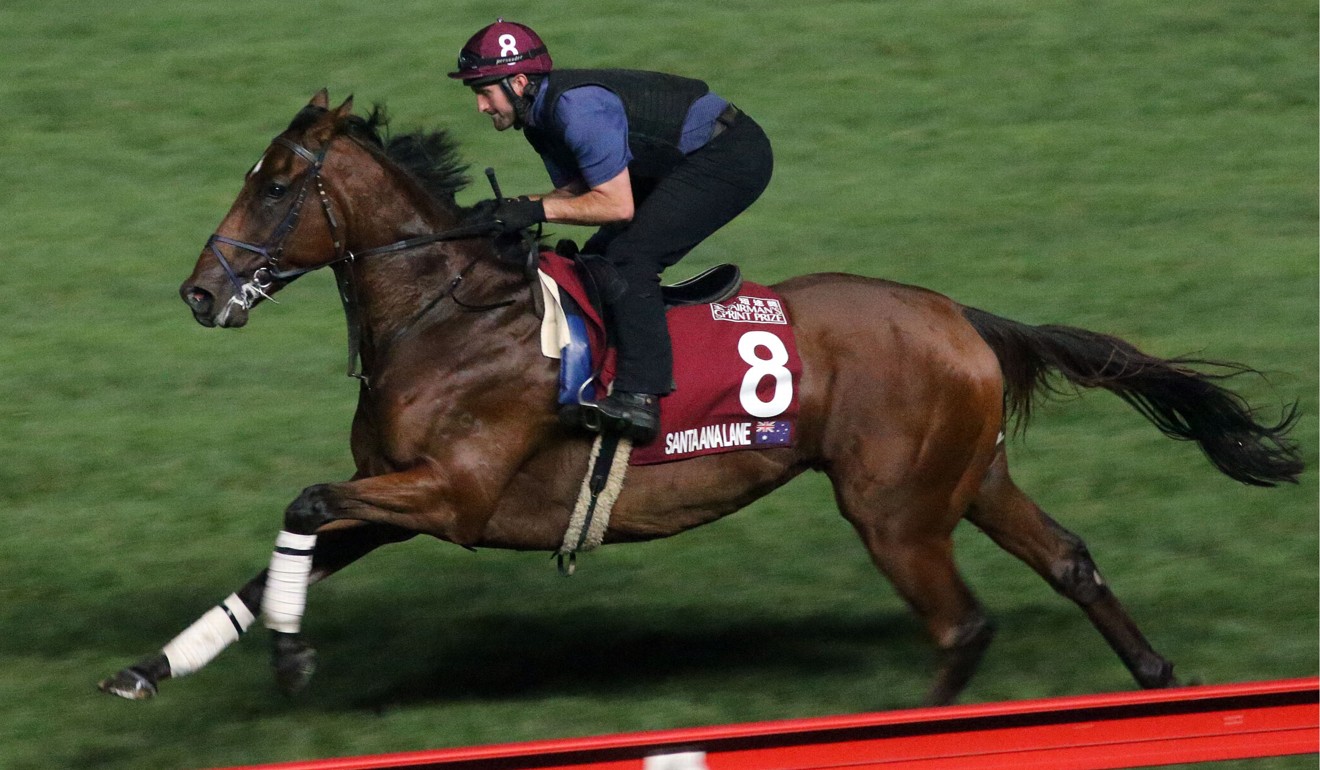 Given the current landscape, the connections of Santa Ana Lane should be commended for getting on a plane and having a crack – the same goes for those of Viddora, Enzo's Lad, Eminent and the Japanese raiders. Just because they lost doesn't mean it wasn't a worthwhile cause.
The sport is better when horses travel and step outside their comfort zones, so hopefully they can lick their wounds and, particularly in the case of Santa Ana Lane, we see them back here in December.
With a bit of luck the speed map might suit him a little better next time.