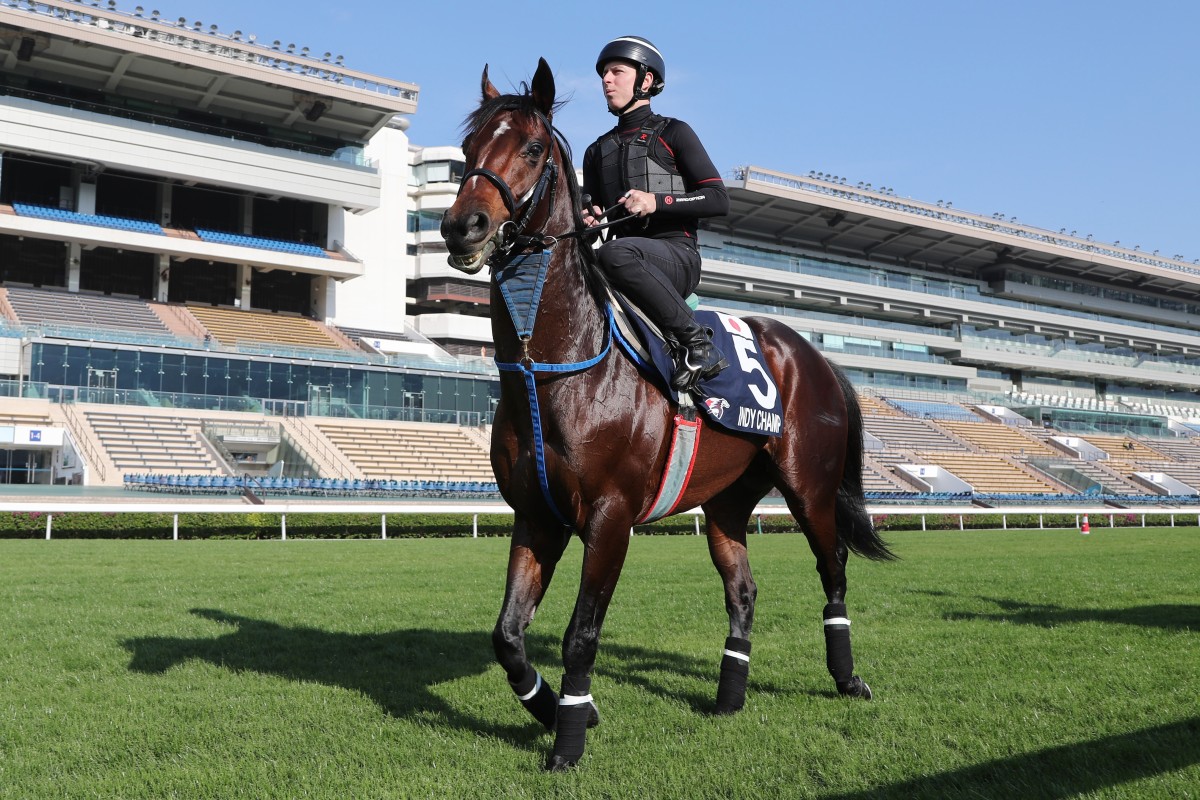 If there was any lingering doubt that the Japanese horses are the yardstick for this year's Hong Kong international races, a series of gallops at Sha Tin on Wednesday morning erased it completely.
The Japanese visitors showcased almost all their heavy artillery on a clear, bright morning, with only Persian Knight saved for an intended breeze 24 hours later.
Although the Japanese team boasts tremendous depth, it was perhaps their leading miler Indy Champ who held the most interest, having won Japan's only two Group Ones for older milers this year – the Yasuda Kinen at Tokyo and the Kyoto Mile Championship.
With race rider Damian Lane in the saddle, Indy Champ strode off from the 1,200m mark on the course proper and did so smoothly.
The first 400m was only pacework, but the tempo increased from the 800m. He ran that last half mile in 50.5 seconds, opening up nicely in the straight to record a final 400m in 22.6 and his final 200m in 11.03.
Some commentators were concerned that the horse had been a bit keen in the early stages of the gallop and was lugging in toward the rail as he came down the straight.
However, that's exactly how he behaved at Kyoto in winning the Mile Championship three weeks ago, and Kyoto races clockwise – the same as Sha Tin.
Winning those two big races is a gilt-edged form reference for success on international day. Four years ago, the great miler Maurice won them both before descending on Sha Tin in December to land the Hong Kong Mile, vanquishing no less an animal than Hong Kong Horse of the Year Able Friend.
Japan will not be relying on Indy Champ alone in the Mile – the support cast includes Admire Mars, Normcore and the previously mentioned Persian Knight.
Admire Mars is a lightly raced three-year-old by the former champion miler Daiwa Major, a son of the immortal Sunday Silence and now making a strong impact in his own right as a sire.
Admire Mars won five of his seven starts up to May, when he won the NHK Mile, but he was beaten as a $2.1 favourite in the Group Three Fuji Stakes (1,600m) when resuming.
Fuji Stakes winner Normcore is also here for Sunday and will be ridden by Japan's reigning champion jockey Christophe Lemaire.
The four-year-old filly also registered an impressive gallop on Wednesday, running 800m in 51.3, but opening right up in the final stages, clocking 21.3 for the last 400m and 10.81 for the final 200m.
In April this year, Japan's Win Bright snatched the QE II Cup (2,000m) at a big price and is back in a bid to land the HK$28 million Longines Hong Kong Cup.
Eight months ago, his unruly behaviour was the talk of the track in the mornings but he's been a reformed character this time, settling relatively well for his riders.
On Wednesday, with race jockey Masami Matsuoka in the saddle, Win Bright ran a powerful 1,200m in 1:14.4, the last 400m in 22 seconds and the final 200m in 11.06, going straight and true.
Both Indy Champ and Win Bright are by the excellent sire Stay Gold, yet another son of champion Sunday Silence and a horse with his own piece of HKIR history.
Back in 2001, Stay Gold (Yutake Take) won the Vase (2,400m) at the end of a thrilling length-of-straight duel with Godolphin's Ekraar (Frankie Dettori).
The margin was only a half-head in favour of Stay Gold but the third horse – Hong Kong Horse of the Year Indigenous – was 6.75 lengths away in third place. This is a massive margin in top-level racing on good ground and made that edition of the Vase one of the highest-rating events in the history of Hong Kong racing.
Wins in the Vase and the Dubai Sheema Classic the following March cemented Stay Gold's claim as one of the best middle-distance gallopers in the world and he went on to sire 54 stakes winners, including champion Orfevre, who is now doing well as a sire himself. Stay Gold died in February 2015.
Orfevre's daughter Lucky Lilac will take her place in the Hong Kong Vase and she arrives as a last-start winner of the Group One Queen Elizabeth Cup (2,200m) for fillies and mares at Kyoto. On Wednesday at Sha Tin, Lucky Lilac went solo over 1,200m in 1:18.5, zooming home the last 400m in 21.5 and her final 200m in 10.41.
Another Vase contender, Deirdre, was on show as well. Runner-up in the Cup behind Glorious Forever 12 months ago, Deirdre now takes aim at the longer race and prepped with a steady 1,200m in 1:24.9, the last 400m in 22.5 seconds with Oisin Murphy on top.
The other big name to strut his stuff was star sprinter Danon Smash, a son of HKIR superhero Lord Kanaloa. Danon Smash bowled over 1,200m in 1:22.2. Danon Smash was particularly impressive in the final stages of his work, clocking 22.4 seconds for his last 400m and the final 200m in 10.51.