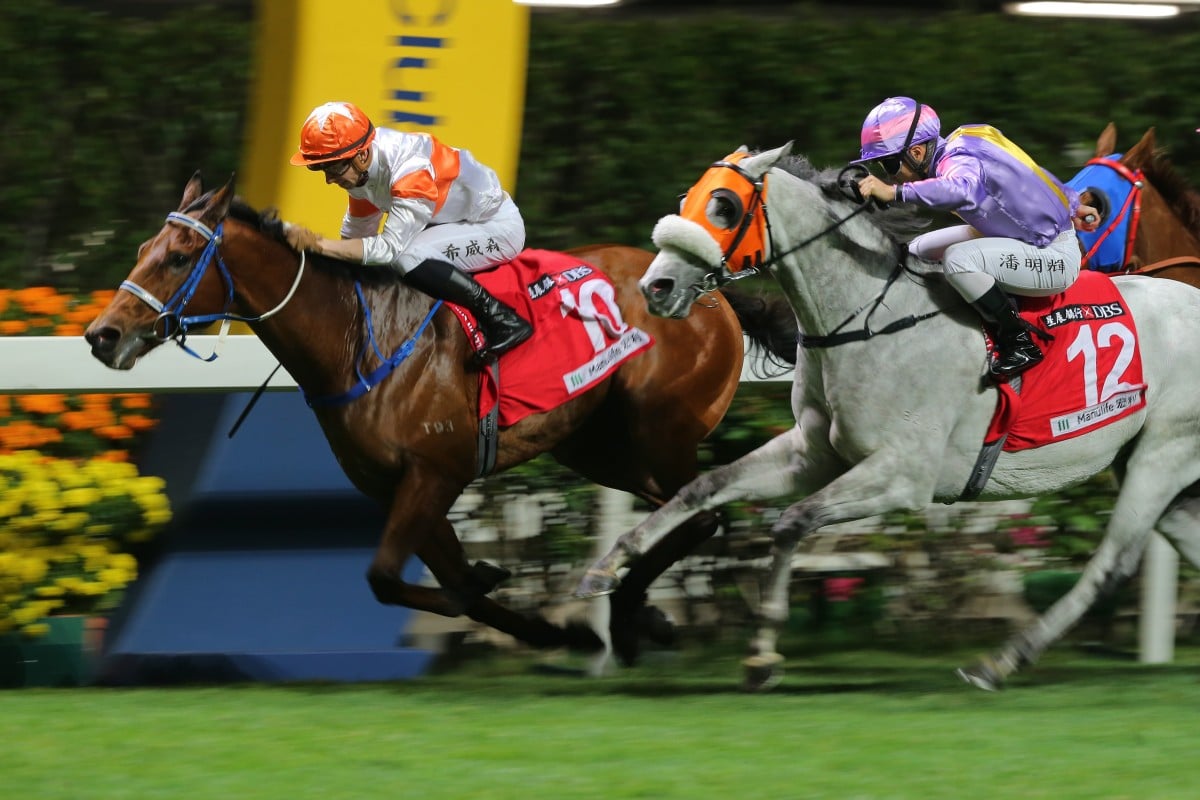 The tide continues to turn for South African jockey Lyle Hewitson, who produced a peach of a ride aboard Kiram to snare his first Happy Valley winner on Wednesday night.
The likeable 22-year-old endured a nightmare start to his Hong Kong career – his first winner came at his 140th ride – but through hard work and a steely resolve, positive results are starting to come.
After a host of placings on horses at big prices, Hewitson didn't have to wait anywhere near as long to return to the winner's circle this time, piloting David Ferraris' veteran home at 40-1.
The ride won the race.
Kiram began well and settled outside the early leader Light My Day, but the pace slackened off down the back straight and Hewitson made his move, rolling to the front and injecting some speed into the contest.
The jockey had his rivals off the bit on the turn and the nine-year-old gave a kick at the top of the straight, pinching a break and that proved the difference as he held off Farshad, who probably should have won.
Hewitson enjoyed the result, returning with a big smile on his face and high-fiving fans in the beer garden, soaking up the moment at the famous city circuit.
"My first winner was a bit of a relief and an emotional one, this was just really good fun," he said. "I've really enjoyed it, the atmosphere is great.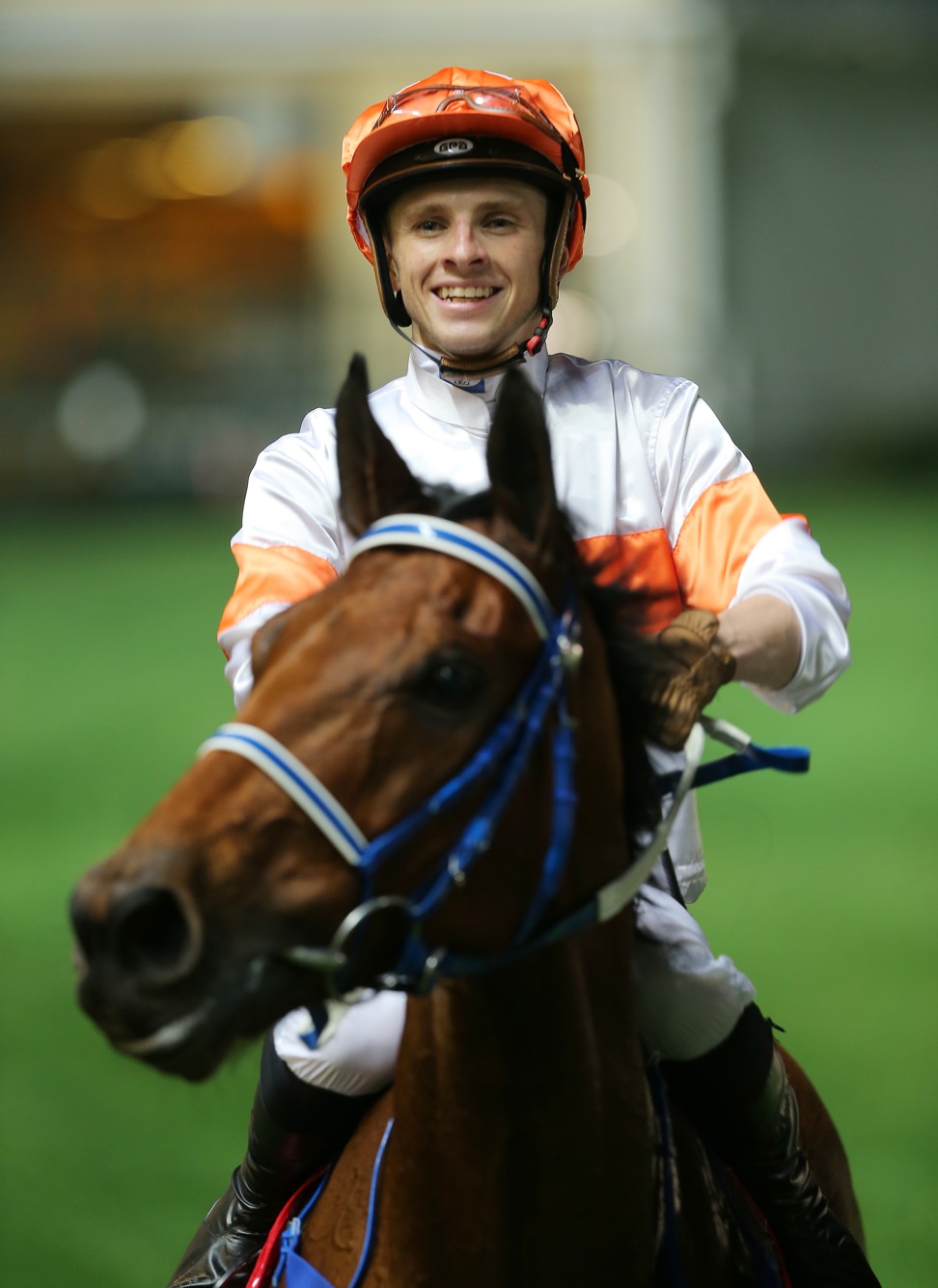 "It was very similar to my other winner, pinching it at the right time and it's just nice to build a little bit of momentum into the new year.
"I've been getting positive results from limited opportunities and it was just about remaining positive. I think I watched every replay 10 times over to nitpick everything, so I've been really critical and been improving myself and I think it's paying off.
"Throughout my stint here, everyone has been really good to me – even when times were tough – so that lifts the morale a bit.
"It's lovely to have [a win] for someone like Mr Ferraris, I have close ties with the family and I'm going to make sure this one goes up on his wall."
Ferraris was full of praise for the two-time champion South African jockey, lamenting the fickle nature of Hong Kong racing.
"It's a shame. Lyle should have ridden a lot more winners but as a client of mine said, 'this is a very cruel place'. There's no reason why certain jockeys should be riding winners and he isn't, because he's far – in my opinion – better than a lot of them riding here, but it's just the way it goes," the trainer said. "Hopefully he'll get a few openings now."
Ferraris also heaped admiration on one of his stable favourites, with Kiram recording two wins and a second from four starts this campaign despite being in the twilight of his career.
"He's in great form this old horse. I knew if he kicked at the top of the straight with a lead, they would struggle to catch him," he said. "I love training these old boys, I take pride in keeping them sound and they're just wonderful horses. I make sure they go to nice homes when they retire."
Earlier, Caspar Fownes enjoyed a double as Sky Gem and Shamport saluted, both the beneficiaries of excellent rides from in-form jockey Vincent Ho Chak-yiu.
"It's wonderful to see my former apprentice get some winners for me and ride with so much confidence," Fownes said.
"[Shamport is] a horse that, truthfully speaking, has been quite disappointing. On his form in Australia, it looked like he'd be at least an 80-plus [rated] horse in Hong Kong, but he just never came up [to that rating].
"[Sky Gem] has actually been racing quite well and dropping down in the ratings. I said to Vincent that on paper, it looks to be a race that's devoid of speed. He's rock-hard fit, if you feel the sectionals are good then take off from the back and that's exactly what he did. He rated him beautifully and it was the winning move."
Star jockey Joao Moreira also collected a double on the card as he punched home favourites Flash Famous and Dor Dor.