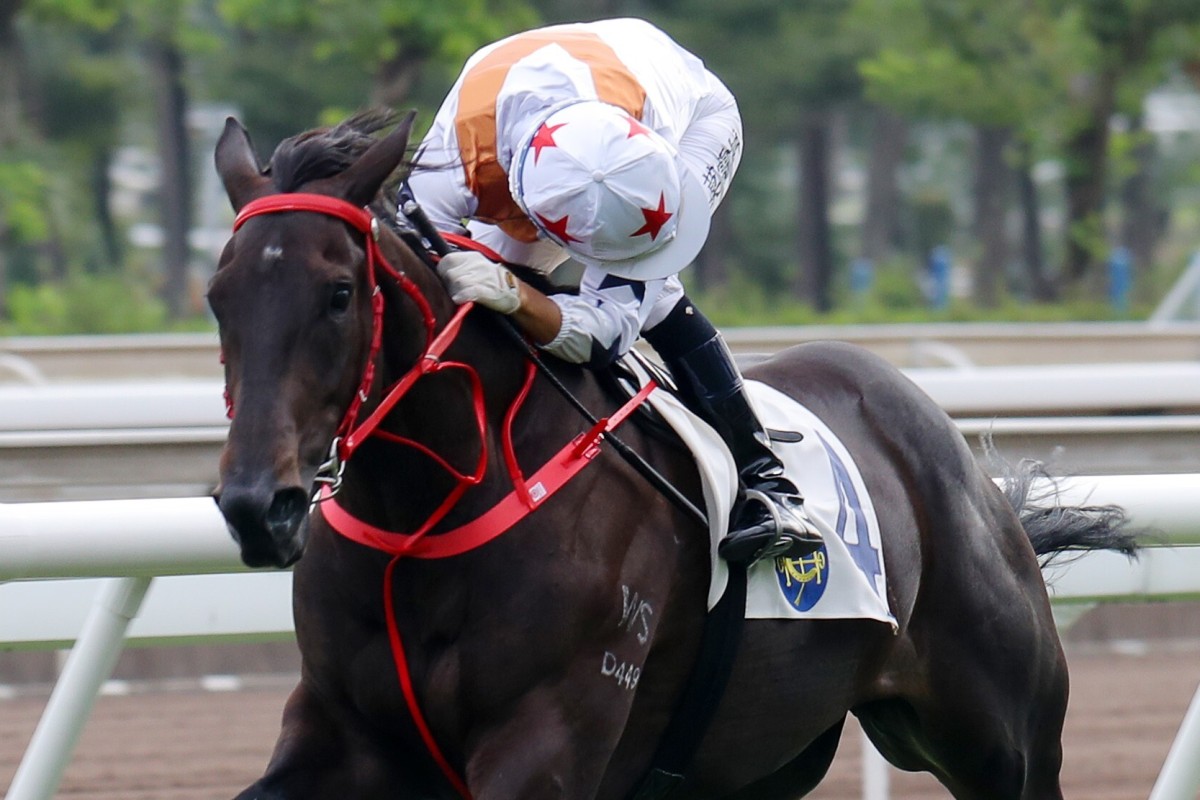 The smile was covered by a surgical mask but John Size couldn't hide his delight after debutant Courier Wonder blitzed his rivals at Sha Tin on Saturday.
The 11-time champion trainer is typically as understated as they come, but there was a sense of joy – and relief – that he'd found a really smart one.
Size has been the master of private purchase griffins (PPGs) – horses who come to Hong Kong unraced – taking his time and educating them before progressing through the ranks and rattling off four or five wins in a season.
They have been the backbone of his championship campaigns – think Champion's Way, Full Of Beauty, Conte, Beat The Clock and Mr Stunning in recent years – but that didn't happen in 2019-20 and Size had a tough term by his lofty standards, finishing sixth with 46 winners.
The 66-year-old knew he needed the next wave to come through and it looks like Courier Wonder can lead the charge after winning the Class Four Nelson Handicap (1,200m) by five-and-a-quarter lengths.
"I'm very excited to have a horse like that – I haven't had one for a while," Size said. "I was wondering at the beginning of this season where a good horse was going to come from and I think we've found one already.
"It's impossible to compare them on one outing, but in Hong Kong, if a three-year-old wins its first start by a margin, normally they go all the way."
The son of Sacred Falls, who was bought for NZ$150,000 (HK$777,000) at Karaka by Price Bloodstock, also created history by being the first debut winner who had trialled only at Conghua – the Jockey Club's training facility in mainland China.
"It's normal training – it doesn't make a huge difference to a normal horse. It probably just helps manage the numbers and it's good for some horses to have a different environment," Size said. "But for this particular guy, I don't think it would make any difference if he was at Conghua or Sha Tin."
Courier Wonder rolled straight to the front – just like he did in his most recent trial – but the most telling moments were in the straight when championship-leading jockey Joao Moreira looked behind three times to see where the others were.
The answer was nowhere in sight with $1.40 favourite Everyone's Delight battling on to finish second, Super Mission almost seven lengths back in third while Brave Power, who came fourth, was nine lengths off the winner.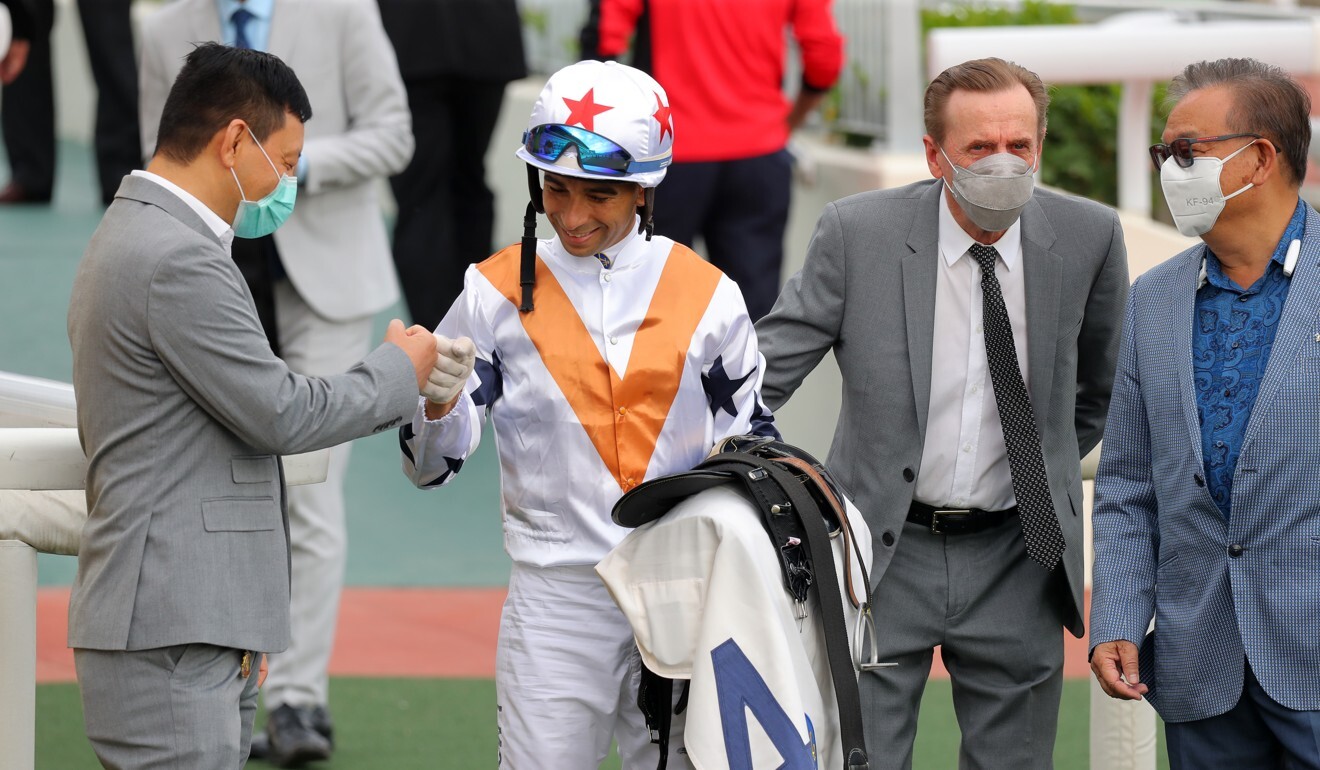 The Magic Man was actually laughing as he crossed the line, so it will be a long time until Courier Wonder starts at $6.75 again.
"I'm very happy with him coming to the races and doing exactly the same thing as he did in a barrier trial at Conghua – it's really heartening," Size said. "It's quite unusual for horses to win like that first time out – normally they're very good horses. He's only a three-year-old and obviously he's going to have a bright future."
Chau picks up where he left off
Apprentice Jerry Chau Chun-lok might've served a two-meeting suspension after a breakthrough treble at Happy Valley on October 14, but he picked up where he left off with a double at Sha Tin on Saturday.
The 10-pound claimer guided Francis Lui Kin-wai's promising youngster Sunny Star home in the Class Four Pitt Handicap (1,400m) before combining with the Danny Shum Chap-shing-trained Baltic Success in the very next race to take him to 16 winners for his Hong Kong career.
Sunny Star has now won two of his five starts and his trainer was pleased the plan to use Chau came off.
"He's not a big a horse [1,010 pounds] and his rating was 60 so I discussed with the owner and we both preferred to run in Class Four with the 10-pound claim. He is only a three-year-old," Lui said.
"I think that made a difference and the horse will have learned a lot from that. He will go to Class Three now, but we'll stay at 1,400m and see how we go."
Werther and Ping Hai Star employed again
Hong Kong Derby champions Werther and Ping Hai Star might have finished their racing careers but they are set to inspire people again after being named New Zealand Thoroughbred Racing welfare ambassadors.
The two are settling into retirement at Highden Park near Palmerston North – the place they grew up and also the home of Beauty Generation – and will start visiting tracks to promote the welfare of horses post-racing.
"It's such a privilege and it wasn't something we were anticipating when we rehomed the boys," Highden Park's Libby Bleakley said. "These horses love having something to do, they love having a job. They look after weanlings for us and they go on the truck to keep mares company, and I think they will thrive with this next step. They will just be called upon when needed. They will head to their first event next Sunday at the Wanganui racecourse."
Werther won the 2015 Hong Kong Derby, going on to be named Horse of the Year that season and finish his career with three Group One victories, while Ping Hai Star was brilliant winning the 2018 Derby but had his career cut short after suffering a suspensory injury.
Yip continues strong run
Dennis Yip Chor-hong continued his good recent form with an early double at Sha Tin as veterans Goko and The Full Bloom both broke 18-month droughts.
Fresh off collecting the Group Two Premier Bowl with Wishful Thinker last weekend, the trainer now has seven winners for October and five from the past four meetings.
Straight-track specialist Goko kicked it off in the Class Four Hamilton Handicap (1,000m), basically leading all the way under Frenchman Antoine Hamelin.
The Full Bloom got the prize in the very next race, the Class Five Wylie Handicap (1,400m), with Matthew Poon Ming-fai lifting him over the line. Coincidently, the two horses last won in April 2019.