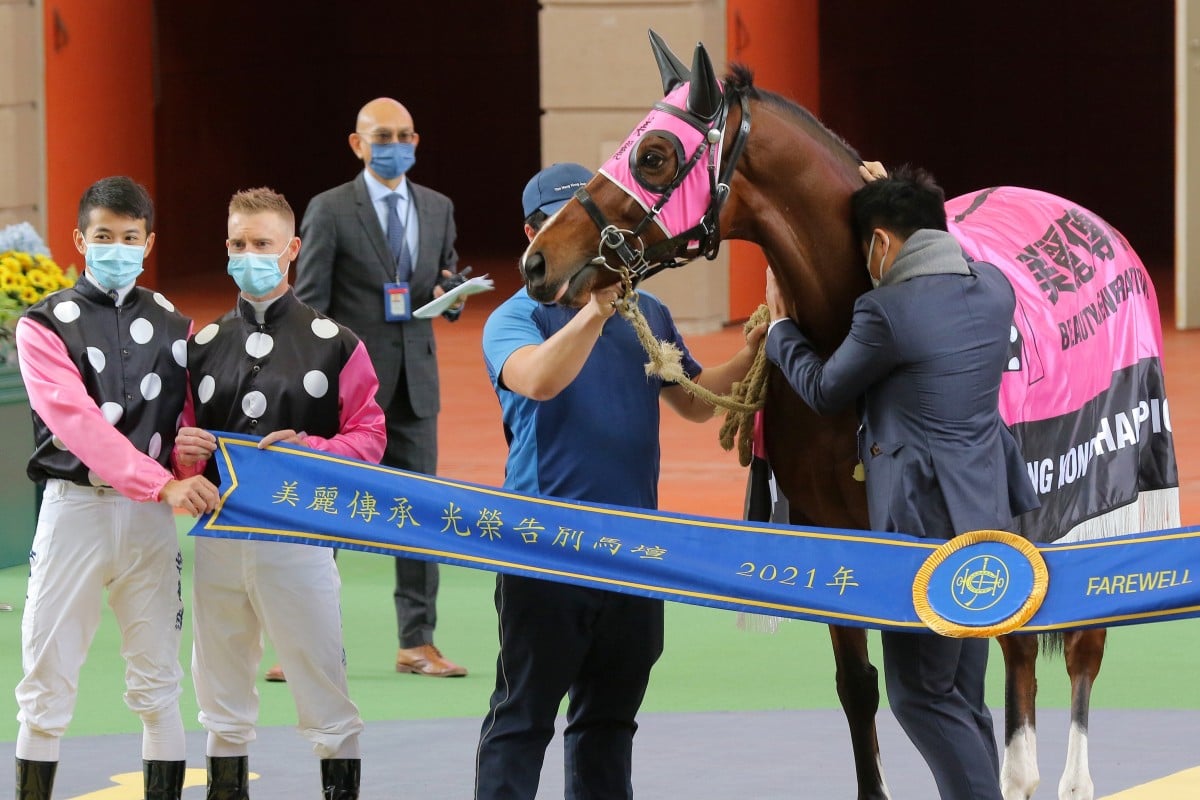 An emotional Patrick Kwok Ho-chuen had to dab away a few tears as his superstar Beauty Generation paraded around Sha Tin for the final time on Sunday.
Only Hong Kong's very best are afforded the privilege of a farewell ceremony – Able Friend, Aerovelocity, Designs On Rome and Douglas Whyte have been celebrated in recent years – but with the Covid-19 restrictions in place, Beauty Generation's presentation was more low-key.
Unable to be feted by the fans – or his trainer John Moore, who flew to Australia a week ago – it was left to Kwok, Beauty Generation's owner, and jockeys Zac Purton and Derek Leung Ka-chun to talk about his impact.
Beyond the numbers – 18 wins in Hong Kong, eight Group Ones, an undefeated season, a two-time Hong Kong Horse of the Year and the all-time prize money record of HK$106,233,750 – Beauty Generation's presence stirred up some old memories.
"It's definitely an emotional day. I almost couldn't speak when he came out," Kwok said. "I really love the horse – I can't believe he's leaving. I'm starting to regret retiring him, I wish he could stay here, but we know he's going to have a good life and with all the glory he had, he deserves it.
"I know I was supposed to take the photo but I couldn't stop myself [from giving him a pat]. I would have patted him for 10 hours if I could. I felt like he was talking to me, he usually bites but he didn't move. I really treasured the moment.
"I don't know if a lot of people around the world know what his Chinese name means – it means pass the torch. It's about my father passing his love of horse racing to me. He turned out to be one of the best horses in the world – we're blessed."
Purton, who was aboard for seven of his Group One wins, reminisced about his unique style.
"His character was different to the other horses I've ridden in the way that he used to go out there and control the race, bully the rest of the field and run them into the ground," Purton said.
"He had amazing stamina and a great will to win. He just made it impossible for the horses behind him to be able to stay at the pace he was setting and then they had to try to find something to catch him and it was really difficult. He was just amazing the way he was able to do that."
While the Australian pointed to his dominant Hong Kong Mile win in 2018 as Beauty Generation's peak performance, Kwok says it was his last Group One win – the 2020 Queen's Silver Jubilee Cup – that meant the most.
"He'd lost a few races by then but he came to win another Group One and he showed his character," he said.
Beauty Generation will now head to Australia where he will join the team at Living Legends in Melbourne and Kwok confirmed "100 per cent" he will visit when travel opens up again.
"It's easy to visit there, it's not far away and you need to see an old friend," he said. "He's done so much for me, so I will definitely go and see him."
Shum's Method is finally a Winner
After a false start and some pre-race tempering from jockey Zac Purton, Winner Method finally got a chance to deliver on the hype and he produced the goods in the Class Four D B Pin Handicap (1,000m) at Sha Tin on Sunday.
After missing his intended debut last month after suffering a respiratory infection, the Danny Shum Chap-shing-trained three-year-old wasn't even close to full fitness but had the class required to salute comfortably.
"He was laid up for a few days and now his condition is only 70-75 per cent, but he's got natural speed and plenty of potential," Shum said. "This was a weak field but his win was very reasonable, he will improve."
Two eye-catching trial wins set tongues wagging before Winner Method's scratching but Purton declared his second in a recent Happy Valley hit-out after his setback as "pretty plain".
But there was little cause for concern during the contest, Purton taking Winner Method to the front early before easing the Deep Field gelding home in 56.55 seconds to finish a length and a half clear of Bella Baby in second, with Noble Desire third.
Assimilate springs Sha Tin surprise
Assimilate delivered Jimmy Ting Koon-ho a nice surprise in the Class Two Helene Paragon Handicap (1,800m), rattling home from last to salute at the juicy odds of $16.85.
After struggling at shorter trips so far this season, Ting made the decision to step the six-year-old up to nine furlongs for the first time in his career and it paid immediate dividends.
"Earlier in the season at 1,400m and 1,600m he was not so strong and in morning trackwork he is now a bit quieter, so I thought a bit longer would be better," Ting said. "I tried the 1,800m and thought he could run well, but I didn't think he could win.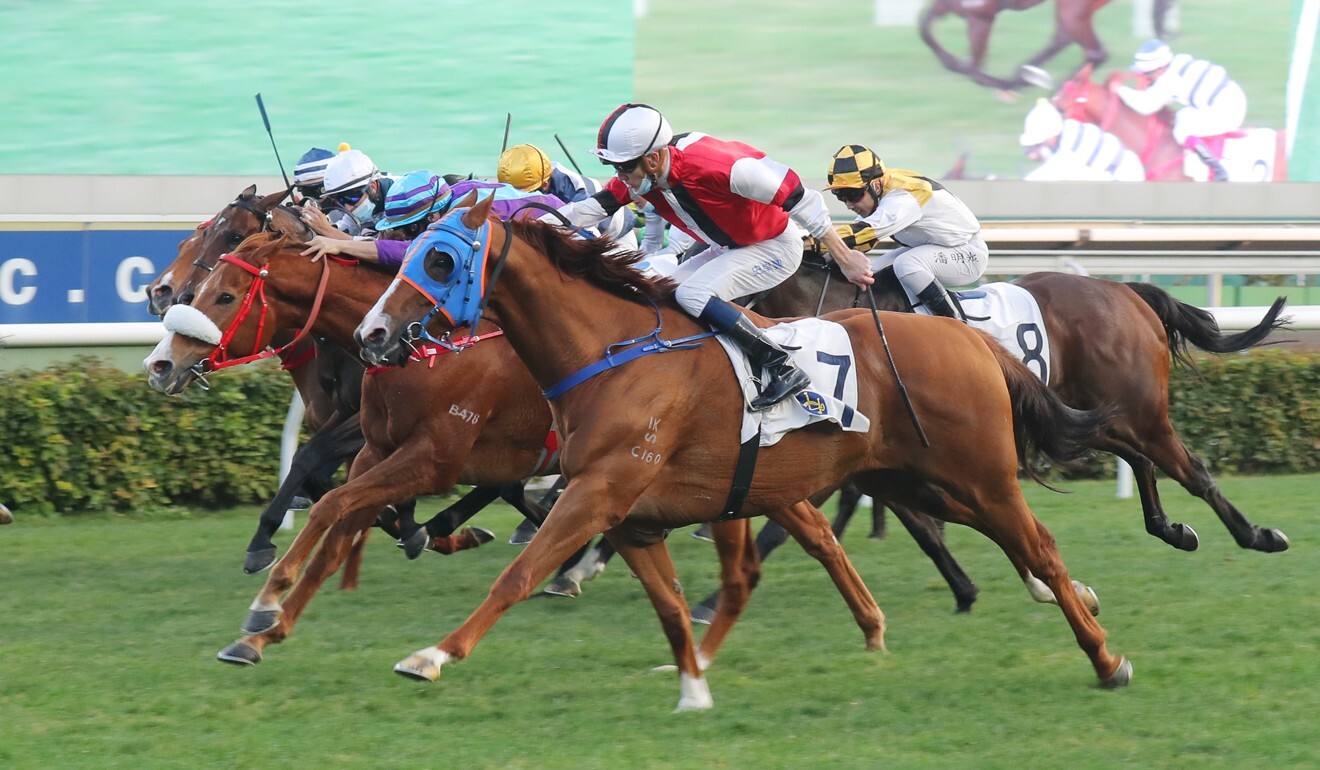 "At the end of last season he ran very well at 1,600m, which showed me he could run well in Class Two with a light weight, but early this season he was a bit disappointing."
It was Assimilate's third win from 23 Hong Kong starts, with jockey Chad Schofield spearing the son of Sebring down the centre of the track to snatch victory in the shadows of the post.
The win will see Assimilate's rating pass 90 and Ting is not expecting further success any time soon: "I think he'll find it very difficult now, he's near his limit."
Master Cruz on the double
Tony Cruz might not have tasted success in any of the day's features but he didn't go home empty-handed after securing a double earlier on the card.
He combined with championship-leading jockey Joao Moreira as Master Hero broke his maiden in the Class Four Glorious Days Handicap (1,400m), holding off the fast-finishing Charity Grace in the process.
Cruz then backed it up in the Class Three Seasons Bloom Handicap (2,000m) with Stimulation (Matthew Chadwick) rattling home between runners to overhaul Above in the shadows of the post.
The two-time champion trainer now has 28 winners for the term, putting him fifth in the race for the title.