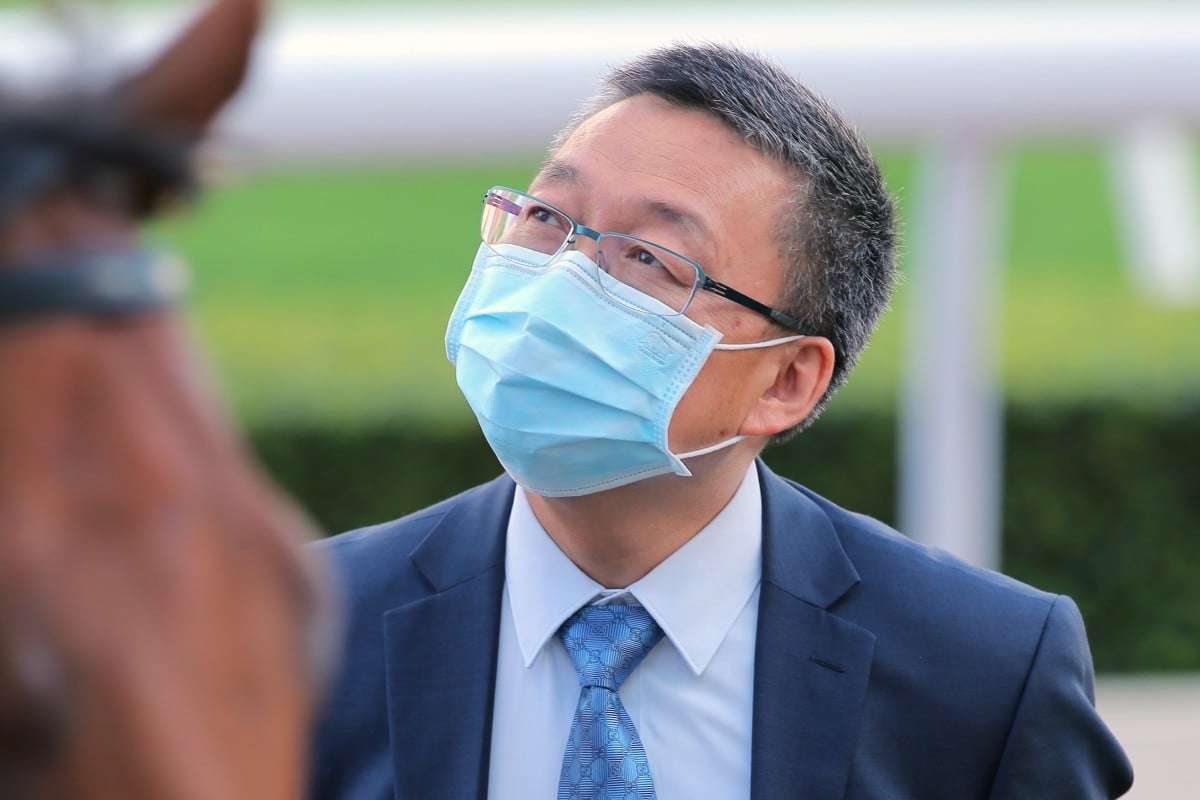 Francis Lui Kin-wai has not given up hope of chasing the Triple Crown with Golden Sixty despite confirming his superstar will not run in next Sunday's Group One Champions & Chater Cup (2,400m).
With the first two legs of the Triple Crown – the Stewards' Cup (1,600m) and the Hong Kong Gold Cup (2,000m) – in his keeping, connections seriously considered stepping the 2020 Hong Kong Derby winner out to 2,400m for the third and final leg.
A Champions & Chater Cup victory on May 23 would have netted a HK$10 million bonus to go with the HK$6.84 million winner's cheque, a bounty connections have ultimately decided against chasing – at least for the time being.
"After his last race [in the Champions Mile in April] we had a few days rest and because his last run was only at a mile we were worried about him being a bit too fresh for 2,400m. That's the one reason we decided not to run in the Champions & Chater Cup," Lui said.
"Over the 2,400m, the pace is slow. I'm not worried about the field or the draw or the conditions, I'm just thinking about the fact that he didn't have a good preparation for 2,400m."
While Lui admitted testing his champion miler over 12 furlongs late in a busy campaign was a bridge too far this season, he said he might rejig his plan of attack in 2021-22.
This season Golden Sixty resumed under handicap conditions in the Celebration Cup (1,400m) in September before tackling the Oriental Watch Sha Tin Trophy – also a handicap – and the Jockey Club Mile at set weights and penalties on his way to the Group One Hong Kong Mile on international day.
Next season, however, Lui suggested he might hold Golden Sixty back until the Jockey Club Mile in November, giving him only one run before the Hong Kong Mile and leaving him with more in the tank for later in the term.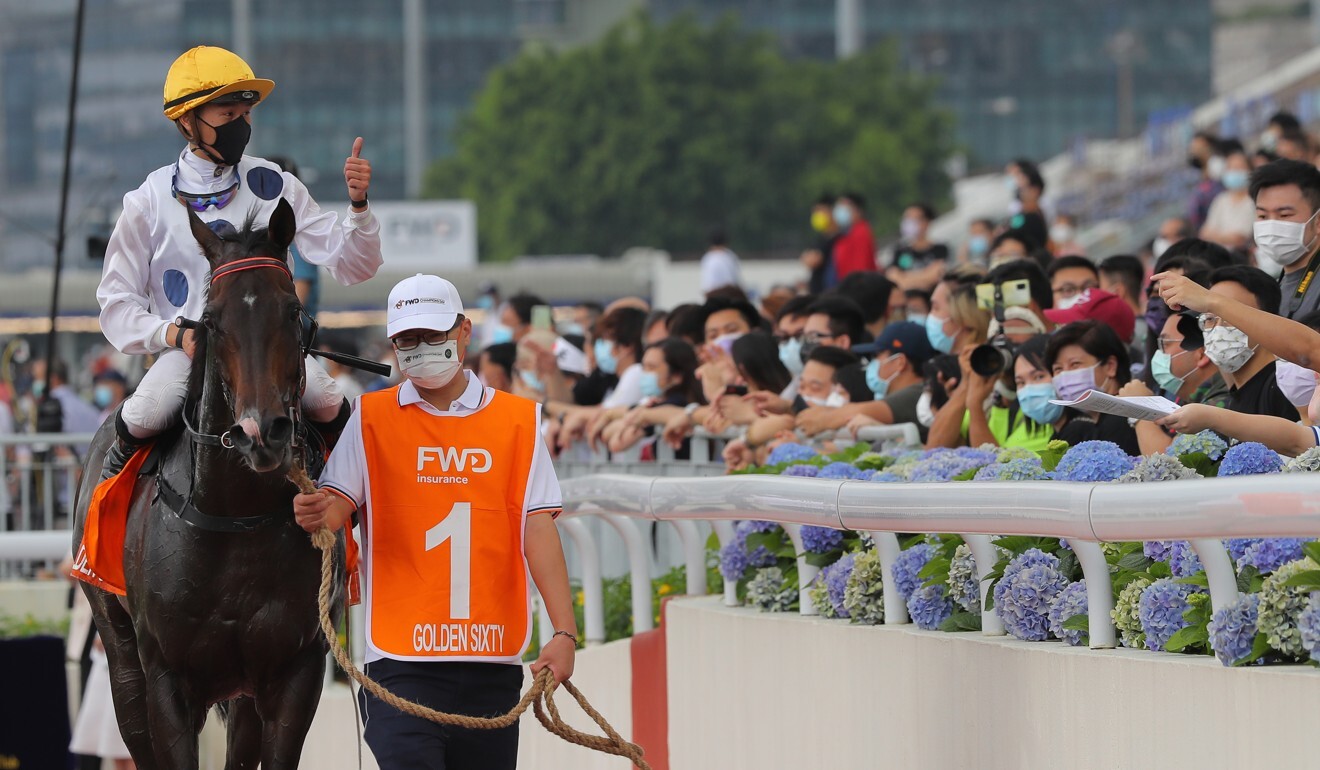 "Next season we will maybe start with the [Jockey Club Mile] and not run in the handicap races and then we can have time to run in the Triple Crown," he said.
"Of course the main target is the international races and maybe we can then try for the Triple Crown next season."
Rather than stepping back from the 2,000m of the Hong Kong Gold Cup to the Champions Mile like he did this year, Lui indicated Golden Sixty could run in the QE II Cup on Champions Day (2,000m) before turning his attention to the Champions & Chater Cup should the Triple Crown still be in play.
Lui said he would also consider looking overseas next season with Golden Sixty, who has won 14 consecutive races and is three away from equalling Silent Witness' record, with Japan or Britain potential options.
Treble keeps Purton ticking
Zac Purton is keeping the race for the jockeys' championship interesting after another haul of winners at Sha Tin on Sunday.
The Australian is now 14 behind Joao Moreira in the battle for the title, a treble taking him to 109 victories for the season while the Brazilian collected two of his own.
Purton kicked things off with Benno Yung Tin-pang's Diamond Brilliant in the second race, before guiding the Danny Shum Chap-shing-trained Regency Bo Bo home in the seventh and finishing off with Beauty Fit for John Size in the ninth race.
He was a convincing winner of the jockeys' challenge having also finished second aboard Good Buddy and Lucky More and snaring a third with Packing Award.
Records tumble on quick track
Horses were able to run slick times at Sha Tin on Sunday with one track record and three class records tumbling on the 10-race card.
Master Eight bettered the Class Four record over 1,200m, United We Stand eclipsed the Class Four record over 1,000 while Fantastic Treasure grabbed Golden Sixty's Class Two mark over 1,400m.
But the biggest achievement was Valiant Dream, who rattled down the outside rail to beat Aethero's mark of 54.69 seconds down the Sha Tin straight.
Lui's five-year-old beat the old record, set in October 2019, by .01 of a second.
Fantastic Show gets going late
When Fantastic Show was under the whip and a long last after the first 100m of the second section of the Class Four Spessartine Garnet Handicap (1,400m), any hope of winning the race seemed gone.
Clearly, it just takes a little bit of time for him to get warm these days.
Me Tsui Yu-sak's six-year-old had struggled in his first nine runs of the campaign, with his best finish a ninth, so punters weren't confident of a turnaround despite dropping down in grade.
But with the pace on early, it set up the race for Fantastic Show, who built into the race and then stormed down the outside to swamp the others at 44-1.
It was Fantastic Show's first win in over a year, while it was also jockey Dylan Mo Hin-tung's first victory in 2021 and just his fourth of the season.
"He normally jumps slow but this time was much slower than I expected," Tsui said. "But sometimes horse racing is like that. Last time he raced at Happy Valley, he jumped second and it was a big surprise. Thankfully, they went fast and he was able to finish it off."
Another Triple Trio jackpot
There will be another enormous pool for next weekend's Triple Trio at Sha Tin after some rough results meant only 40 per cent of the final dividend of almost HK$36 million went off.
The win of Fantastic Show in the second leg knocked out plenty of punters, while the other winners – United We Stand ($14) and Mercurial ($11) – also added some value.
It means there will be a jackpot of HK$21,587,707 at Sha Tin next weekend.