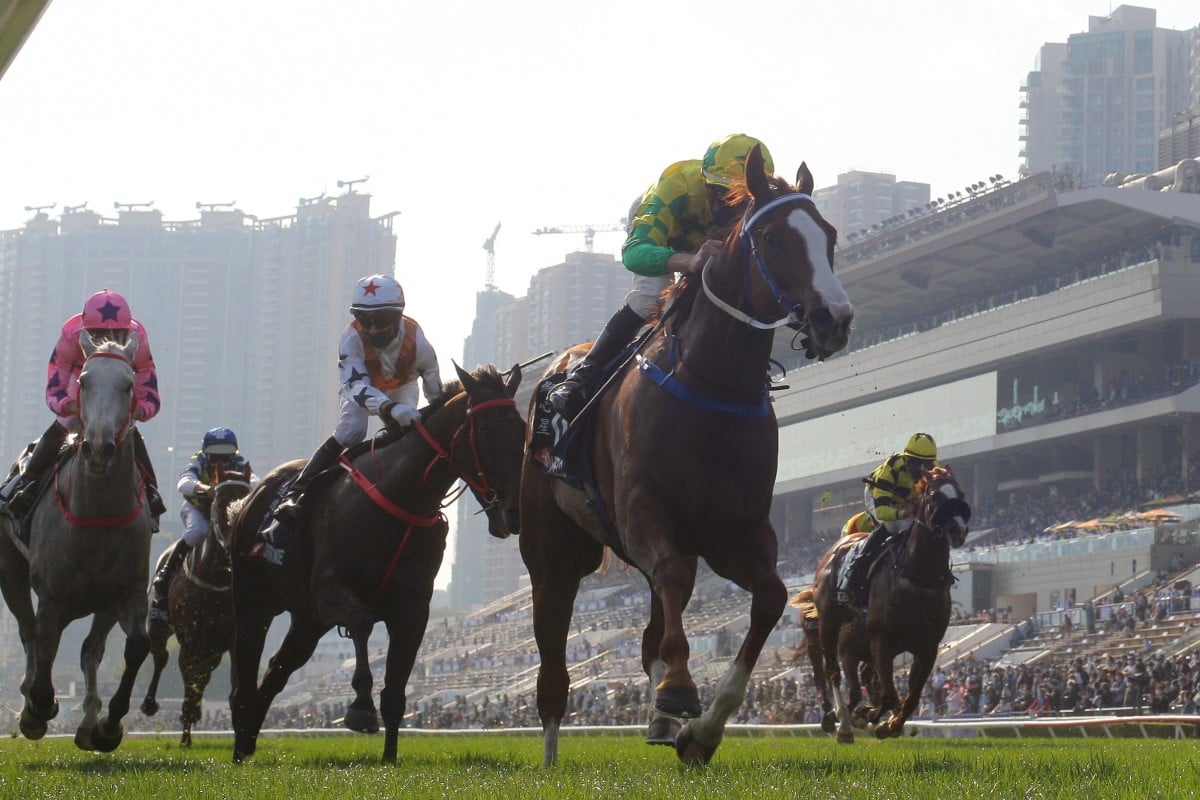 When a 202-1 shot brings down a third of the field in Hong Kong's richest sprint race on a day when the entire racing world is watching, questions are inevitably going to be asked about whether it could have been avoided.
Sunday's fall was one of the ugliest seen in the city in recent memory, with Zac Purton, Lyle Hewitson, Karis Teetan and Japan's Yuichi Fukunaga lucky to escape with varying degrees of non-life-threatening injuries.
The carnage was caused when Amazing Star broke down at the front of the field and set off a domino effect that also floored Lucky Patch, Naboo Attack and Japanese raider Pixie Knight, with Amazing Star and Naboo Attack suffering catastrophic injuries.
There are some among Hong Kong racing's key participants who maintain Amazing Star should not have been in the field, citing his lack of recent form and a history of lameness.
It's an easy conclusion to come to after the fact, for sure, but it's also difficult to argue with those who suggest the Jimmy Ting Koon-ho-trained galloper was never likely to bring much to the race from a sporting perspective.
Amazing Star had never proven competitive at Group One level before and seemed past his best after a string of poor runs this season. On the other side of the coin is the fact he was rated 109 and had won a Group Two this year, so it's easy to understand why he made the cut even if it is an invitation race where the selection panel can use its discretion to select the runners.
The veterinary side of things is even murkier. Amazing Star suffered lameness of the right front leg that gave way in the Sprint on three occasions earlier in his career but passed a series of "extensive checks" in the lead-up the race and officials are happy that all the necessary steps were taken.
There's no exact science to any of this – you can't prevent every horse who's ever been lame from racing again, nor can you stop any horse who's had an issue from competing at the top level. After all, Amazing Star's lameness issues did come before his Group Two victory.
But the incident has transcended the racing bubble in the worst possible way and it is something the Jockey Club will be desperate to ensure doesn't happen again, like it is every fall.
Officials confirmed following the fall that they will be conducting a thorough review of the incident to investigate "if there is anything that can be learned".
A similar review was carried out earlier this season after Yoo Yoo King broke down at Happy Valley and his vet report was similar to Amazing Star's, however Jockey Club executive director of racing Andrew Harding confirmed "there was nothing there that pointed to an improvement that could be made but we are committed to making improvements wherever is possible".
There will be plenty waiting to see what comes out of this latest review and even if history suggests there are unlikely to be any significant changes, it's also hard to imagine a fall that was as visually confronting as Sunday's – one that instilled a genuine fear in everyone who witnessed it in the immediate aftermath – not prompting some subtle changes in thinking when it comes to assessing a horse's overall value to a race.
Blessed & lucky
It is great to get home in just a few days!
Overwhelmed by all the messages, prayers & visits - certainly reminds me of the amazing in my life

Now for the road to recovery & I promise to be back better & stronger#carpediem pic.twitter.com/GyzbUKs1qq

— Lyle Hewitson (@LyleHewitson) December 16, 2021
Purton's festive conundrum
Another layer was added to Purton's festive conundrum on Wednesday, with five small fractures discovered in the star jockey's right foot to go with the injuries he suffered to his wrist, ribs and nose in Sunday's fall.
Purton is confident the latest injuries will heal before his wrist and that he remains on track to return at the Happy Valley meeting on January 5, but the foot injury will make his life harder in that it will prevent him from running for a period of time and make it harder for him to get his weight down and regain his fitness.
Meanwhile there has been progress for the other jockeys injured in the weekend's carnage. Fukunaga is set to return to Japan via medical transfer on Friday morning, while Hewitson has been discharged from hospital and is recovering at home.