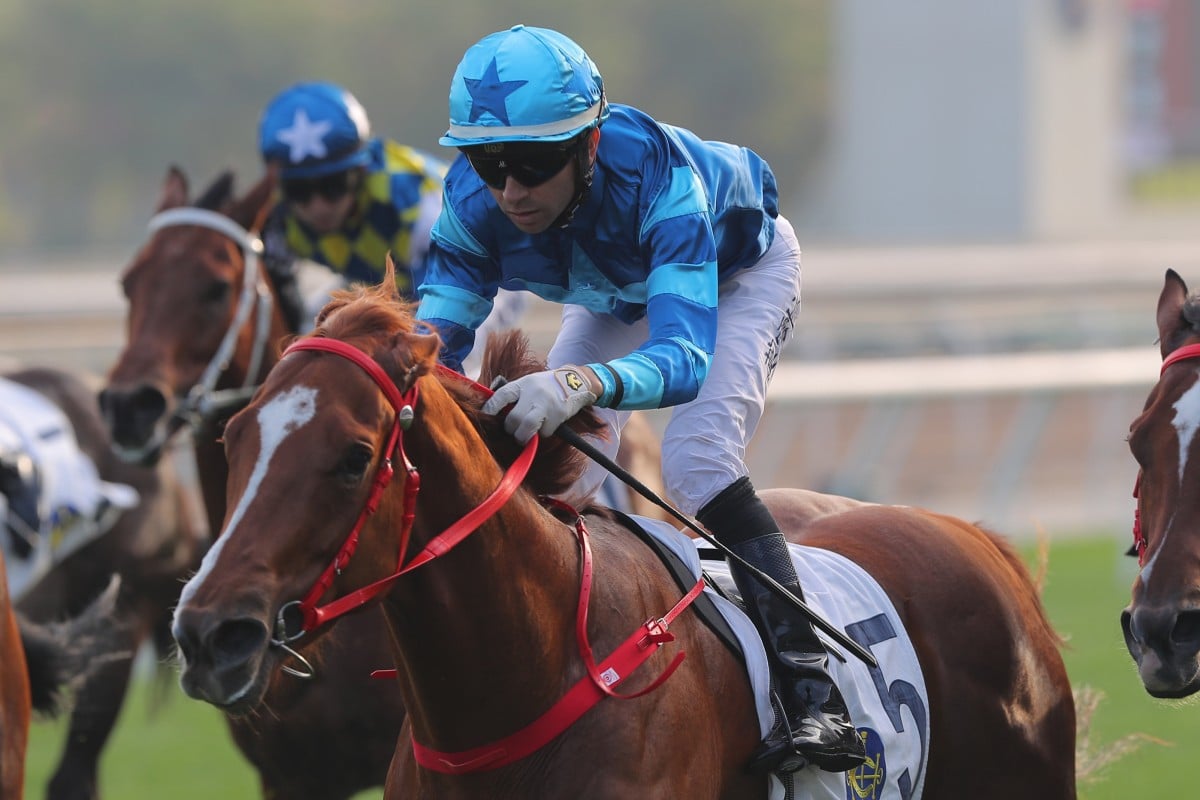 Star Brazilian jockey Joao Moreira will miss two Group One races next month after being hit with a six-meeting suspension for his effort aboard Zone D at Happy Valley on Wednesday night.
The Magic Man pleaded guilty to failing to ride Zone D out to the end of the race to the satisfaction of stewards after partnering the John Size-trained galloper into fourth as the $2.2 favourite in the Class Three Lamma Island Handicap (1,650m).
After positioning Zone D one-off the rail just behind midfield from barrier four, Moreira elected to slot back onto the fence around 750m from home and was shuffled back to second-last in the process.
Moreira pulled Zone D back off the rail cornering for home but faced a wall of horses before a gap presented and the galloper ran on solidly under limited urgings.
"When questioned regarding his riding of Zone D, particularly after the 1,000m, J Moreira stated that approaching the 900m he was following Meaningful Star, which at this time was racing to the outside of Sacred Ibis," the report reads.
"He said after the 900m Meaningful Star commenced to lose ground when racing behind Ready Player One and he had the option of shifting either to the inside or the outside of Meaningful Star rather than continue to lose ground behind that horse.
"He said as he was aware that Helene Wisdom Star was commencing to improve its position to the outside of the heels of Zone D, he felt that to shift Zone D to the outside of Meaningful Star would likely result in interference to Helene Wisdom Star and therefore he made the decision to shift to the inside of Meaningful Star and improved to race behind Sacred Ibis.
"He said because of the circumstances of the race rounding the home turn and in the early part of the straight, Zone D was not able to obtain clear running and after the 300m was shifted to the outside of Conqueror.
"He said he was able to then commence riding Zone D along and after the 150m was shifted to the outside of Everyone's Delight to improve into tight running between that horse and Meaningful Star."
Moreira's suspension begins on February 6 and he will miss the Queen's Silver Jubilee Cup (1,400m) and the Hong Kong Gold Cup (2,000m) on February 20.
The 38-year-old, who currently holds a 12-win lead over Zac Purton in the jockeys' championship after a treble on Wednesday night, will return for the Classic Cup meeting on February 27 at Sha Tin.