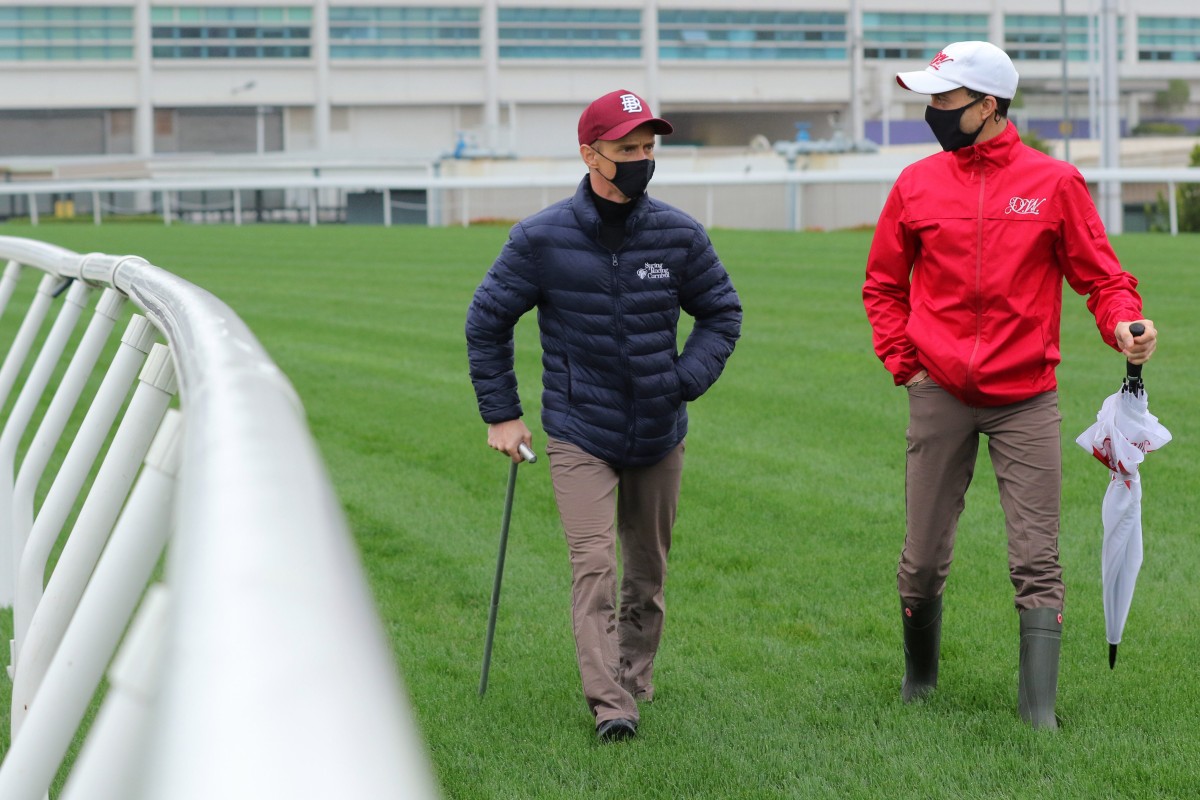 Australian jockey Daniel Moor can be forgiven for taking a relaxing breath when he gets in the saddle for his first ride in Hong Kong at Sha Tin on Sunday.
Life has been a whirlwind for Moor, 37, in the last few months, with the lightweight rider bagging his first internationally recognised Group One on his birthday in September and following that with another two before the middle of October.
It was that hot run of form that brought him to the attention of the Hong Kong Jockey Club and the rider admits that his life has taken a slightly unexpected turn.
"The whole thing has been a bit surreal," Moor said.
"The first goal I had was to win an Aussie Group One – I'd won a local one in Mauritius and an Australian one was always an ambition – but the flow-on effect from that has been amazing. It's a reward for hard work."
Fulfilling that Group One mission led Moor to hope he'd get a call from abroad but he was still pleasantly surprised when the phone rang.
"I knew if the call was ever going to come, it would be now," Moor said.
"I'd had a few stakes winners, but I was only hopeful and not confident. I know the criteria to get into Hong Kong is high and I'm delighted to be here."
The fact Moor can ride at a light weight will be attractive to Hong Kong trainers and he has kept a close eye on his waistline during quarantine.
"The Jockey Club has given me exercise equipment and organised healthy meal choices," Moor said.
"I had a couple of cheat days when I arrived and got tubbier than I would normally. A lot of people wouldn't think it was fat but I can feel every pound, so I got it sorted quickly."
Moor is looking forward to his four rides at Sha Tin on Sunday and is confident he can adapt to the different tactics employed in Hong Kong.
"It's so competitive in Australia and there is so much interference that jockeys try to ride the textbook race and not the perfect one for the horse," Moor said.
"In Hong Kong, you're riding mostly against experienced jockeys in races with more tempo and less interference. I'm looking forward to being able to get the horses I ride into a rhythm."
Although he appreciates there will be less trouble in running, he's not expecting any gifts from his fellow jockeys.
"I realise the climate I'm in and that I won't be handed anything on a platter," Moor said.
"I've known Zac Purton for a while and I'm sure he and his wife Nicole will be good to us off the track but it's game on when we get out there."
Moor is thrilled to be in demand at his first meeting after quarantine but was hoping to attend Sha Tin even if he had no rides.
"I was prepared to obtain permission to go even if I didn't have a ride, just to walk the course and look around," Moor said. "But I'm grateful to the trainers who are willing to give me a go."
Moor's best chance of riding a winner on his debut appears to be Sunny Boy, who attempts to follow up his dirt win last time in the Class Two Aldrich Bay Handicap (1,200m) on the same surface.
He will also be in action aboard Fortune Hero in the Class Four Tai Tam Bay Handicap (1,200m) on the all-weather track, Mr Aldan in the Class Four Sai Wan Ho Handicap (1,600m) and Celestial Warrior in the Class Four Tathong Channel Handicap (1,200m).
But if Moor comes up short on those, do not bet against him making a success of his Hong Kong stint.
"I've never set an end goal – I don't like a finish line, I like to go through the line. I'm going to work hard and my long-term goal is to make this my home," he said.