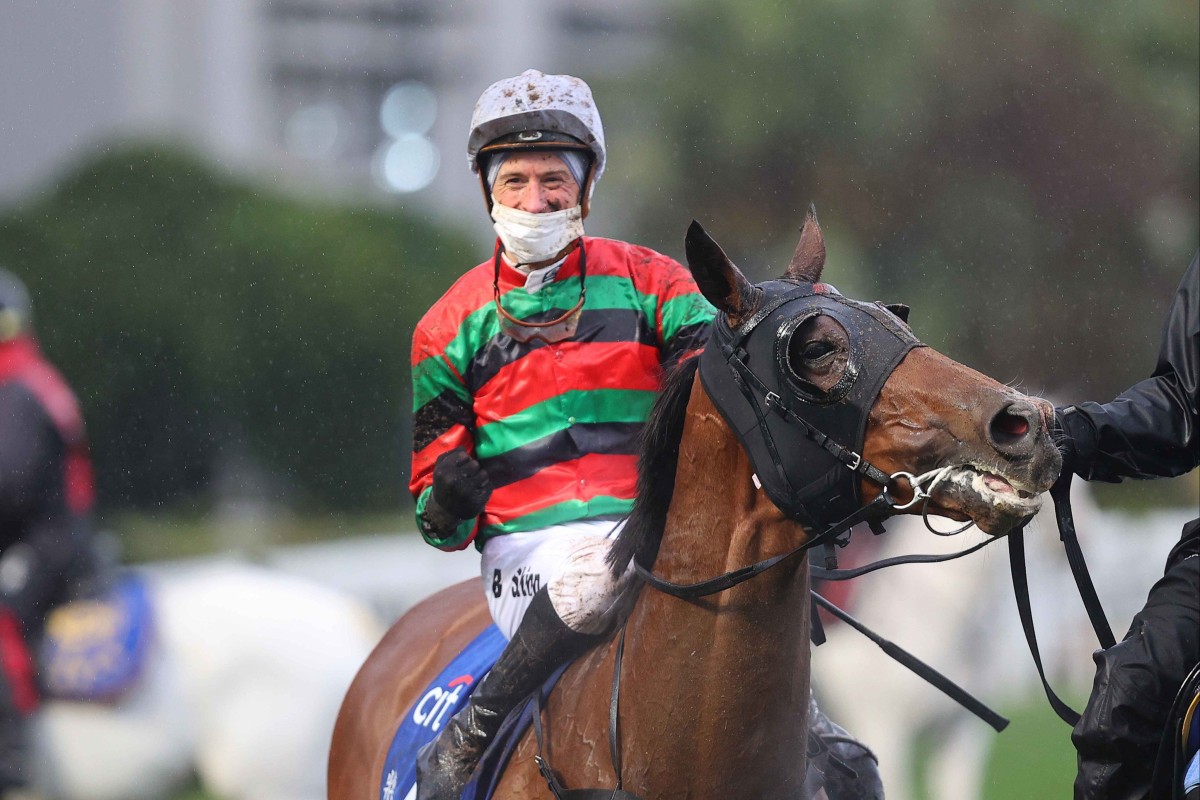 He may not have many big races left before leaving Hong Kong at the end of the season but Blake Shinn is determined to make the most of some huge rides on FWD Champions Day at Sha Tin.
The Australian jockey has made the decision to return to his homeland at the end of the season, citing the mental stress of months of suffocating lockdowns as the reason for his departure, but he is heading into the weekend full of confidence and with the chance to bank more Group One silverware aboard Russian Emperor in the QE II Cup (2,000m) and Sky Field in the Chairman's Sprint Prize (1,200m).
"It'll be sad to leave horses like this behind but I'm hopeful to reconnect with them in the future," Shinn said. "I'm really excited about this Sunday. I've got a couple of massive rides with strong chances and I'm hopeful I can win one of the big ones."
Gold Cup winner Russian Emperor has no foreign raiders to contend with as he steps back up to 2,000m and Shinn believes his big-race partner will prove difficult to beat.
"There's no Golden Sixty and there are no Japanese horses this year," Shinn said. "He's only racing against the best that Hong Kong can put in this field and Russian Emperor has beaten most of his rivals. It gives me confidence that we can win the race."
Russian Emperor was found to be lame after his last start but Shinn has every faith that trainer Douglas Whyte will have him cherry ripe for his latest Group One test.
"There was a setback after his last start but Douglas has taken every precautionary measure to make sure that he's 110 per cent ahead of his return to the track," Shinn said.
"He believes the horse is in great form and that gives me great confidence. If he turns up in the form that we know Russian Emperor can produce, he'll be hard to beat."
Whyte has floated the possibility of Russian Emperor being a contender for this year's Melbourne Cup and Shinn would place himself first in the queue if that international test comes to fruition.
"I'm planning on basing myself in Melbourne for the spring carnival and I don't have a ride in the Melbourne Cup as we speak," Shinn said. "If Douglas' plan that he's spoken of in the media comes off, it could be great and I'd be the first man there putting my hand up to ride."
Shinn has picked up two Group Ones this year, with Russian Emperor's Gold Cup success supplementing Sky Field's Hong Kong Sprint victory, and the rider feels you can draw a line through the latter's last run in the Queen's Silver Jubilee Cup.
"We were running at 1,400m last time and the race was run at a very slow tempo for the first 400m," said Shinn, who rides Healthy Happy in Sunday's third Group One, the Champions Mile.
"Sky Field put himself in a position that he's not really accustomed to, which was sitting in the first four. That wasn't by design but we were in a position that didn't suit. We're back to a favourable distance and he's got his chance to bounce right back."
Despite Shinn's effusiveness over his Group One rides this weekend, the one horse he may miss most of all from Hong Kong is Cordyceps Six, who he partners in the Class Two Silent Witness Handicap (1,200m).
"Honestly, I love this horse and he's a star in the making," Shinn said. "I believe he could be contesting Group One sprints next season, that's the belief I've got in him.
"With his character and the signs he's showing, in my experience of dealing with horses he's got the attributes to go to the absolute elite level. He excites me so much. Gee, it's tough walking away from him."