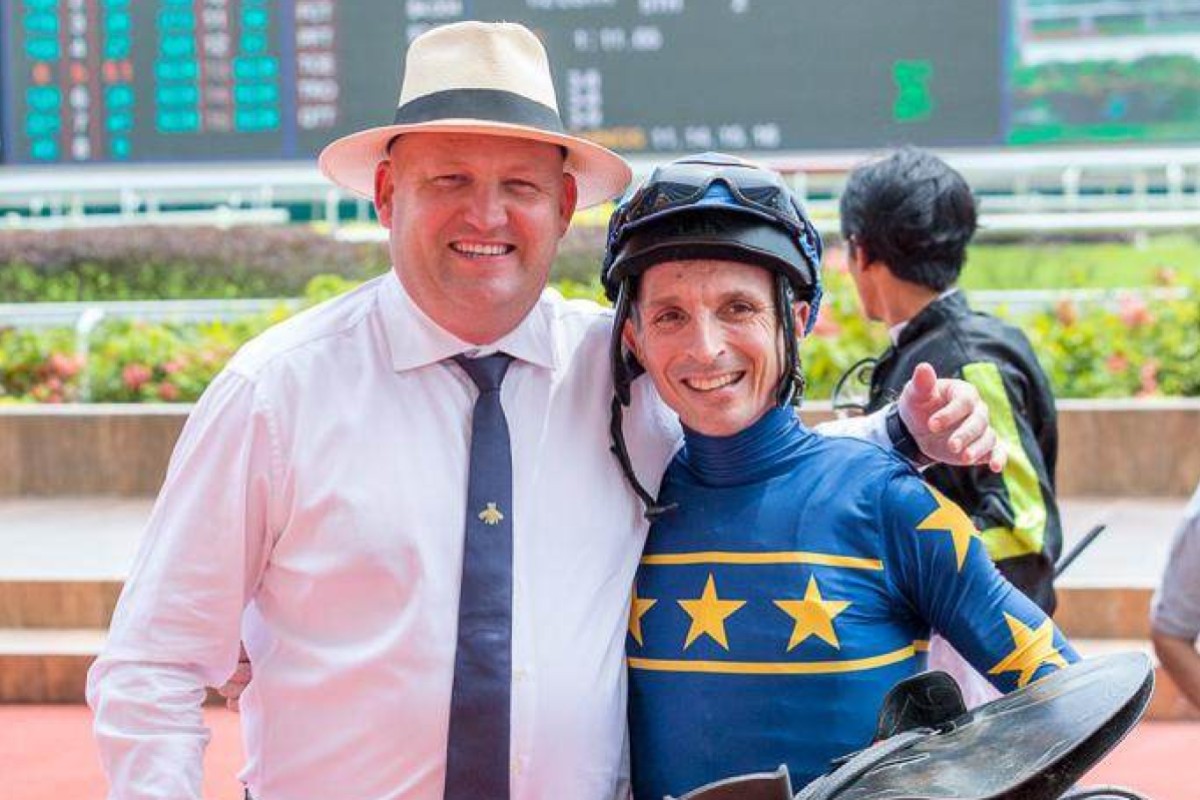 Dan Meagher is back at the Longines Hong Kong International Races (HKIR) after nearly a quarter of a century away from the city's marquee meeting.
Meagher was easy to miss on his first visit, during which he was a 15-year-old stablehand assisting his family – famous father John and big brother Chris – with Star Binder's preparations for the 1998 Group Two Hong Kong International Vase (2,400m) in which the Brett Prebble-ridden stayer finished 10th.
Now 39 and a multiple Singapore Group One-winning handler in his adopted home, Meagher will be hard to ignore when Lim's Kosciuszko, the speedster he prepares and named – more about that later – lines up in Sunday's Group One Hong Kong Sprint (1,200m) under his 47-year-old Australian compatriot Danny Beasley, who rode in Hong Kong for a two-month spell in 2003.
After working with his Australian Racing Hall of Fame inductee father and elder brother since he was a teenager, Meagher had three goals when he went out on his own in 2016 and set up shop in Singapore, where his dad enjoyed success throughout the 2000s.
"I wanted to win a premiership. I wanted to win a Group One. And I wanted to come here with a horse. It was wonderful I came here with Dad. Now I'm here with my own horse. It's pretty special," said Meagher, whose Hong Kong Sprint competitor is responsible for two of his five elite victories.
It was following Lim's Kosciuszko's second Singapore Group One triumph – he won August's Lion City Cup (1,200m) one month on from taking out July's Singapore Derby (1,800m) over an unsuitable trip – that Meagher began to believe he had a HKIR-calibre sprinter.
"After the Lion City Cup two starts ago. That was when it became reality because it was open class, set weights and he did really well," Meagher said.
"I spoke to [Jockey Club chief handicapper] Nigel Gray and he kept me positive. I told Nigel the plan was to run him one more time on November 19. Nigel said he'd have to perform really well.
"He carried 57 kilograms. The favourite carried 51kg, and we beat him fair and square by almost a length. Nigel got on the phone on the Sunday morning and said 'you're looking really good'. We received the official notice on the Monday afternoon.
"He's a very genuine horse, and he's never been beaten at 1,200m. Just because he's from Singapore, people are probably going to ignore him a bit, but he can't do much more than what he's done.
"I've been brought up in Asia. Hong Kong, Hong Kong, Hong Kong – you always want to be here. Success was to be here, but now our goal has changed. We want to win, but realistically, if he puts in a great run and finishes in the first three, it'd be amazing."
Lim's Kosciuszko's HKIR participation is a welcome good news story for racing in the Lion City and the Kranji-based Singapore Turf Club, both of which felt the full force of the coronavirus pandemic.
"It didn't fare well," said Meagher about Covid's impact. "It got knocked around. It shook the club up a bit, and it went downhill pretty quick. We lost one race meeting a week. Then we lost [feature] races. Now we only race once a week. Twelve races a week.
"We're nowhere near back where we probably should be. We've had new people come in. We've got a good man in there, [chief racing officer] Dayle Brown, who's really positive and really pushing hard.
"Dayle is doing as much as he can to get us back on track. He's our hope for the future, I think. It's turning a corner. I wouldn't say it's turned."
As a result of Inferno's post-arrival scratching from the 2020 Hong Kong Sprint – nothing went right for the Cliff Brown-prepared galloper from the moment he left his Kranji box – Lim's Kosciuszko is set to be Singapore's first HKIR runner since Lim's Cruiser was seventh in the 2018 Hong Kong Sprint.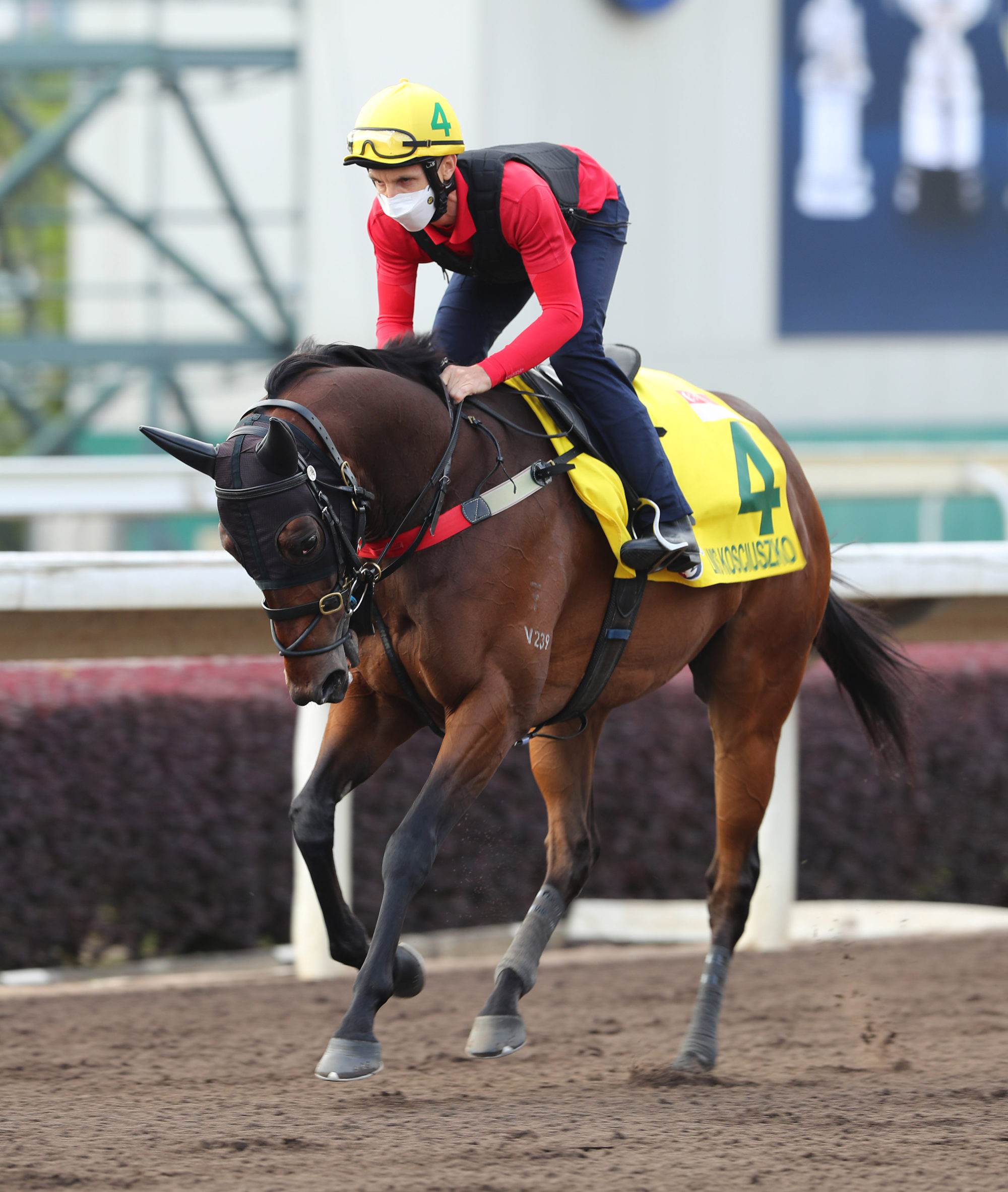 Meagher said owner Lim Siah Mong and several other people connected to Lim's Kosciuszko are joining him and Beazley in Hong Kong.
"Mr Lim, his partner, his brothers and his manager, [legendary retired jockey Mick Dittman] – they're all coming on Thursday. He's the biggest and best owner in Singapore. He's the most loyal supporter of Singaporean racing. He's a great man," Meagher said.
A product of Trelawney Stud in Cambridge on the South Island of New Zealand, Lim's Kosciuszko was passed in at two sales before he dominated a Te Teko trial under Danielle Johnson, the partner of Jamie Richards. Lim bought the unnamed trial winner.
"Mr Lim said to me, 'Daniel, you name the horse'. He always names his horses Lim's and then something beginning with the first letter of their sires," said Meagher, whose other Group One champion is Lim's Lightning, a superb son of Lope De Vega.
"The horse was by Kermadec, so I had to find a K word. I named him after the tallest mountain in Australia, Kosciuszko. Mr Lim said, 'Daniel, I can't say it'. I tell you what, he can say it now."