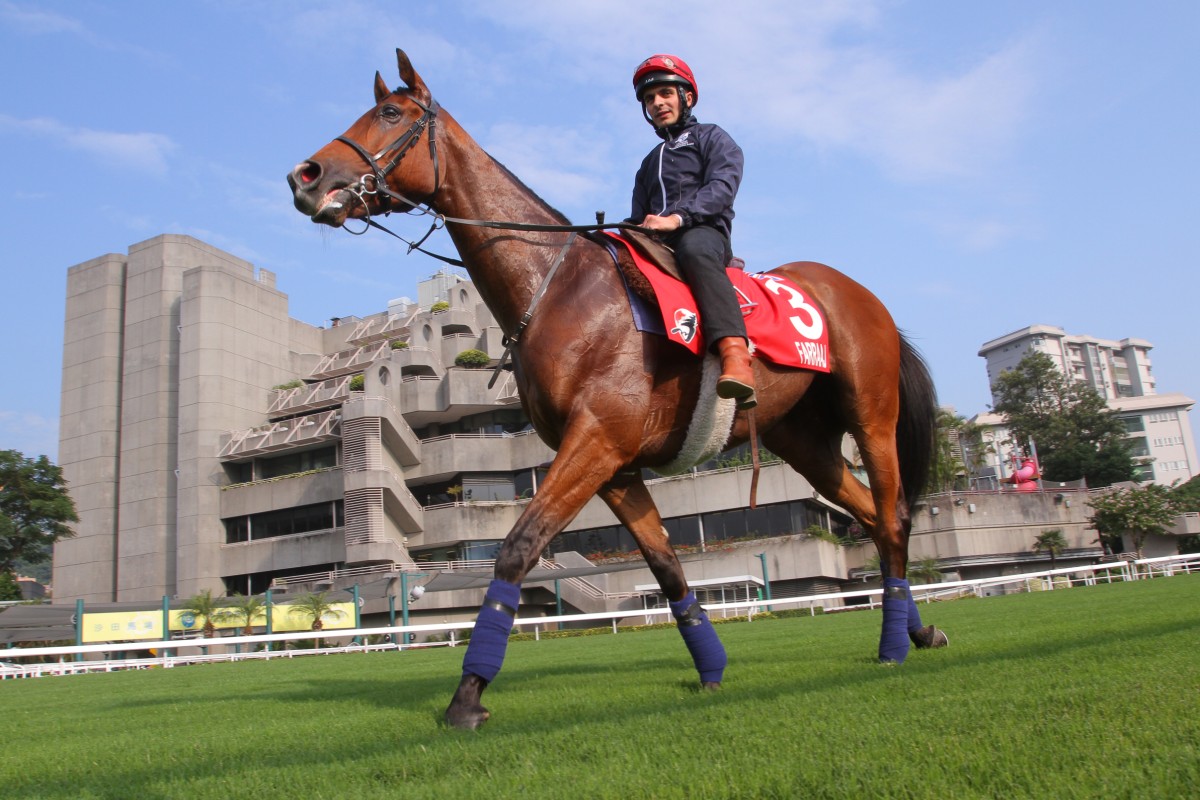 The global racing circuit has become the equine equivalent of a travelling show, and Hong Kong Cup contender Farraaj is the latest act to travel from town to town entertaining the masses.
But for a horse that raced his way out of English handicaps this year, it is the logical next phase of a career confined mostly to his home country.
"I think it's fair to say the horse is still on an upward spiral," trainer Roger Varian said yesterday. "He's had a great season back home, he put up a couple of exceptional performances under big weights in handicaps, but there aren't too many options for him to progress at home."
"He's a gelding and he likes fast ground, so he's at the stage in his career where he really should be on the international circuit."
Last start, Farraaj covered more territory than Marco Polo before finishing third in the Mackinnon Stakes at Flemington only surrendering the lead in the final strides. Sunday's rival Criterion finished behind him in fifth.
"It was a terrific performance and it was a run which suggests there are plenty of races for him abroad," the trainer said.
Varian is not your average horse trainer - measured and softly spoken, a bookish character who is content to let his charges do the talking. But he could not hide his enthusiasm at how the five-year-old had handled the travel.
"I saw him this morning for the first time since Melbourne and I am very happy with his condition," he said. "Some horses travel well, others don't handle it at all, but all he has done since he left Europe is thrive. He looked great, so we're hopeful, even though I know it is a tough race."
"This is my first time here as a trainer. It's always an ambition to have horses good enough to race at these international meetings."
Farraaj will break from the middle of the line on Sunday, coming up with gate six in the 12 horse field, and jockey Andrea Atzeni says the draw allows him flexibility.
"I was hoping to be drawn in three or four, but we can't complain with six - it gives us a few options," he said. "We have speed drawn either side of us with Same World and Helene Super Star, so I'm hoping they go out and we can follow them across and sit up handy - and this time, hopefully we don't have to sit wide."
Varian has already begun to plot a path that will lead back to Sha Tin in a year's time.
"This weekend will tell us a lot about where we go next year. Dubai's definitely an option - he's owned by Sheikh Ahmed Al Maktoum, who would love to have his horse race at the carnival - but alternatively there's a nice race for him in Sydney, and we're looking at Singapore very seriously too.
"We can then give him a break during the summer before targeting the Mackinnon Stakes and the Hong Kong Cup again."