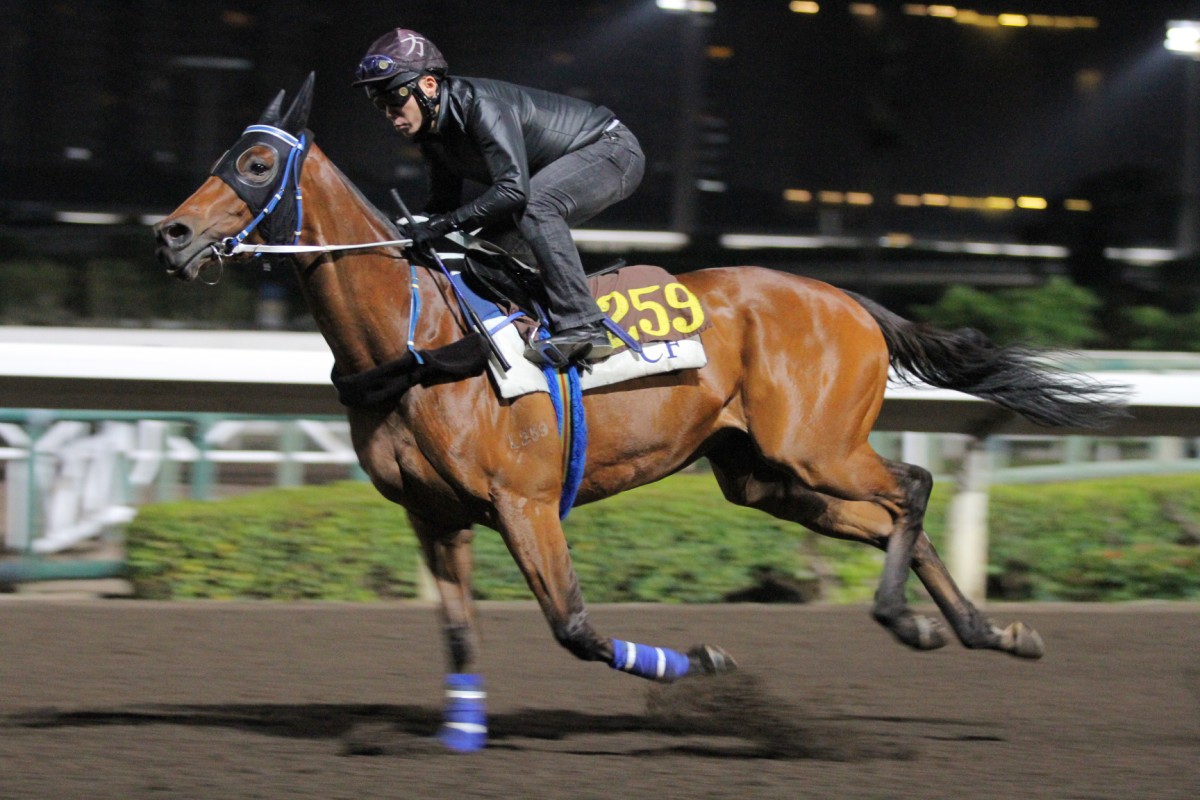 Caspar Fownes may be lying to Lucky Nine and Military Attack about their ages, but in every other respect the reigning champion trainer's biggest guns for the Longines Hong Kong International Races are right where he wants them.
"Lucky Nine's about to turn eight and Military Attack isn't getting any younger, but this is what they've been aimed at and they'll be right there," said Fownes, who has a Hong Kong Sprint to his credit with Lucky Nine in 2011.
"His first run this season was outstanding. Everyone saw what happened. He couldn't get clear and probably wins the race if he did. He had a nice gallop last Saturday, a great little breeze on Thursday. I don't think there'll be much in it at the finish - nobody's going to be winning by three or four lengths this year."
The gelding's 39-start career has also been a tremendous partnership with Brett Prebble, who has ridden Lucky Nine in 30 races, including his seven Group One victories, and it is almost three years since another jockey steered him in any race.
I don't think there'll be much in it at the finish - nobody's going to be winning by three or four lengths this year
"I think it's one of the most satisfying things for any jockey, to hook up with a terrific horse like this for the long term and you get to know each other so well and have so much success together," said Prebble.
"With Caspar and Dr Chang, Lucky Nine's owner, and his wife, we've been a great team and the horse is flying. He's such a happy horse. He had that bad habit of missing the jump for a while and it cost him any chance in this race a year ago, but he's over that. He's fit and you would never know his age riding him.
"What happened in the first-up run when he was blocked for running wasn't part of the plan. We expected he'd be going into this as a last-start winner and he should be, but it wasn't the worst thing could have happened.
"Coming off a six-month spell, he still showed us he's going great and had a race that didn't hurt him or give him a gut-buster before the big one," Prebble said.
Lucky Nine has spent his entire Hong Kong career with Fownes, but Military Attack walked into the yard this season with plenty of form under John Moore that Fownes had only seen from the outside.
A win first-up was followed by second when forced into the role of chased rather than chaser in the Jockey Club Cup and Blazing Speed had the last say.
"This is his target. He's very comfortable in his action in his work and will be a major player," Fownes said. "The draw has made us put our thinking caps on, but it's another even race. Last season, Designs On Rome looked outstanding and we could have been looking at him as a sure thing, but he's returned a little off his game.
"I'm still respecting Designs On Rome because John gets the timing so right with big races, but Military Attack has stretched him before and there's no reason he can't again."
The surprise packet may be Rainbow Chic in the Vase, with the fire now out of the track. Hong Kong is not known for 2,400m horses and Dominant's win last year was a rabbit pulled from rider Zac Purton's hat, but showed it could happen.
"The visitors are too good in a fair fight, but the locals sometimes punch above their form because it can be a style of race the foreign horses aren't used to," said Fownes, who almost pinched the Vase from under Dunaden's nose with Thumbs Up in 2011.
"It's normally not fast-run, on a flat course around a bend, instead of the big open tracks in Europe and that can put them off. Rainbow Chic ran OK in his only start at 2,400m.
"We gave him a solid trial on Tuesday to take the edge off him, but if he can relax and only has to run strongly for the last 500m, he can … maybe pick up a small cheque."
Meanwhile, the stewards have granted permission for Japanese Sprint runners Snow Dragon, Straight Girl and Little Gerda to wear a hood while parading tomorrow, but remove it for the race. Curren Mirotic, Grand Prix Boss and World Ace, engaged in the Vase and Mile, will parade in a hood and wear it to the start before removing it for the race.