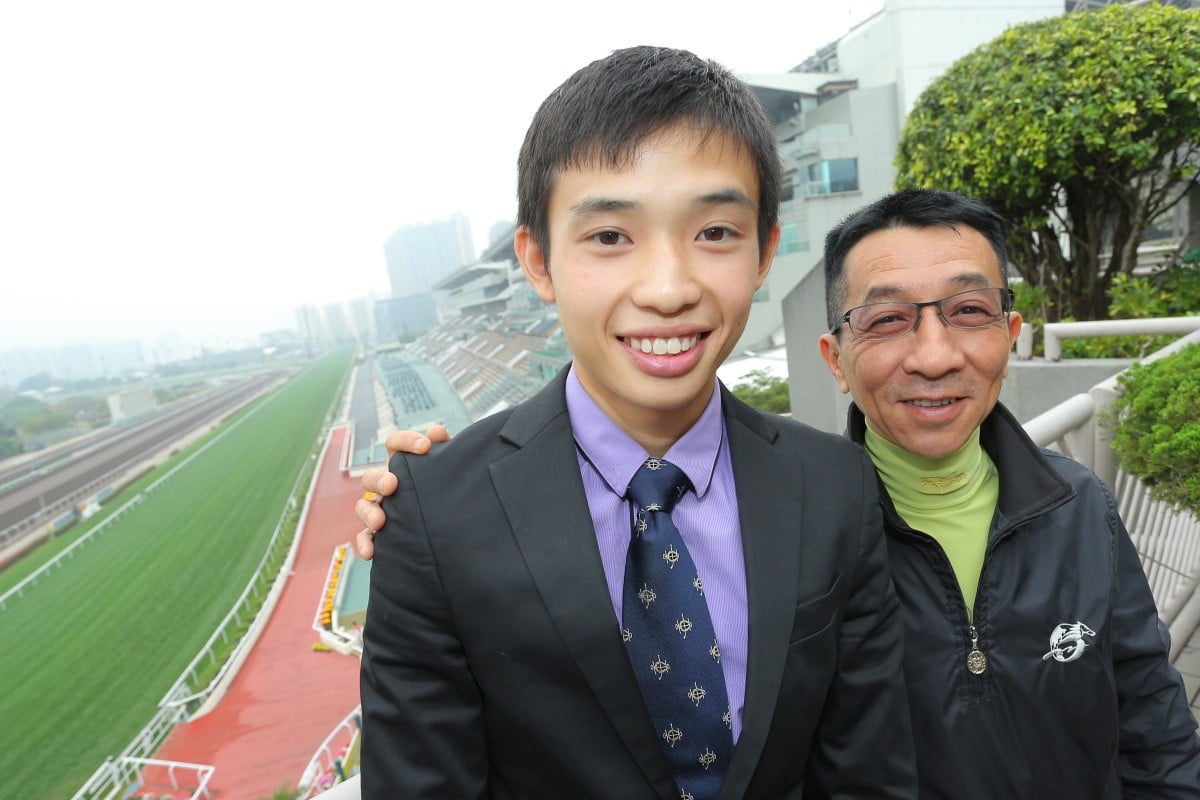 The background to Jack Wong Ho-nam's decision to apply for a place at the Jockey Club Apprentice Jockeys' School is typical of the story of many inductees: a schoolboy from Hong Kong's decidedly horse-free clusters of high rises, diminutive in stature, spots an advertisement for a career as a jockey, and signs up. Never mind the small matter of never having seen a thoroughbred racehorse, let alone sat on one.
What follows for all apprentice jockeys, from enrolment to race riding, must be considered one of the steepest learning curves in world sport, for both school and student transforming a 15-year-old into a rider capable of competing with the finest jockeys in the world in what is considered by many the sport's most intense arena.
Of course, in between the intensive day-to-day training and education provided at the apprentice jockeys' school and returning to ride in Hong Kong - as Wong will do for the first time today at Sha Tin - is an overseas adventure as apprentice riders ply their trade in foreign countries gaining experience in less- demanding racing jurisdictions.
We think it is important that if opportunities don't happen with one trainer, they can move to another
For Wong, it meant riding in New Zealand, firstly for leading trainer John Sargeant before a lack of opportunities sent him to the South Island and trainer Mike McCann.
This is where Wong first flourished, riding 16 winners, before coming through the finishing school that is Wexford Stables in Matamata on the North Island, under the tutelage of former top jockey-turned trainer Lance O'Sullivan. Wong added another 20 winners there.
This race-riding experience is vital and even though Wong arrives ready to take advantage of his 10-pound claim after more than 400 race rides in New Zealand, in recent years the Jockey Club's options have been more limited as to where its young talent can compete.
Four years ago a change in work visa laws meant Hong Kong apprentice riders could no longer live and work in Australia. It shut out an important nursery, with Australian racing providing the most like-for-like comparison style-wise with Sha Tin and Happy Valley.
The restrictions have coincided with a lack of fresh faces in the jockey ranks. What had been a steady trickle from the apprentice school - including two classes that contained a clutch of success stories led by Matthew Chadwick, and followed by now established graduates Derek Leung Ka-chun, Vincent Ho Chak-yiu and Keith Yeung Ming-lun - has turned into a drip feed.
Only two new apprentice riders - Alvin Ng Ka-chun and Dicky Lui Cheuk-yin - have entered the ranks since the start of the 2010-11 season, with comparatively limited success.
Wong is the first new rider since Lui began in 2012, but the Jockey Club hopes that opening the door back to Australia and a new arrangement with the famed South African Academy in Durban can spark a new wave of local riding talent.
The apprentice jockeys' school head mistress, Amy Chan Lim-chee, said a more diverse range of places to ride "gave apprentices more chances to grow", but also options to move around, as Wong did in New Zealand.
"We think it is important that if opportunities don't happen with one trainer, they can move to another," she said.
Jockey Club director of racing development Andrew Harding was instrumental in opening Australia back up as one of those options, and there are three apprentices riding there now.
"It's all about developing the jockeys progressively," Harding said. "In Australia, even within the states of Australia, you have that multi-tiered structure that allows us the flexibility to build up a kid incrementally. It's the perfect nursery."
Chan said their jockeys could also now move between countries, as Ho and Ng did by shifting from Australia to New Zealand during the early part of their apprenticeships.
Wong was flashing his trademark smile at Tuesday's "meet the media" press conference, and why wouldn't he? He is on the brink of fulfilling a dream.
But today his ruthless veteran rivals won't be cutting him any slack.
Former Hong Kong-based rider Mark du Plessis had been riding against Wong in New Zealand and knows what the 21-year-old will be facing today.
"Jack is a great kid, with a good head on his shoulders and I think he will adapt quickly. But, of course, he is going to make mistakes," Du Plessis said.
One of those mistakes, Du Plessis said, was one that even a veteran coming to Hong Kong can make, that of sticking too rigidly to instructions.
"Sometimes a jockey in this situation, being new, will keep riding to instructions instead of using his head when the situation demands it," he said.
O'Sullivan also oversaw the final stages of Leung and Ho's time overseas and urged the youngster to "develop some mongrel" and "killer instinct".
"Derek and Vincent both had that competitive killer instinct," O'Sullivan said. "Jack is the nicest kid you will ever meet, but he knows he has to toughen up.
"You get there in that big arena of Hong Kong and you soon realise that out on the track you've got no friends - and that will be the challenge for Jack. Hopefully, with that big claim he will start fast and fly and, if he puts his mind to it, there's no doubt he will ride winners."
Leung agreed there was a notable difference in intensity between New Zealand and Hong Kong. "Here," he said, "you think for a second and you've lost your spot, and no one cares."
Ho offered some words of encouragement and perspective on the grounding apprentice jockeys get during their overseas stints. "It is tough over there in New Zealand in its own way. You work hard at the stables, but you also get to learn. People will help you and you can ask jockeys for advice."
At trackwork on Friday, Wong admitted he was feeling a few butterflies ahead of his big day, but the smile was still broad and he managed a laugh when told of O'Sullivan's "mongrel" comment. "I am grateful for the time I spent with Lance. He helped me to be more professional and was always telling me what would be expected of me in Hong Kong," he said. "He was tough on me, but it helped make me ready."