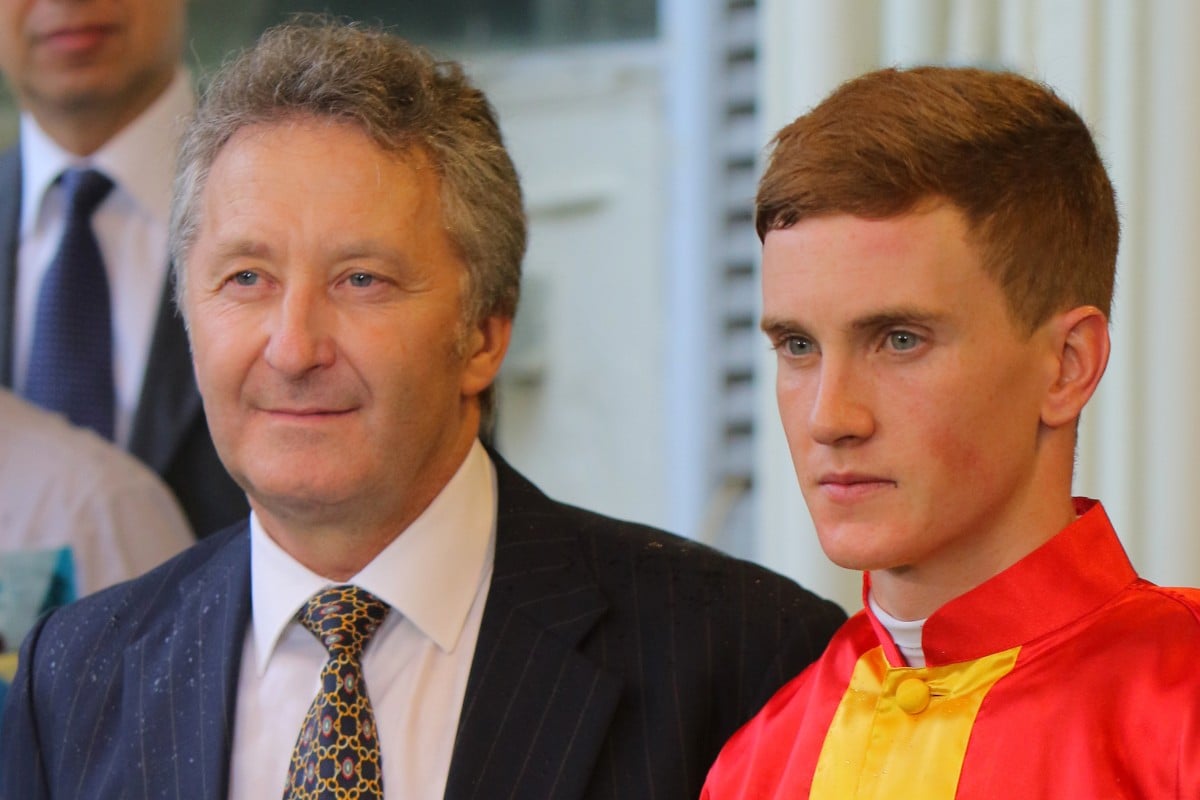 Trainer David Ferraris paid Chad Schofield the ultimate compliment for a young jockey in this part of the world after a long-priced double for the rider yesterday.
This kid has got a lovely style. If you look at Douglas 15 to 20 years ago and Chad now, there's no difference
Ferraris was the beneficiary of Schofield's skills when Health Wise scored at 30-1 after the second-generation rider had already shocked punters with Happy Friendship's 65-1 winner in the opening event, and the trainer was quick to compare the 22-year-old's talents to those of 13-time champion jockey Douglas Whyte at the same stage of his career.
"This kid has got a lovely style. If you look at Douglas 15 to 20 years ago and Chad now, there's no difference," Ferraris said, who watched fellow South African Whyte progress from his early days in their homeland to his reign of dominance at Sha Tin. "The way they sit on a horse, the way they push - it is identical. He is very tidy, and even though he has grown up riding in Australia, his style isn't Australian - there's certainly no windmill whip action."
Schofield is the son of another South African jockey Glyn, still riding in Australia and who captured more than 150 winners in Hong Kong from 2003 to 2006, including numerous feature race wins.
"Glyn rode a lot of winners for me," Ferraris said, adding that the comparisons with Whyte don't stop at riding styles. "Chad carries himself very well and has the type of professionalism that comes from being educated well with David Payne in Australia. David was a great jockey in South Africa."
It had been more than 10 months since Health Wise last won but after an encouraging run-on effort after drawing wide at the Valley, a step up to 1,800m brought about a second local success.
"We came here today and we weren't exactly confident, but we thought he could run well," Schofield said. "There was some speed in the race and that helped him."
Schofield's brace gave him five winners from the first nine meetings and came at an opportune time, with a two-meeting careless riding suspension beginning with Wednesday's Happy Valley meeting.
"Hopefully that helps me keep some momentum for when I return with the big races around the corner," Schofield said.
It seems the only person on course confident of Schofield's first winner was the horse's trainer Sean Woods, who predicted a switch back to the all-weather track, where Happy Friendship had run once previously, would bring about a breakthrough.
"The track was just too hard for him at his first start on the turf here, and it has been too hard for a lot of horses at those first two meetings," Woods said. "That's why we brought him here, looking for that give in the ground."
Happy Friendship might be Sha Tin's smallest horse, tipping the scales at just 905 pounds before yesterday's win.
"You wouldn't know it by looking at him though," Woods assured. "He is well proportioned, he eats well and takes his work."
Schofield came from last on Happy Friendship, picking his way through the field of tiring Class Five runners, taking evasive actions on a few occasions, and ended up covered in mud from kickback: "They were stopping and I was finishing fast - I had to pull him around to keep him in the clear."