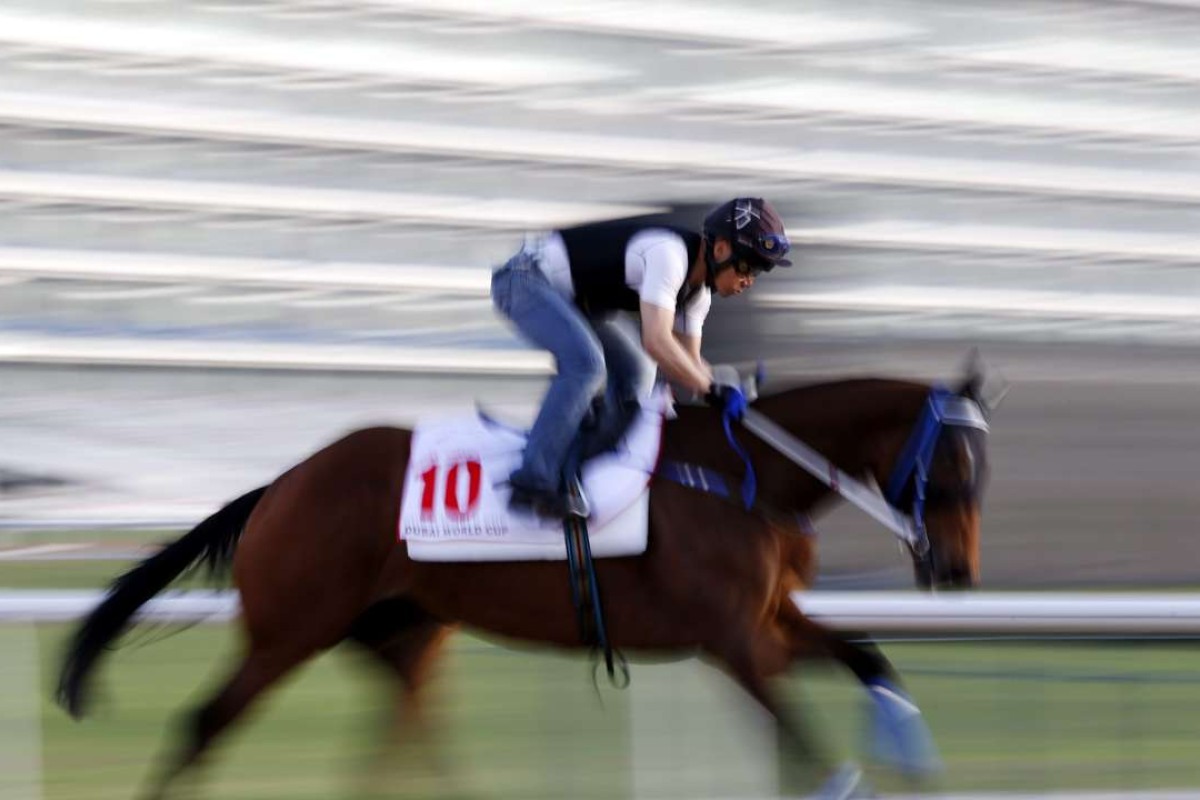 A funny thing happened on the way to the US$10 million Dubai World Cup at Meydan on Saturday night when owners and trainers of runners in the world's richest race were allowed to choose their own starting gates and then eschewed what should have been the prime draw.
I picked three for safety – it's okay if the inside is on again but just in case the track isn't like it was for Super Saturday
Three weeks ago, on Super Saturday, the Meydan dirt races were all won by whatever horse led on the rail so barrier one was gold but Hong Kong's Caspar Fownes thought he was playing the smart game by not banking on a repeat when Gun Pit's name was the first out.
Fownes has frequently bypassed drawing barriers for his international runners at official functions at home and away as he felt he didn't often have the best of luck in the random draws.
But this was different, as Fownes not only had the right to choose any available barrier but got the first choice with all gates available.
"I picked three for safety – it's okay if the inside is on again but just in case the track isn't like it was for Super Saturday and Gun Pit needs to come away from the rails, from there he should be able to," Fownes said immediately after making his choice, but later wondered if he had underplayed his hand as things progressed.
The third barrier picked was eight, the fourth picked was nine and even a major beneficiary of the Super Saturday bias, the connections of Special Fighter who beat Gun Pit when he led all the way, elected to take barrier five. Barrier one – which should have looked a priceless advantage if the track plays like it did on Super Saturday – wasn't chosen until there were only three barriers remaining in the field of twelve.
"I hope those guys knew what they were talking about when they said it's a rail bias," said the representative for the owners of American galloper Keen Ice after the pole position was finally picked but Fownes was wondering if he should have gone wider.
"Gee, nobody seemed to want the inside," he mused but remained happy with three and with Domineer's five in the US$1 million Golden Shaheen over 1,200m on the dirt.
"He'll get a nice trail from there if the track isn't one-dimensional and if it is the he's got the gate speed to go forward," Fownes said.
Hong Kong's four runners looked to have good fortune in the Golden Shaheen, with Rich Tapestry (one) and Master Kochanwong (two) well served and last year's runner-up in the race, Super Jockey in barrier six of the ten runners.
"Happy enough, he can take a sit from there and his draw was worse last year and he was only just beaten," said Bev Millard, wife and trainer Tony.
In the straight 1,000m races, high draws have often been the preferred range but the general consensus was that, this year, down the middle of the course could be the right place.
That may have changed just from a tactical perspective when two of the main speed runners, Sir Maximilian and Lady Shipman drew 12 and 13 and Australia's Buffering out there too with nine, but there seemed no perceived negative on the draws for Hong Kong's strong chances, Not Listenin'tome (gate four) and Peniaophobia next door in five.