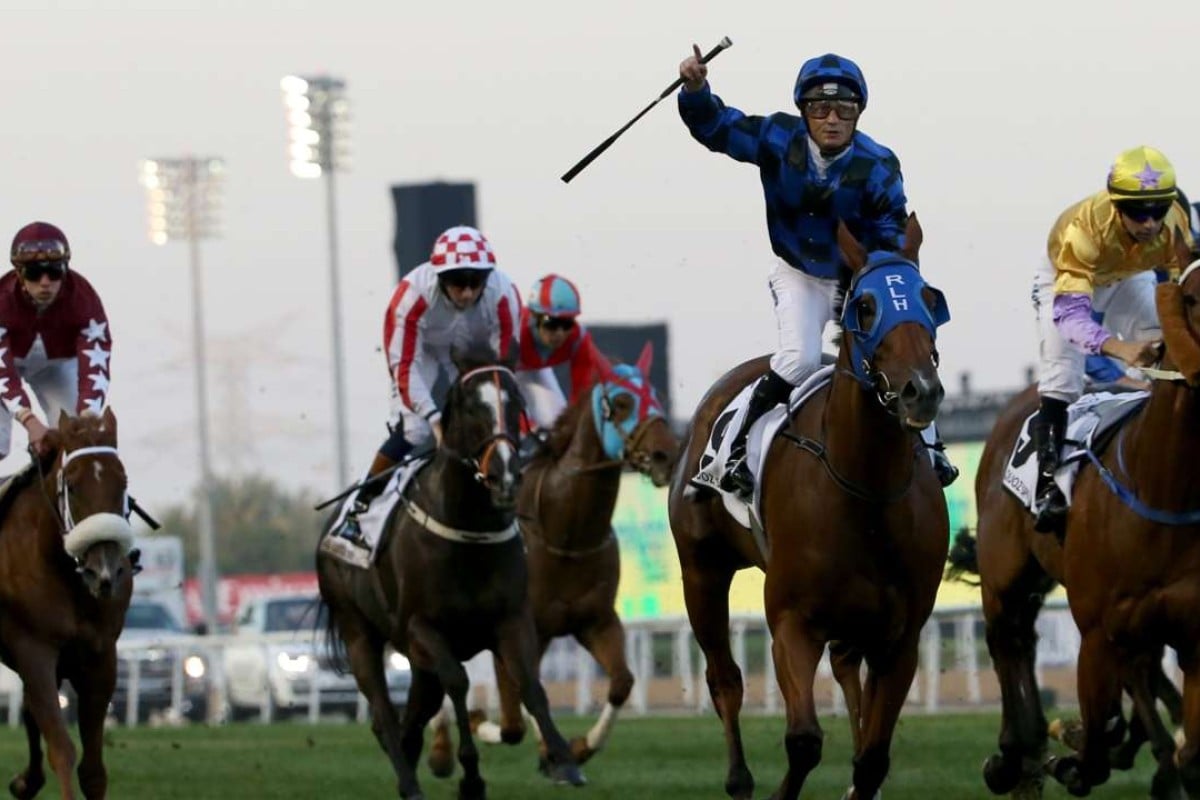 It must be difficult to judge the success or otherwise of any Dubai World Cup meeting, given that the only metric is one man's view of how it all went.
There's a stately calm before most races as horses head out, and the grandstand doesn't erupt quite the same way at the 300m as in Hong Kong, Tokyo or Melbourne
Betting turnover in distant lands is neither clear nor important, costs seem to be unimportant so attendance may or may not be a key performance indicator – it seems much the same every time – and we're not sure whether it's seen as vital that locally-based on-track successes are a crucial feature.
As Sheikh Mohammed's gift, in a way, to the world of horse racing, assessment of one Dubai World Cup as better than another or in having reached or fallen short of expectations is a tricky one.
But our gut feeling is that Saturday would have been judged a successful staging for two reasons alone – Buffering and California Chrome.
Their victories lent Meydan a feel that, despite a billion-dollar grandstand and piled-high stakemoney, is often missing for anyone but the actual winners themselves.
One visiting journalist, having his first experience of the World Cup was quite surprised at the lack of a real buzz to the meeting. He concluded that the buzz of horse racing must be attached to the thing Meydan does not have, betting, since that's the part of racing in which everyone at a racecourse can participate while ownership is not.
There's a stately calm before most races as horses head out, and the grandstand doesn't erupt quite the same way at the 300m as in Hong Kong, Tokyo or Melbourne, where fans cheer bets home. There's a fair bit to what he said, and the television coverage cleverly masks the subdued sense of it all you get on the course.
But then this guy drew those conclusions before the Al Quoz Sprint.
And while we'd have loved to have seen the Hong Kong sprinters prevail, Buffering's win was as good a thing as could have happened to the night – the moment when anyone in the crowd might have felt part of it. Rarely do you see such unbridled, noisy, joy from a bunch of people at a World Cup meeting as from Team Buffering.
The most memorable moment we've been present for at a World Cup was Victoire Pisa's 2011 win – so soon after the earthquake and tsunami that shattered Japan, there was extraordinary emotion about the Japanese win and Sheikh Mohammed himself was caught up in it as the winner hit the line.
Buffering's win didn't have that undercurrent of an entire nation's spirit lifted by a horse race, but there was enough infectious bliss to go around from the win of an elderly, tough. mortal sprinter who has seen off various champions in Australia which kept him at heel and has become an icon himself.
Like Red Cadeaux, Takeover Target, Lucky Nine, Cape Of Good Hope, Sole Power, and others, Buffering is the kind of horse that really captures fans. They race on for years, they travel the world, they drift in and out of real success as illness, injury and even superior rivals play a hand, but they win hearts with courage and commitment and longevity to go with their talent. They aren't whisked off to stud after six months of racing others of their age at two or three.
You didn't have to be Australian at Meydan to share in the thrill of Buffering's win and you didn't have to be American to do the same with California Chrome's win in the main race.
Make no mistake, the "Chromies" gave Buffering's cheer squad a run for its money, and between these two wins the missing atmosphere of the night was born.
Despite missing out on the Triple Crown two years ago, "Chrome" could have been wheeled off to stud but kudos to his ownership for racing on. No, he won't be competing as a seven and eight-year-old like the geldings listed above but even seeing these horses building on their stories at four and five is great for racing. Like the great mare Treve, the breeding career isn't gone, just postponed while the siren song was resisted for a couple of years. California Chrome in the meantime has done more for the game than nearly all of the classic colts who disappear in moments.
---
Jockey Club reiterates focus on turf racing and not dirt
It seemed strange that a turf centre like Hong Kong should provide forty per cent of the field in the Dubai dirt sprint as well as a runner in the world's richest dirt race, and one of the possible outcomes of any dirt success at the World Cup was an increase in the volume of calls for the Jockey Club to provide greater opportunities here for dirt horses.
That success did not eventuate but chief executive Winfried Engelbrecht-Bresges moved to head off any future rallying calls for dirt on Monday at Sha Tin.
Engelbrecht-Bresges spoke to the media after racing was completed and stressed again the club's emphasis is on turf racing, will continue to be on turf racing and the club will not offer encouragement for the sourcing of better dirt horses.
To this writer, dirt racing and the success, such as it has been, for a handful of Hong Kong horses at it, is a glass half full situation. Instead of decrying a lack of opportunities, people should be thrilled at what opportunities there are for horses on an alternative path when they have failed to measure up on the path for which they were bought.
The bottom line always comes back to the size of the horse population and the calendar. Less than 800 races for 1200-1300 horses cannot be everything to everyone.
By specialising in turf racing, turf racing specifically from 1,000m to 2,000m, Hong Kong has an opportunity to be competitive within that framework and to accept that it cannot expect to be competitive outside of it. The stars that come along outside those boundaries deserve to be embraced as stars of course but of a somewhat accidental type.
Engelbrecht-Bresges was at pains to point out that to alter that focus, widen it to provide more opportunities for dirt racing or for long distance horses (heck jumps racing for that matter) only leads to dilution of all groups.
That means no group being properly catered for and no strong group at all, like our sprinter-milers usually are - we could have a lukewarm bunch of sprinters, milers, dirt horses and stayers but excel at nothing.