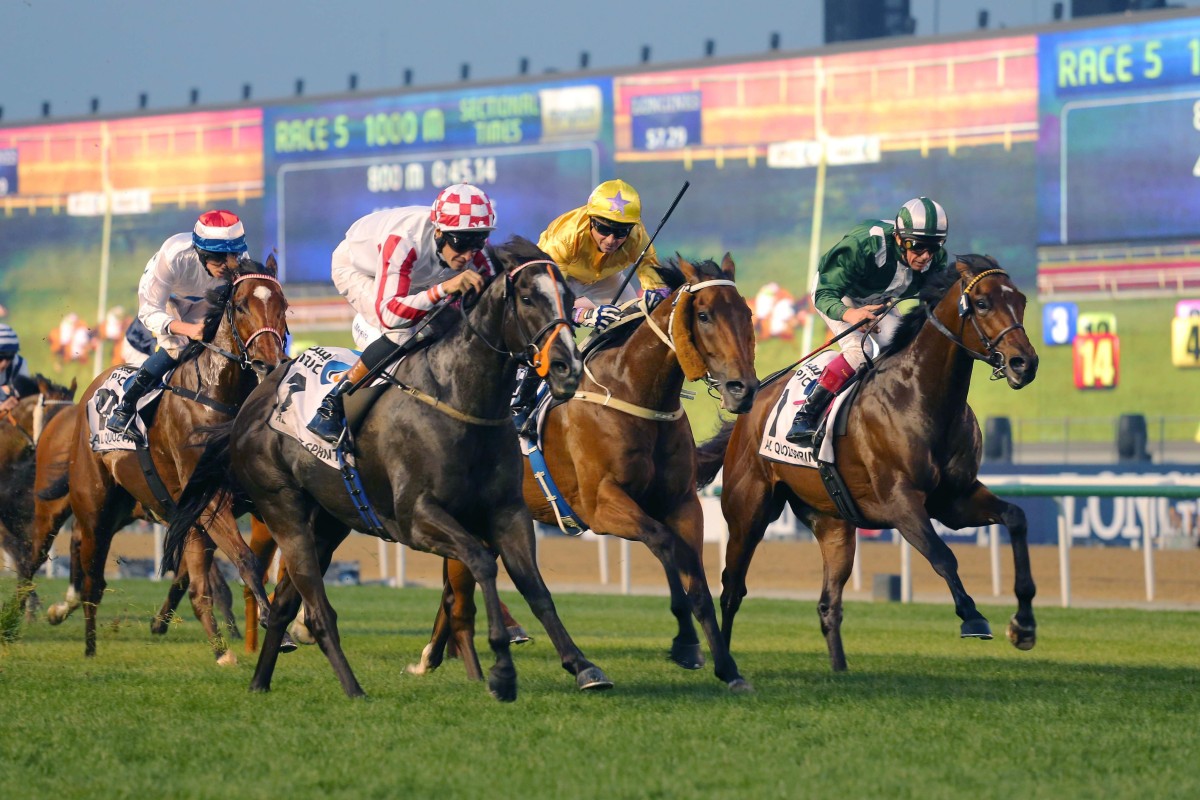 Once again, the attention of the racing world turns to the Middle East this weekend and to Dubai's Meydan racecourse, the racecourse in the middle of a desert that remains the pride of Sheikh Mohammed bin Rashid al-Maktoum's empire.
It is the closest thing to a true championship meeting on the global calendar, a card that features dirt and turf races of the highest quality - for the most part anyway - and brings together horses from all corners of the globe.
Last year, for the first time, The Griffin analysed five different betting markets to determine the best plays in each region. This proved one of our most popular blogs of the year, with thousands of punters around the world trying to find the best ways to make money on Dubai World Cup night.
The amount wagered on the night is quite extraordinary, especially given that wagering is outlawed in the United Arab Emirates.
Here were the results from last year's meeting - the winners of the eight thoroughbred races on the card and the dividend, for $1, that each of the five major systems from around the world returned.
Once again, it shows how different formlines are analysed from place to place - and how a local bias will almost always emerge.
If only we'd been smart enough to take the mammoth 14.3 about Sole Power!
With all this in mind, The Griffin is providing selections for each of those five markets - the international tote, the Hong Kong tote, the New South Wales tote, the PMU tote in France and the UK bookmaker starting price - based on likely value.
As always, we are making generalisations and treating each market as full of mugs, but there is no doubt there are factors determined by location which skew the markets. Understanding these factors can help to determine a likely betting market and as a result likely value.
International tote
Dubai World Cup - #3 Gun Pit (each-way)
Given the international tote brings in money from the United States, there are likely to be six horses that are under the odds in that pool to some extent - California Chrome, Frosted, Keen Ice, Mshawish, Hoppertunity and Mubtaahij. It could almost be seven, too, with Candy Boy also a former American. That creates great betting opportunities about the other five. It was a toss up between Caspar Fownes-trained Gun Pit and Andre Fabre's Vadamos, and we could have gone either way. In the end, though, we decided to stick with the proven dirt horse - and perhaps there is a shade of Hong Kong bias too - in selecting Gun Pit. He will need a lot to go his way for him to figure, but he should be further back this time, the kickback doesn't worry him and he has a blistering turn of foot. It is hard to see Frosted being beaten, and The Griffin will have Frosted on top, but Gun Pit is the play on the international tote.
Hong Kong tote
Golden Shaheen - #3 X Y Jet
Of course, we hope and believe that Hong Kong can salute in this race with four of the 10 runners, but the horse that will be favourite in most markets is Florida speedster X Y Jet. He's a speedy conveyance, what the Americans like to call "speed of the speed", and he is coming into this in scintillating form. You don't want to be going with him because he'll destroy you, but you also don't want to be chasing him too late because he draws out the turn of foot of his rivals. That's a potent, dangerous combination. With Sha Tin-based runners likely to be short here, he will most likely be the horse to back in Hong Kong. That said, personally The Griffin will be on Domineer and Super Jockey.
Australian (NSW) tote
Dubai Sheema Classic - #7 Postponed
It is so tempting to try and tip something in the Al Quoz Sprint, where the likes of local favourite Buffering, former Aussie Not Listenin'tome and Hong Kong Sprint winner Peniaphobia will be short. However, given how strongly we fancy Not Listenin'tome, we've decided to approach this from left field. So instead, we look to the Sheema Classic, where there are two horses that ran in the Melbourne spring lining up here - Cox Plate third Highland Reel and Mackinnon Stakes winner Gailo Chop. Given the reputation of Japanese horses in Australia, this probably means Duramente, One And Only and Last Impact go off unders too and it makes the bet the likely favourite Postponed. For what it's worth, The Griffin is taking on Postponed big time, with Duramente the play, but from a betting standpoint, Postponed will be the overlay.
PMU tote
Dubai Sheema Classic - #4 Duramente
Come the end of 2016, Duramente could easily be a horse that is a household name in France, with the Prix de l'Arc de Triomphe his long-term aim. And on what he has shown to date, he looks like the ideal horse to take the race and break Japan's greatest hoodoo. For now, though, he remains somewhat mysterious to the French public in a race where there is a lot of familiarity. There are two French horses, Gailo Chop and Dariyan, as well as a Prix Foy winner in Postponed and a Prix du Jockey Club runner-up in Highland Reel. There is every chance he will be the overlay in a race which looks very winnable for him.
UK bookmakers SP
Al Quoz Sprint - #4 Not Listenin'tome
It seems remarkable that $11 is still being freely bet about Not Listenin'tome with the UK bookies, even including the Ryan Moore factor. However, it is understandable to some extent. The hype about Ertijaal is deafening, Sole Power always attracts money and those looking at straight form would have Peniaphobia ahead of Not Listenin'tome. Throw in Muthmir and Goldream, as well as Australian war horse Buffering, and where does Not Listenin'tome stand? Well, by our calculations he should be going extremely close to winning - not many horses could do what he did down the straight at Sha Tin last start under 133 pounds, and he looked to have improvement in him. He is also surrounded by speed, so he should get a toe into the race. Take the $11 while you can - surely it doesn't last.