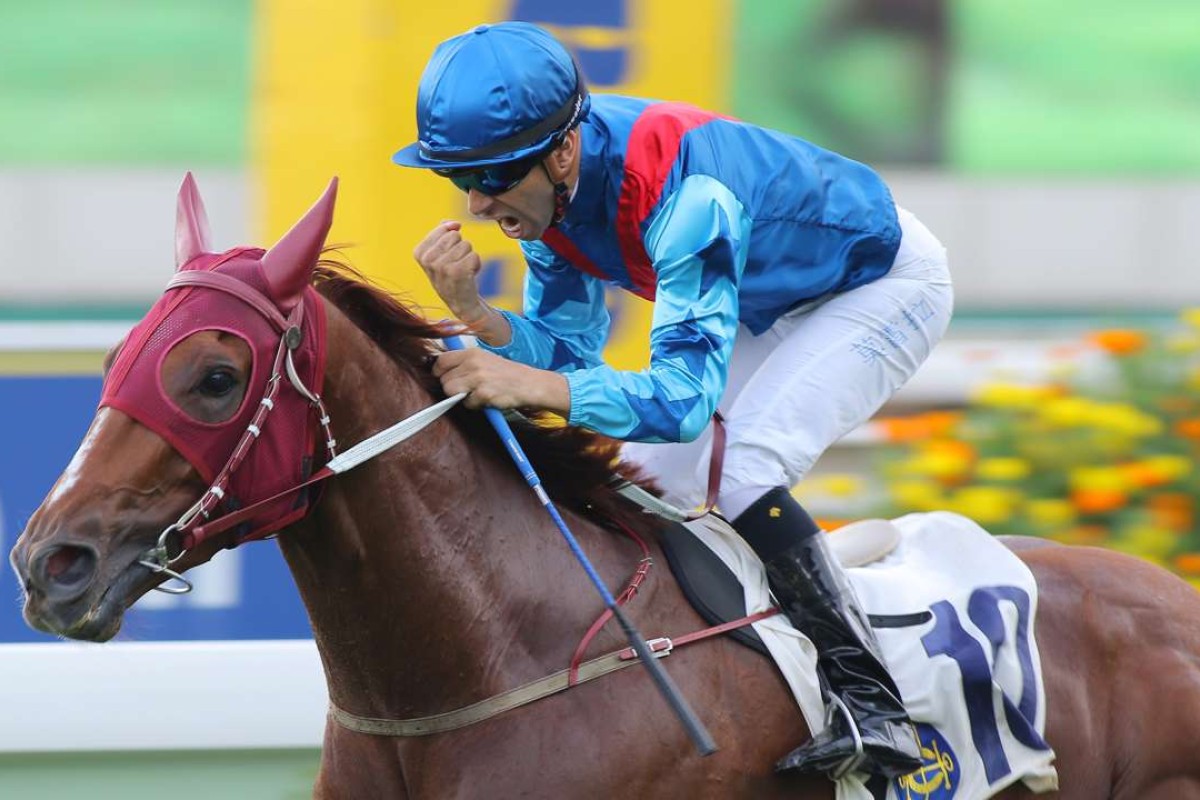 Champion jockey Joao Moreira was straying into unusual territory after Rapper Dragon wound up his three-year-old season with a fourth win and the Group Three Lion Rock Trophy and it wasn't only about the season win record still to be finalised.
John Moore-trained Rapper Dragon was Moreira's 146th victory of the season, eclipsing the record 145 races he won last term, but the Brazilian was also sticking his neck out in a way that isn't the norm.
"I will win a Group One on Rapper Dragon – I would never normally say that about any young horse, but I am so confident that this horse will win a Group One," Moreira said after a pitch-perfect navigation job to put away older, more experienced rivals with never a moment's worry for those who took the short odds.
"Mentally, he is not 100 per cent yet and look what he is doing. He is better now than when I first rode him but he still hesitates when he gets close to other horses. That's why I tried to keep him away from them, so he couldn't even see them. When we came into the straight, I didn't point him straight ahead, I pointed him out to the open space so that he would be confident and let down without worrying about any horse near him."
With little speed in yesterday's event on paper, Moreira had forecast to Moore that he would be closer than has been the case previously on Rapper Dragon but he wasn't keen to use gate one.
"John just said, 'OK, but stay away from the rail' and that suited me anyway," Moreira said. "I got away from the fence early and got into a good position. But this horse is so relaxed, once we settled into a place after 500m, I had to shake my hands at him to remind him to stay there. That's what makes me so confident that he will stay longer than 1,600m and I believe that we won't even see anything like the best of him before he gets to longer distances."
Rapper Dragon's fourth win from seven starts confirmed him as the "summer break favourite" for the 2017 Derby, although Moore outlined expectations of a strong team of southern hemisphere hopefuls for that race.
"That's the season over for Rapper Dragon and when he comes back, we won't be looking at the internationals, just the four-year-old races," Moore said. "He looks the Derby elect at the moment but we have a horse in quarantine now from Australia called Montaigne, who looks pretty special, and then there's my horse Eagle Way."
Moore was left with Eagle Way on his hands after buying him for an owner who didn't ultimately get a permit, so Moore has raced him in Australia in his own name.
The three-year-old made himself one of the strong Queensland Derby favourites in two weeks with another big run in the Group Three lead-up, the Grand Prix, in Brisbane on Saturday and Moore already has him earmarked for a Hong Kong career next season.
"It would be ironic if my first Group One win in Australia was as an owner in the Queensland Derby, not as a trainer," he said. "I think Eagle Way will come here for the Dominant ownership syndicate, if he passes the vet. They have a permit and would love to have a Derby horse. So that's the Derby team at the moment but there could be more to add because we'll be having a look at Royal Ascot in a couple of weeks to see if we can find one there to buy from one of the lower key stables."