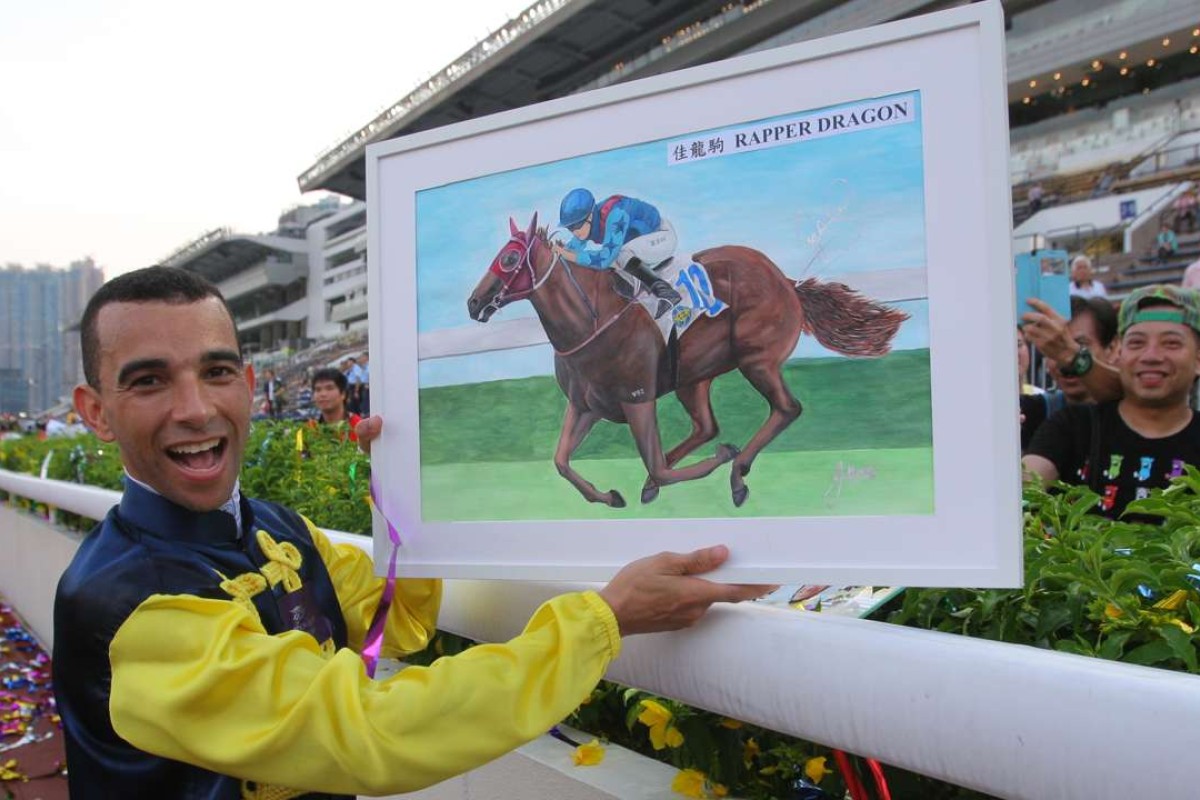 Joao Moreira's 168 winners – more than twice the number of the next best rider – would indicate that his performance in 2015-16 was something of a one-man show, but the season had its share of star cameos and even a new leading lady to keep things interesting.
Moreira's record-breaking feats took a step from ridiculous to absurd – he smashed through his own mark for wins in a season and his mounts took home a record HK$178,829,948 in prize money, and his freakish talents even created a viral video moment with his circus-like effort to recover a lost twirling whip out of thin air on Sun Jewellery in November.
Click above to expand graphic.
Diversity was a word mentioned by officials as the licensing committee went on a worldwide recruitment drive, but the biggest change happened at home, with the first local female to ride in Hong Kong in 15 years, Kei Chiong Ka-kei.
Chiong's start was scratchy, at best, but after an embarrassing fall on international day and two months on the sidelines, she returned with a vengeance – notching 37 winners, including a memorable four-timer, both record returns for a female rider.
The 23-year-old not only took out the newly minted Tony Cruz Award for leading local rider, she usurped Moreira as most popular jockey as a push on social media for the feel-good story created a late surge in voting.
Fellow locals Derek Leung Ka-chun and Keith Yeung Ming-lun pushed Chiong with solid seasons of their own, while Matthew Chadwick had a frustrating run after missing more than half the season through injury.
In total, 40 different jockeys rode winners, including visitors for internationals. A remarkable 66 rode in races, but the key was the amount of fresh faces introduced for short-term stints.
In fact, during the winter, each race looked a leg of an international invitational jockeys series.
Chad Schofield debuted this season and was great when he was on the track, as a raft of suspensions limited his output, but it was the arrival of Britain's two top jockeys from 2015, Silvestre de Sousa and Ryan Moore, that helped warm up the winter.
Lightweight, fast and tactically astute, it was De Sousa's vigour that was a hit with locals – the Brazilian seemed to relish the lack of whip restrictions as he strong-armed his way to 16 wins, with Moore matching that number as he again proved his class.
There were mixed results for other visitors, though – French-based duo Vincent Cheminaud and Gregory Benoist did enough to suggest they could be back, while others struggled for opportunities in a crowded jockeys' room.
Given Moreira's dominance and Chiong's popularity – in the end she was regularly attracting nearly as many rides as the Magic Man – it was surprising that many somehow maintained their place in the pecking order.
Runner-up Purton's numbers were down, but suspensions slowed him early on, while Karis Teetan, Brett Prebble and Neil Callan all held ground.
The decline came from 13-time champion Douglas Whyte with what he admitted was his worst season in Hong Kong with 36 wins. The veteran was regularly the target of jeers in the Sha Tin parade ring as he struggled, but late in the season even he seemed to be finding his groove again.
If there was a hole to pick in Moreira's season it might have been his ride selection – he "chose wrong" on a few occasions, including giving up the ride on Werther and leaving visitor Hugh Bowman to complete fly-in, fly-out big-race missions on the subsequent Horse of the Year – the Australian part of a growing trend towards Group One pinch hitters.
Change is again in the air for next season – Gerald Mosse used a stable jockey agreement to ride this season, but might struggle to gain a return, while Jacky Tong Chi-kit bid farewell after 14 seasons. Australian Sam Clipperton is the fresh face on the scene, along with new 10-pound apprentice Dylan Mo Hin-tung.