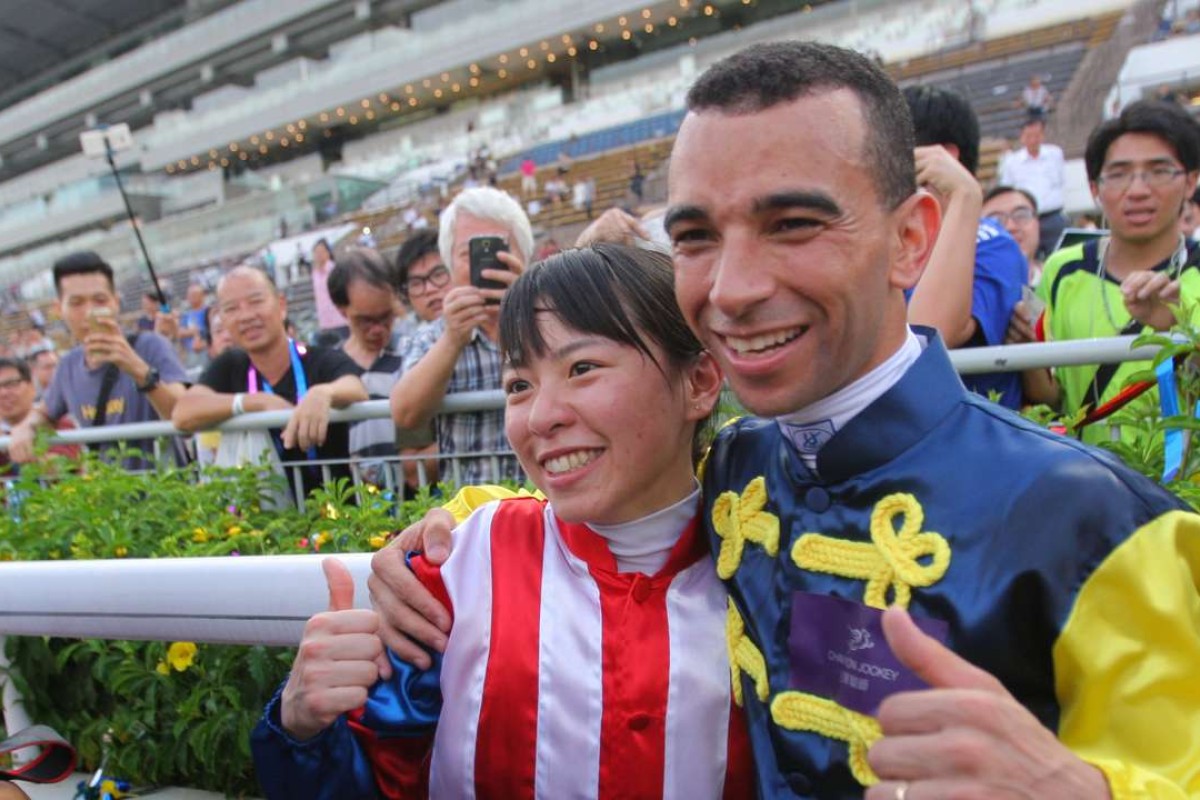 It's nearly a decade since the Chris Munce arrest, and real scandal or controversy in racing has become a dinosaur so, like other recent terms, 2015-16 was a campaign in search of a slogan and "season of the jockey" was as good as any.
One jockey was expected. Joao Moreira's championship didn't surprise but smashing his record by 23 wins, his prize money watermark lifted to HK$179 million and more than doubling the wins of runner-up Zac Purton did.
It was utter domination and Magic Man looked more like Superman bouncing out of two falls, one from Funny Fortune that could have ended terribly. He finished with a last-day careless riding fine of HK$245,000 as stewards relieved jockeys of HK$505,000 for interference – surely also world records.
The Brazilian stood astride the season like Christ The Redeemer overlooks Rio de Janeiro, always in the action, including punter pandemonium in October when he and Purton missed Sha Tin after a typhoon detoured their overnight Sydney flight to Taiwan.
But, belatedly, the season's inspired story was apprentice jockey Kei Chiong Ka-kei – she was even part of those record careless riding fines. And she was not expected.
Early, the future of Hong Kong's first female apprentice in 15 years was unforeseeable. She took 25 mounts to ride a winner and, when she clipped heels and fell at the winning post on international day, some rivals privately feared Kei would harm herself or someone else before the season was done.
Her metamorphosis was as remarkable as the runaway hype around it. Her next 247 rides yielded 35 winners and Kei Chiong became The Story, eclipsing Moreira by the rarity and novelty of it and reflected in a public vote over him as Most Popular Jockey.
Thirteen-time champion Douglas Whyte posted the worst season of his career, his longest losing streak, 85 mounts, and was jeered by fans. It was a dramatic drop for Whyte, who felt compelled to publicly deny talk of him retiring to train.
A jockey shortage in December led to Glyn Schofield's recall, not once but twice, and produced local history in February when he and son Chad became the first father-son jockeys in a race.
And the International Jockeys' Championship at Happy Valley put up for discussion the rationale for invitations, when the best-known jockey in the world after American Pharoah, Victor Espinosa, was tremendous for event profile but of questionable value as a competitor in it.
The trainers' race was spiced by reigning champion John Moore's poor start, and nobody was ever going to win except John Size, his eighth championship in 15 seasons. Moore recovered for third, easily topped the prize money and wins in the Derby and QE II Cup with Werther gave him the Horse of he Year for a fourth successive term. He even managed to finally win a Group One in Australia, but as an owner.
Werther aside, the elite horses disappointed slightly, with Rich Tapestry's Group Three win in Dubai the highlight overseas, only two international wins at home and the disappointments accentuated by the injury that sidelined Able Friend.
Foreign raiders provided the thrills – A Shin Hikari and Maurice, Aidan O'Brien's first Sha Tin victory with Highland Reel and Chautauqua, breathtaking in a newly international Chairman's Sprint Prize.
The Chairman's was hastily repositioned in September when Singapore's May internationals were cancelled and by the time the Asian Racing Conference in Mumbai was over in January, was joined as an international by almost all the Group races. Hong Kong's racing was opened to the world and later elevated to Part One of the Blue Book – the first to be there without a breeding industry.
The business side produced a mild surprise, a drop for the first time since the global financial crisis, but on the upside of expectations.
Last September, Jockey Club chief Winfried Engelbrecht-Bresges warned of a "season of consolidation" and last Sunday tweaked that to a season of resilience. Mid-term gloom that the business climate would poison racing proved correct but in a watered-down sense. Shopkeepers were struggling, hotels empty but racing's core was resilient, turnover fought back and a 1.7 per cent downturn to HK$106.14 billion was the acceptable damage.
At the Mumbai ARC, we heard more on progress in China, a path strewn with issues. In September, the Jockey Club signed co-operative arrangements to assist the progress but its first role in a meeting was abandoned when equine influenza struck Chengdu in November.
A revamped English commentary team had teething worries then got back on track as the season progressed, but it wasn't the end of the telecasting story.
Disappointed by coverage of Hong Kong by the Australian commingling partner's broadcaster, the Jockey Club reached out to a joint venture in Victoria between a mainstream TV and racing, and it nearly ended in bloodshed. Racing.com is heavily bookmaker-sponsored and, when the bookie was a feature of the first telecast in May, angry Jockey Club officials were ready to end the relationship. Concessions followed, the arrangement continued – still to be redesigned during the summer.
Commingling was the quiet highlight as turnover from overseas punters rose from HK$3 billion to HK$3.5 billion. At home, the club wheeled out Composite Wagering in October and it was anything but a revelation for turnover but remains a step down a path to deconstructing traditional bets.
The lowlight to the Hong Kong season was a long way from Hong Kong. Former club chairman Ronald Arculli had blazed a globetrotting path with Red Cadeaux over the years to make the gelding the best-loved racehorse in the world and a global outpouring of grief followed his breakdown in the Melbourne Cup and subsequent euthanasia.
Bidding farewell in February was director of racing Bill Nader after eight years and the role he left was expanded and split as Andrew Harding stepped up and Tony Kelly arrived from Britain. There was also the departure of starter Tony McGovern, retirement for jockey Jacky Tong Chi-kit and, many speculated, the end of a two-decade career here for riding great Gerald Mosse, as a remarkable 28 days of suspension helped end his retainership with Manfred Man Ka-leung.
And the final farewells, pending appeal, belong to trainers Sean Woods and Andreas Schutz, who failed to meet the minimum performance requirements of the Jockey Club and this week also failed to show cause why that should be overlooked.