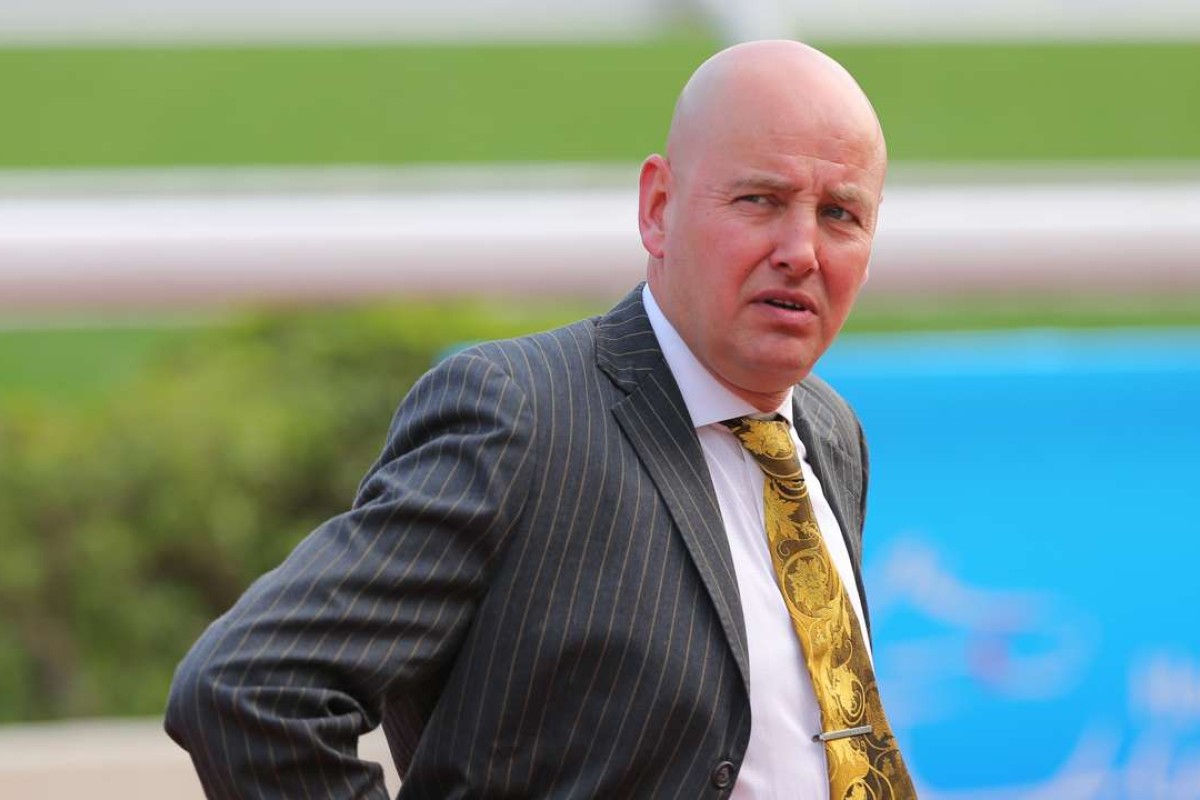 Trainer Andreas Schutz has had his appeal against a licence refusal by the Hong Kong Jockey Club's licensing committee dismissed and his career in Hong Kong is ostensibly over.
Having failed to reach the Jockey Club's minimum performance benchmarks for a third time this season, Schutz was requested earlier this month to show cause before the Licensing Committee but failed to do so and his licence application for 2016-17 was rejected.
Like British horseman Sean Woods, who had also failed to show cause under the same circumstances, Schutz proceeded to an appeal against that decision before the Jockey Club board of stewards on Tuesday and that appeal failed.
Woods said last Friday that he was looking into further legal remedies after alleging that the club's executive management had "sabotaged" his hearings, and alleged the same had happened with the Schutz show cause hearing.
Schutz, 48, could not be reached for comment last night, so it is unknown whether he feels the same way as Woods about taking legal counsel in an attempt to recover his licence in Hong Kong, but, on face value, his career here is over almost exactly 10 years after it began.
Schutz had a tremendous record of winning champion trainer titles and of Group One and International success when he was based in Germany, including handling 2004 World Series winner Epalo.
He arrived at Sha Tin in 2006 and has trained 182 winners, with his highlight moments centred around world champion miler Good Ba Ba.
Transferred to Schutz after a handful of runs as a young horse, Good Ba Ba won six Group Ones – two Hong Kong Miles, two Stewards' Cups, the Champions Mile and Queen's Silver Jubilee Cup – for the German between 2007 and 2009 before moving yards.
With these two departures, the Jockey Club will start the new season light on trainers with just 22 on the list, and would have the option to add trainers during the season to lift that number.
When French trainer Patrick Biancone lost his licence early in the 1999-2000 season after breaching rules relating to drugs, the club brought Peter Chapple-Hyam in immediately to replace him but it ended badly, with Chapple-Hyam enduring a miserable run and left in 2003 after withdrawing his licence application rather than going to a show cause.
"Traditionally, that is not how things have been done – new trainers are introduced at the start of a season," said executive director of the club's Racing Authority, Andrew Harding. "Anyway, that is entirely a matter for the licensing committee to decide."
Following the exits of Woods and Schutz, the first trainers to appeal their failed show cause hearings in 15 years, the Jockey Club is believed to be raising the bar again for trainers.
The club has had approval for five extra meetings next season, expected to raise the number of races by about 30 per season, and the government is expected to formally ratify the dates of those extra meetings in early August.
As a bow to that formal technicality, the club has yet to make any public announcement but warned trainers at a closed-door meeting on July 8 that the performance criteria would be raised to take account of the added races.
All with trainers will be required to win 16 races, one more than currently, to satisfy the criteria. Should they fall short, then trainers with prizemoney of HK$18.5 million – up by HK$1 million from the current level – will be deemed to have met the requirements.
"It's not really a more demanding target, simply an indexation exercise, given the additional races," Harding said.