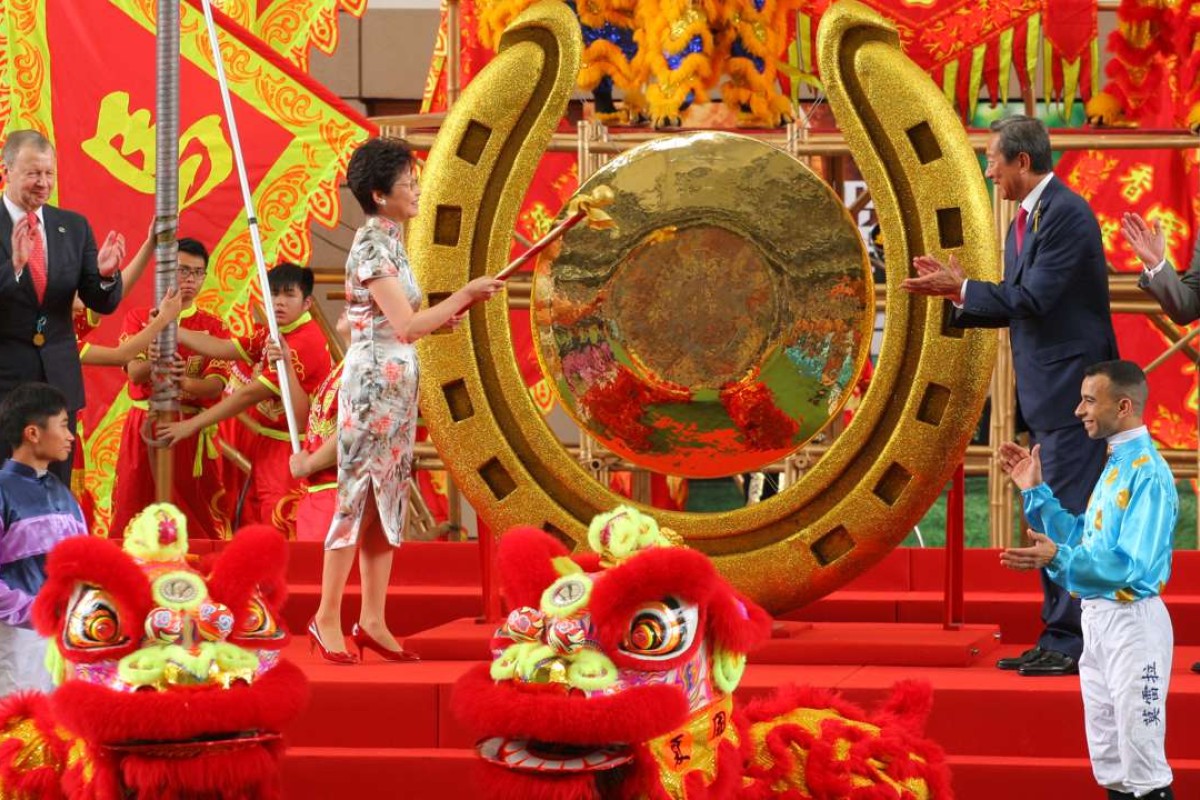 The most prevalent gear change at Sha Tin was "sunglasses on" as the enforced Saturday opening for the new racing season stunned on the blue sky side with a dose of absolutely everything from falls to talk of international targets to a record day one betting handle.
Jockey Club officials barely knew what to expect with Sunday's elections necessitating the switch from the usual Sunday opener, as Saturday is traditionally a much weaker day, but they needn't have worried – turnover was up 5.8 per cent to a new day one record of HK$1.21 billion and the crowd turned out at nearly 64,000 to see the gong banged for 2016-17.
Watch: The start of the new season at Sha Tin
"In our view, a Sunday would normally be probably four or five per cent better than a Saturday so, for us, breaking the record is like an increase of probably 8 to 10 per cent," said chief executive Winfried Engelbrecht-Bresges.
"It's an amazing start to the season, exceeding all expectations. Even the crowd, which was down on last year in raw terms, but still a lot more than we would have anticipated on a Saturday – the change in days is worth 10,000 to us in attendance."
Engelbrecht-Bresges said that commingling was also up 40 per cent to HK$57 million, also exceeding expectations considering that some of the club's commingling partner jurisdictions, like South Africa and Australia, had crowded racing schedules of their own.
On the track, Joao Moreira landed just the one winner, taking the Chief Executive's Cup with Lucky Year for Danny Shum Chap-shing, but drawing a blank the rest of the day and prompting a Twitter followers to wish him back to Japan where he rode seven straight last weekend. Perhaps the fans will get over it as the season progresses.
Neil Callan claimed the season's first win, riding Seasons King for David Hall, but all in all the day's sport belonged to the trainers best known for getting their horses up and running early.
Me Tsui Yu-sak claimed a treble and bragging rights as the season's leading trainer at this stage, Tony Cruz had a double and so did Shum, who seemed to be making promises for Lucky Year that might prove beyond keeping.
He's hoping for a late nomination to the Sprinters Stakes in Japan next month, for which entries closed in August.
Golden girl Kei Chiong Ka-kei's day out was like an old spaghetti western: the good, the bad and the ugly.
She won on Multimax for Cruz to show her strength of character, bouncing back after earlier causing havoc in the second race that led to a suspension and cartwheeling down the straight after her fall in the fifth race that looked worse than it was.