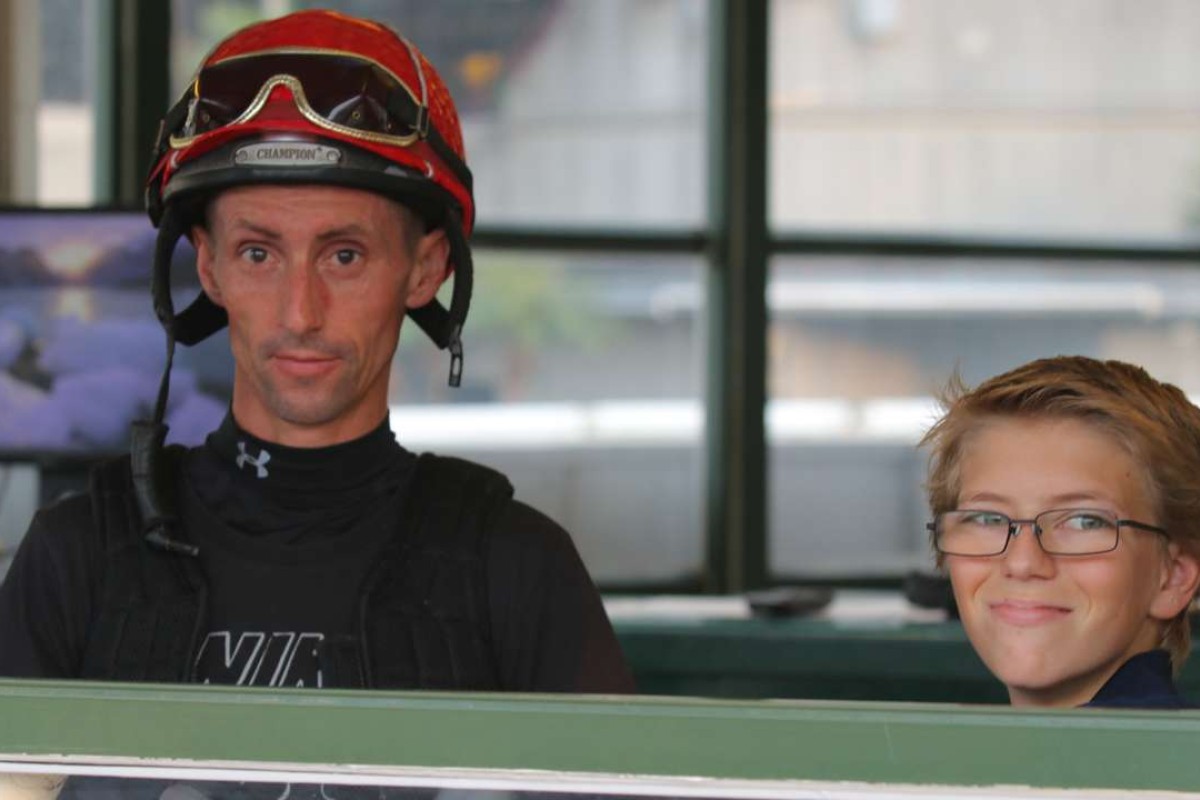 When Campbell Rawiller picked up a ballpoint pen and began jotting down the names of horses in an A4 notebook back in 2014, the jaded trackwork regulars – assorted trainers, work riders and clockers – considered it cute; the racing-mad teenager just taking an interest in his father's career, harmlessly doing his best to find a standout from the morning workouts at Sha Tin.
At around the same time, when the Chinese press famously dubbed his father Nash Rawiller Chow Fan – Cantonese for fried rice – early on in that first difficult season, it wasn't meant as a compliment.
Two years later the same trackwork regulars, and even some other jockeys, are asking which names are in the youngster's notebook.
The kid knows his stuff – a fourth-generation horseman and aspiring jockey himself, the just-turned 15-year-old has an understanding of the system and the natural gift of spotting talent; identifying new, or even sometimes old, horses working well.
And at the start of the jockey's third campaign, through sheer force of will, the help of his watchful son's keen eye and that sure-fire way into the hearts of locals, riding winners – Chow Fan has somehow become a term of endearment.
Nash Rawiller may have been a champion in his homeland, but in October 2014, with the start of his "rookie season" already cut into by a month-long suspension picked up in Japan, the voracious local media's knives were being sharpened and ready for an old-fashioned carve up.
When Rawiller desperately urged What You Dream home for his first win of that campaign, the cramped ground floor press box was full of laughter as a reporter produced an impersonation of the distinctive whip action and the Chow Fan moniker was born, local scribes likening his style in a close finish to that of a chef tossing a wok of fried rice in a Kowloon kitchen.
Come mid-December in 2014, and Rawiller had ridden just two winners from 70 rides – and that ungainly-looking style, all elbows and bobbing head, was still the subject of derision, in the press box and trainers' room alike.
'I'm ready to jump in deep end': Nash Rawiller joins riding greats in Hong Kong
Many, if not most, other jockeys would have packed up and gone home – especially given the level of success Rawiller was accustomed to.
In four of the six seasons before his move to Sha Tin, Rawiller won more Group One races than anyone in Australia and his 56 top level wins puts him in the top 15 of all-time in his homeland.
So why did he stay? "Look, I'm a pretty stubborn bastard," the 41-year-old said on Wednesday night while wandering back through the crowd along Wong Nai Chung Road after a breakthrough four-timer, his first four-win haul in Hong Kong.
"But if I had gone home, I would be regretting it now, I came here to give it my best shot and at least now I'm in a position to do that with the support I have gained. Twelve months ago I wasn't getting enough support from the local trainers. I have seven winners from five meetings now, it has taken me two months to ride that many winners in my first two seasons."
Given the once-derogatory nickname, it's ironic that it is Chinese trainers that have been behind Rawiller's turnaround – at first countryman John Moore formed the foundation of his support, but a falling out (a common, and often temporary, occurrence between the trainer and many top jockeys over the years) meant that a Group Three victory on Secret Sham late in the 2014-15 season was his last for the handler.
Aussie blitz: hard work pays off for Nash Rawiller as he clinches four-timer
As much as having a minimum riding weight of 122 pounds is a severe disadvantage for any jockey, and especially so in a jurisdiction where lightweight Joao Moreira dominates, when Rawiller shifted from his Sydney comfort zone, weight wasn't his biggest challenge – it was communication.
Full-time jockeys in Hong Kong don't have agents or managers – so it was left to Rawiller to do the meet and greets, head into the Sha Tin trainers' stand to chase rides each morning, or get on the phone to request them.
Anyone that has spent anytime talking to the lanky, laconic Australian, knows he has a "pause for effect" Marlon Brando would be proud of, and that he thinks – sometimes rather deeply, and for quite a while – about what he is going to say next.
Combine that with a relatively broad "Aussie" accent forged growing up around racetracks in rural Victoria, and it's no surprise that some of the already sceptical local trainers were struggling to jell with the newcomer.
"I talked to him for about five minutes one day," recalled Danny Shum Chap-shing – now Rawiller's biggest supporter and provider of two of his four wins on Wednesday. "Afterwards Dennis Yip [Chor-hong] came over and asked what we were talking about and I said "I have no idea" – he said, "I can't understand him either."
In stepped Campbell.
Armed with his notebook of knowledge, he pressed his father to step outside his comfort zone, picking out some rides to chase and helping identify key relationships to build – instilling some extra confidence and suggesting to maybe re-approach a trainer or two that had previously rebuffed him.
After Rawiller went on a late-season tear last term – 10 of his last 11 winners in a two-month stretch were for Chinese trainers – the first person he thanked was "Cam".
"I am so thankful to Campbell – he has really acted as an icebreaker ... and really knows his stuff," the jockey said after a final day double in July. "These last three months, he has meant so much to me and I know he has got a lot of satisfaction out of it as well. I've had to go back to the bottom and fight my way back to really show what I can do."
Both father and son were two of the first people back in early August – consolidating the progress made late in a 30-win sophomore season. "Campbell pushed me and it is starting to pay off now," the jockey said on Wednesday.
Rawiller pauses – physically – for some photos and autograph requests outside Happy Valley's Wong Nai Chung Road entrance. Hong Kong racing "super fan" Tam Ling – a constant presence outside both tracks before and after race meetings – spots the new idol and arms aloft, playfully bows like he is honouring a God.
Nash Rawiller wins first and last race of 2015-16 season – and it's all thanks to his son Campbell
As far as Campbell goes, he is humbly taking a back seat to his father's success, the impeccably mannered youngster maintains a respectful distance and calls his track watching and note taking "a hobby".
"I don't do it for any other reason than it is my passion, I am not pushed to do it or get anything for it, I just want to," he said on Friday. "Some kids play soccer before or after school, I like watching horses work and learning about racing."
Even though the Chow Fan-style is stuck with Rawiller now, he has long since given up on trying to refine it anyway, but he does admit that a rethink on the way he thought about races tactically was required to turn things around.
"My style is my style. I've tried to change it many times throughout my career – but I ride more winners when I go back to riding how I ride," he said. "I was riding Hong Kong the wrong way when I got here, I was riding too much like I did in Australia. I don't think I adapted. It was little things, I'm not going to be overly critical of myself, but every inch here counts, that's what I've worked out. John Size told me that when I first arrived and I didn't take it on board enough. If you are on the right horse, don't think twice about going to the rail, take the rail if you can get it. Back home, if I am on the best horse, I am not looking for the rail."
Nash Rawiller's 'fried rice' moniker a recipe for success
Forget the technicalities, though, this is a lesson in tenacity and persistence. Perhaps Rawiller's career can be best described with one word – hunger; not just figuratively, but also literally, for a man who must go through untold pain and suffering on a twice-weekly basis to force his nearly-six foot frame into the skinny weight range of a jockey.
That same hunger means that he isn't yet content – of course Rawiller wants more, it is what has made him a champion – and next on the agenda is big race rides, usually the domain of a hard-to-crack group of three trainers: Moore, Size and Tony Cruz.
"[The four-win night at Happy Valley] means a lot to me – but I worked very hard to become the leading Group One jockey in Australia," he said. "It took a long time to gain the support to be able to do that, but I was able to do that over a five or six-year stretch – so I would love some more recognition when the big races come along."