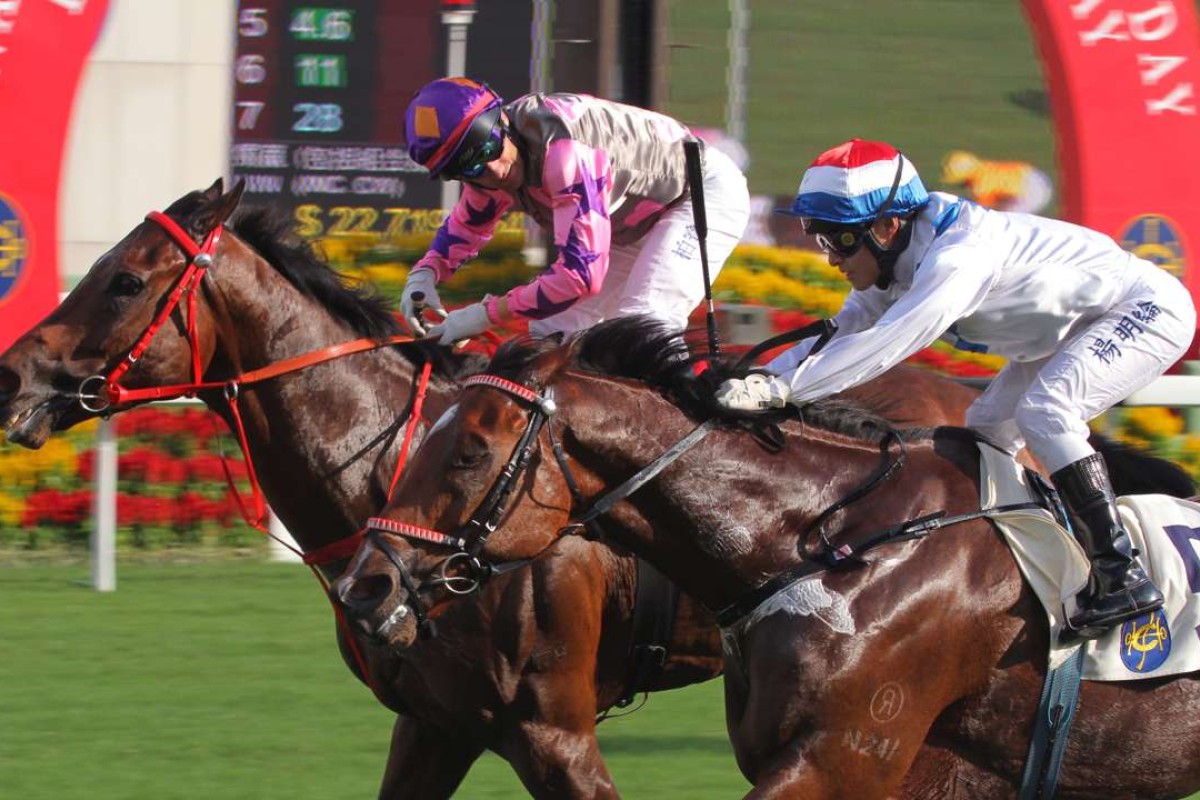 Amazing Kids or Lucky Bubbles – which rising sprint star does jockey Brett Prebble choose when they square off next start?
And speaking of rising stars, what about Pakistan Star? Give up the ride on Hong Kong's most hyped horse, who is only in Class Two but could become anything, or forgo the rides on two established top liners in Peniaphobia and Beauty Flame? That's the conundrum Matthew Chadwick was left with in the stewards' room on Saturday.
WATCH: Brett Prebble wins National Day Cup on Amazing Kids
So much of a top jockey's career can be defined by decisions – some decisions are made for them, some bookings, even for big races happen by accident, but the pressures of politics, loyalty and relationships hang over each one of them.
It is rarely as short-term and simple as which horse is most likely to win the next race.
Prebble knows all too well the "cost-benefit analysis" a top jockey runs through when choosing a ride – but in the Amazing Kids versus Lucky Bubbles decision, the Australian's mind was already made up before the former ground out a tough win in the Group Three National Day Cup.
"I'll be riding Lucky Bubbles," he said, referring to the pair's likely upcoming clash in the Group Two Premier Bowl, often a strong pointer to the Hong Kong Sprint.
Great National Day for Amazing Kids, but a costly one for Matthew Chadwick
"Even though Lucky Bubbles isn't very big – he would fit inside Amazing Kids, who is much stronger, he has proven himself to be right up to Group One standard."
Prebble went on to explain how Saturday's Group Three ride on Amazing Kids was one of those that fell in his lap.
Joao Moreira, who is almost like the Sun that the other jockey planets orbit around when it comes to decision making, initially chose to ride David Hall's Rad in Saturday's Group Three.
That left Amazing Kids free and a "bonus ride" for Prebble, who had already made a long term commitment to Lucky Bubbles – a convincing Group Two winner and runner-up in the Group One Chairman's Sprint Prize late last term.
Of course Rad suffered a heart irregularity in a lead-up trial and was retired, which left Moreira the choice of sitting next to his locker in the jockeys' room or riding outsider Golden Harvest – his equal longest-priced runner of the season so far at 27-1.
WATCH: Celebration Cup highlights
Chadwick copping a five meeting suspension for his rough riding in the National Day Cup will have a similar flow-on, "butterfly effect".
He will stick with Pakistan Star when the cult hero returns over 1,400m on October 16, leaving plum rides on Peniaphobia and Beauty Flame up for grabs in the two Group Two races a week later.
If a jockey's decision-making process can be described a juggling act then nobody has more balls in the air than Moreira – the Brazilian might be spoilt for choice but the stakes are high.
Moreira jumped off Peniaphobia late last season in favour of Thewizardofoz, who was subsequently disappointing in the Chairman's Sprint Prize, but a freshened-up "Wiz" is slated for a return in the Group Two Premier Bowl.
Could Moreira be tempted to jump ship and get back on Peniaphobia for a shot at back-to-back Hong Kong Sprints?
Unlikely, on account of loyalty to Size. So Peniaphobia's trainer Tony Cruz can expect plenty of missed calls and texts from jockeys on Monday morning.