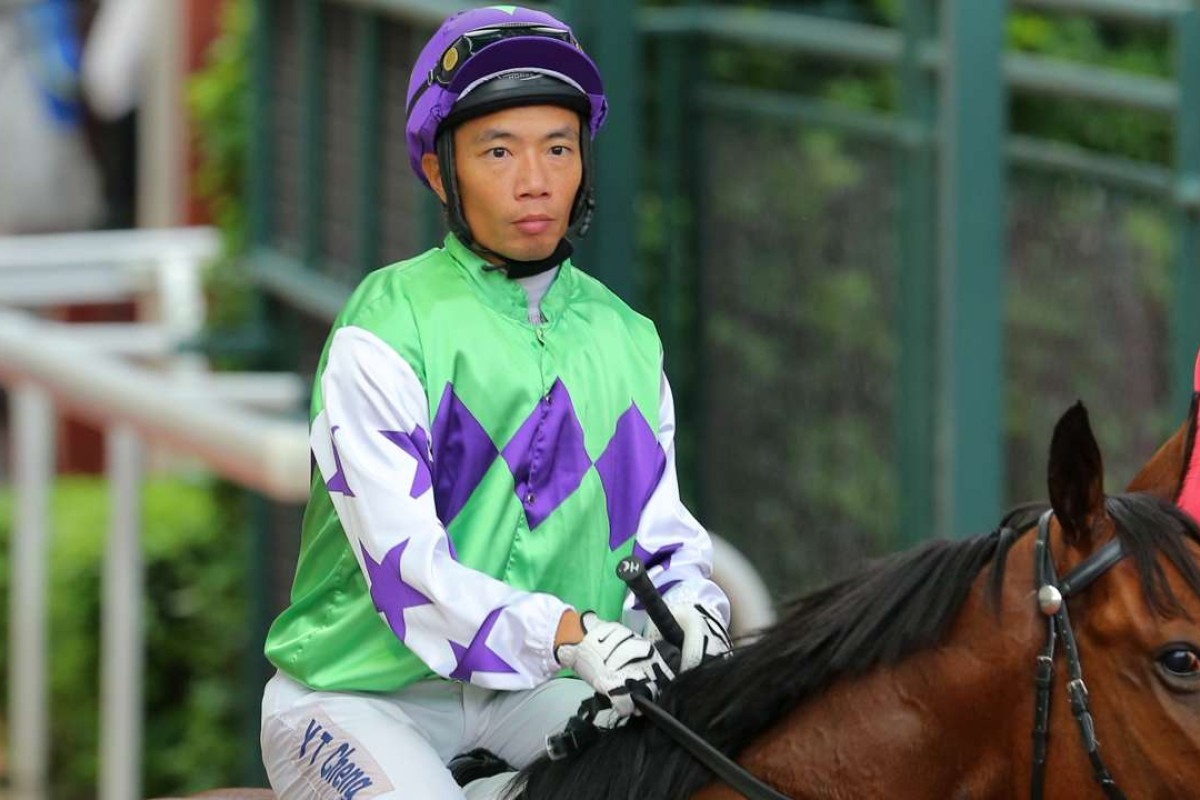 Top Chinese jockey Howard Cheng Yue-tin has been hit with another six-month ban from riding after refusing to provide his financial statements to stewards and still faces a further adjournment of an inquiry into whether he breached the rules by providing information on his mounts to outside parties.
Cheng is already serving a three-month running and handling suspension under rule 99 (2) and (5) which banned him from riding in races until January 12, but the latest penalty, to be served concurrently, is a more severe full suspension, under which he will also not be permitted to ride in trackwork or trials between now and April 24, 2017.
On September 11, stewards opened a race day inquiry into Cheng's tactics on Startling Power but, during the inquiry, became aware of text messages Cheng had sent to people, who were not the owners or trainers, regarding other horses the jockey had ridden in races over the previous year.
Cheng's mobile phone was impounded on that day using a new stewards' power, rule 12 (40), for further examination of these texts.
Career of Hong Kong's top Chinese jockey, Howard Cheng, appears doomed after latest heavy ban
At a resumption of that inquiry last month, Cheng was found to have no case to answer regarding the Startling Power ride but, after evidence was presented of a financial relationship between Cheng and the people to whom he had sent the information texts, the inquiry was again adjourned and he was directed to provide his bank records going back to January 1, 2013 as evidence relevant to the inquiry.
That texting of information was potentially a breach of rule 59 (1), under which jockeys may not provide information about horses they have ridden in trials, and are engaged to ride in work or races, to persons other than the owner or trainer of the horse.
When Cheng did not produce his financial statements, stewards twice directed him in writing to provide these records, which would allow them to investigate any financial relationships between Cheng and the third parties.
In the meantime, on October 7, Cheng had been given a three-month ban for his riding of Master Gold on September 18 in a completely separate matter.
Cheng responded in writing to the stewards on October 13 to the effect that he would not be providing these records.
As a result, stewards on Tuesday reconvened the text messaging inquiry and, after a confirmation by Cheng that he would not comply with the directive to provide the bank statements, charged the jockey under rule 12 (33), dealing with his obligation to comply with official directions.
Stewards contended that Cheng's refusal to comply with the directive "compromised the ability of the stewards to conduct the inquiry, which therefore directly impacted on the integrity of the sport of horse racing," to the upholding which such powers of inquiry were considered integral.
Howard Cheng's riding career at the precipice as 'phone messages' inquiry added to handling charge
Cheng pleaded guilty and was given the six-month ban but the matter of the text messages and a possible breach of rule 59 (1) remains unresolved and has again been adjourned to a date to be fixed.
The latest ban on Cheng is hugely significant as he may not ride work, trials or races, whereas the running and handling ban only covered race riding.
Cheng has a right of appeal, although, more significantly, the stewards' press release spelt out that the imposition of this full suspension might be revisited should the jockey provide the records as directed to enable the text message inquiry to proceed.
The most highly achieved active local rider, with his 436 victories ranking behind only Tony Cruz's 946 career wins, Cheng's 18-year career is in tatters, whether or not he relents and hands over his records.
With three prior running and handling breaches under rule 155 (2) and (5), Cheng came into the current season with a warning from the Licensing Committee that his disciplinary record was a concern and would be closely scrutinised going forward.
In as many words, the committee warned that any further breaches of rule 155 could trigger a show cause hearing into whether he should be licensed to ride in Hong Kong again.