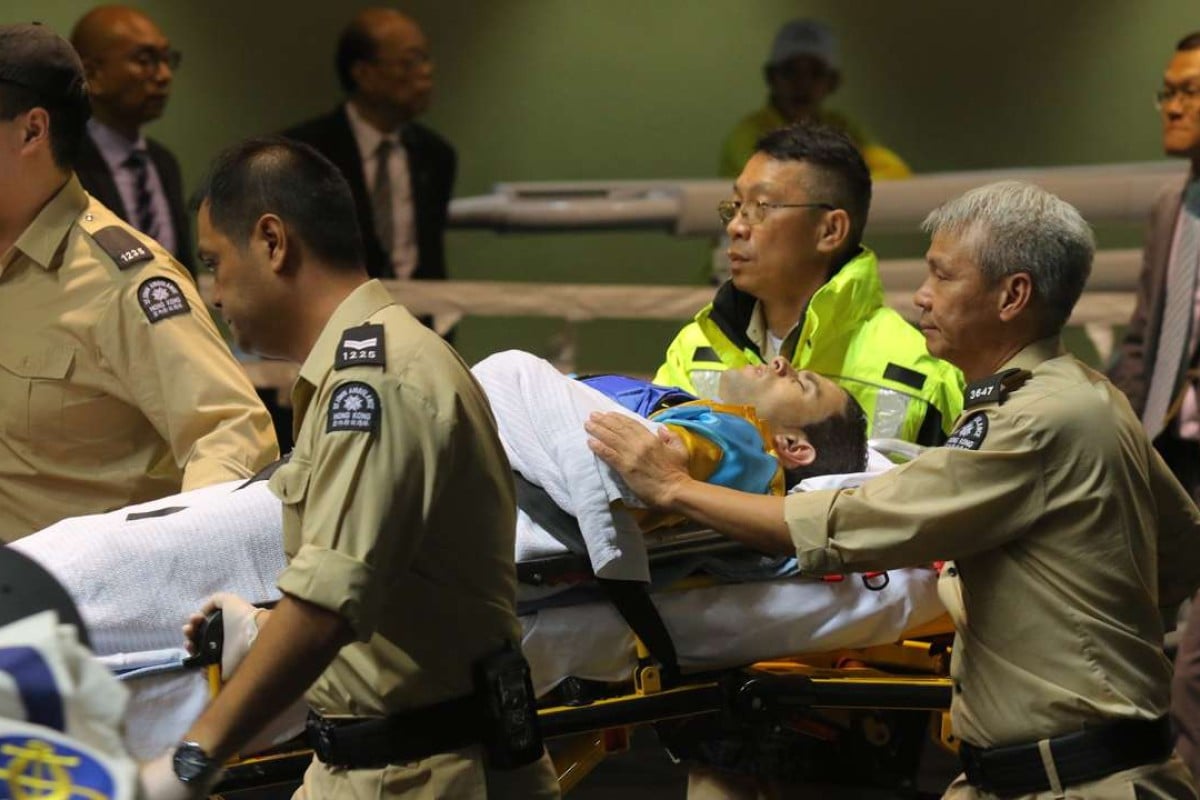 The Jockey Club is on the lookout for another suitable lightweight jockey to take up a club contract after surgery to Umberto Rispoli's damaged left knee on Saturday will likely see him missing for most or all of the stint he began just over a week ago.
Apprentice Jack Wong Ho-nam suffered a fractured ankle but Rispoli was thought to have emerged relatively unscathed after Wednesday night's spectacular Happy Valley fall, but he did suffer a small ankle fracture and had surgery to remove a bone chip from the knee.
"Luckily, I was awake during the surgery. They found something with the ligament and asked me if I wanted them to repair it," Rispoli said last night.
"If I had been out, I would have needed to have another operation but I told them go ahead. The time for recovery is longer than what I was expecting, the doctor said three months."
Apprentice jockey Jack Wong breaks ankle in dramatic fall at Happy Valley
Rispoli's contract takes him through to March 19 – Derby day – and club officials are pessimistic about whether the Italian will even be back by then but the rider himself is keeping an open mind.
"I want to come back before the end of my contract, I want to respect that contract and maybe even extend the time to make up for the time I miss," he said. "That depends on a lot of things, how the club feels about and how my rehabilitation goes, but I will do my best for a February return."
With Wong and Rispoli now out for an extended time, Keith Yeung Ming-lun has been advised not to return until the end of November with his back problem and Derek Leung Ka-chun is due to have another MRI on his head injuries, suffered in a horror fall on October 23, with his return tentatively posted at late November or early December.
Not content with challenging laws of physics in horror fall, jockey Umberto Rispoli now taking on medical science
And Alvin Ng Ka-chun's fractured foot, suffered playing squash, is likely to keep him out for another month.
The good news is that Ben So Tik-hung has started riding work again and likely to compete in races again from next Sunday.
"But it's fair to say we are looking closely at the rider situation," said chief steward Kim Kelly. "We have Tommy Berry and Hugh Bowman visiting next week so we should be OK for that meeting and obviously in December we have a lot of visiting riders at two meetings for the International Jockeys' Championship and for the international races, but that isn't a complete solution for all meetings."