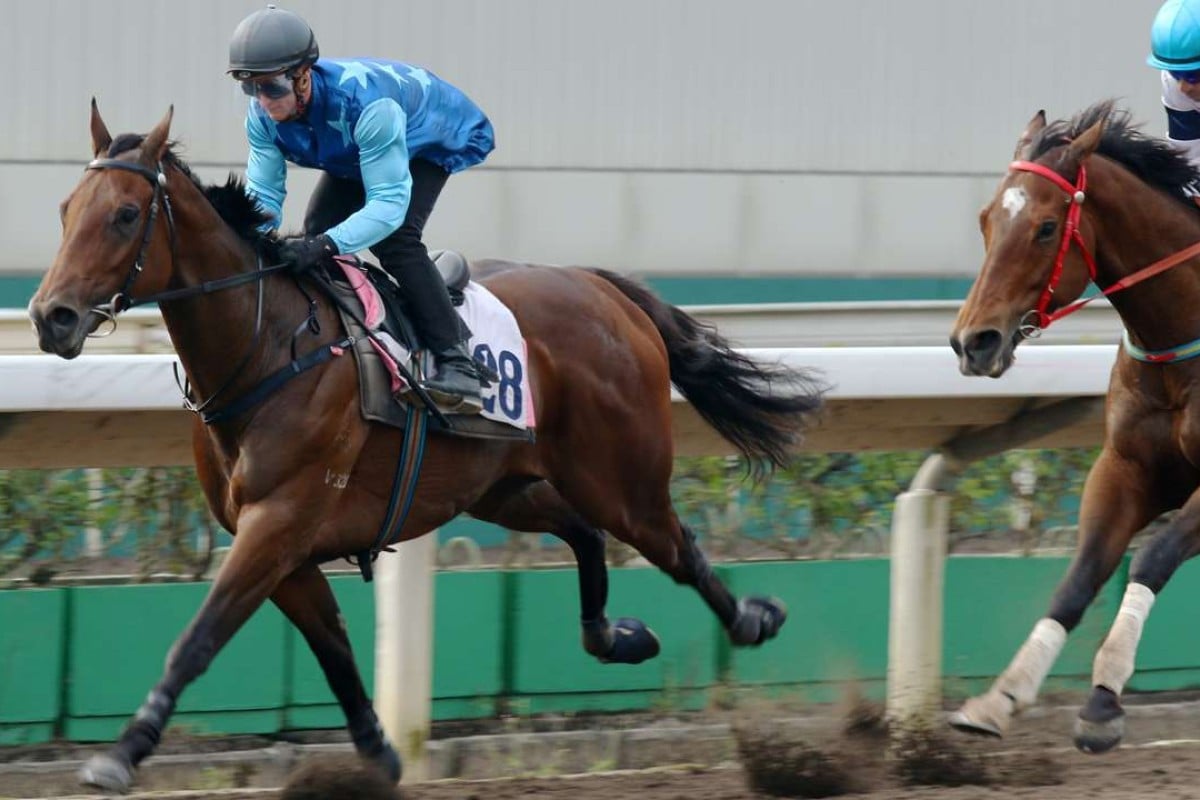 The international day undercard has a history of showcasing future stars and while Jing Jing Win gets his chance to shine next Sunday, David Hall is yet to decide in which race it will be and remains concerned about the horse's one apparent weakness.
Hall has the option of running the unbeaten youngster over either 1,200m or 1,400m in Class Three company and another solid trial on Friday ensured the stylish mover will start odds-on favourite whichever way his trainer decides to go.
Ever since the HK$8.5 million International Sales Purchase burst on to the scene with an arrogant four-length win in September, the question has been floated – will his trainer try and stretch the son of Starcraft to 1,600m and the Hong Kong Classic Mile in late January?
The question must be bouncing around in Hall's mind still, and trying Jing Jing Win next Sunday over 1,400m might be the test case to see whether or not he will go down the four-year-old series path.
Jing Jing Win won a 1,050m dirt trial in a sizzling time of 1:00.53 under a hold by Zac Purton, but still reverted to a habit of attempting to sit down in the starting stalls after being loaded – an issue that is yet to cause the horse to miss the start in his two starts, but is worrying nonetheless.
"I'm in two minds about whether we go 1,200m or 1,400m," Hall said, with final entries due on Monday. "We were leaning towards 1,200m, but I asked Zac as soon as he jumped off after the trial and he said 'maybe 1,400m'. We will sit on it for a while and have a think about it."
An 11-point ratings rise for a Class Three win over 1,200m in October means Jing Jing Win has jumped 23 points in two starts, but what Hall is more concerned about is the horse's antics in the gates.
"He was still a bit naughty in the gates and that is of some concern, we saw what happened to Pakistan Star, being slow away and being beaten a couple of times up in grade after getting away with it earlier in his career, we can't be affording to miss the start anymore. He has got away fine before in his races and luckily he still got out well this time."
David Hall finding it hard to halt the hype on HK$8.5 million purchase Jing Jing Win
Hall said he hadn't necessarily wanted Jing Jing Win to lead in the trial and after Purton was forced to take up the pacesetter role he soon found himself under pressure at the top of the straight from House Of Fun (Joao Moreira).
Moreira seemed intent on finding out just what Jing Jing Win had in hand as he cruised up to eye-ball the leader and Hall's horse responded beautifully, Purton saying his mount "only does what he has to do".
"He was only out to have a stretch of the legs – when Joao came to challenge, I wasn't going to get to the bottom of my horse, I was happy to let him chill, but when I asked him the last little bit to put in then he put him away," Purton said.
"He didn't need to prove anything out there, he has already showed he has the engine – whichever path they take him, I'll go down it with them."
There were no surprises for the eight international day Group One entrants at the trials on Friday, all coming through unscathed and looking in good order, but another horse due to run in the support races was disappointing.
HK$8.5 million horse Jing Jing Win on a potential Hong Kong Derby trail after winning debut
Rapper Dragon, set to start in the 1,400m Class One, was eased down by Derek Leung Ka-chun after the jockey seemed concerned at the horse's action.
Regulatory vets checked over Rapper Dragon twice on Friday and found the four-year-old to be in good order but the early 2017 Hong Kong Derby favourite will again be checked after a gallop on Monday morning.